Overcoming its initial reservations, Leesburg Town Council on Tuesday approved Church + Market, a development that will bring 116 apartments, about 33,000 square feet of commercial space and a parking garage to the downtown area.
"This is going to be a game-changer," Mayor Kelly Burk said. "We need to respect the charm and attractiveness that we have ... I believe that this project will do that. I believe it will help the economic development in the town."
Council voted 5-2 in favor of the development, with councilmen Neil Steinberg and Tom Dunn against. Dunn said that he was voting for residents who oppose the development, while Steinberg voiced concerns about its impact on the tone of historic downtown.
"This has been the most difficult decision I've come to in the short time I've been on this council," Steinberg said. "I'm not opposed to change ... I just can't get past the six-story height in the heart of the historic district."
Concerns about traffic -- a sticking point in previous meetings -- seemed to not be an issue during the Aug. 12 work session.
Developer Landmark Commercial answered questions about parking and offered some cosmetic changes. The architect also presented new 3D imaging of how the highest of the buildings -- at 65 feet, or six stories -- would look on the street next to the more than five-story Loudoun County parking garage.
This seemed to change at least some minds. Burk cited the images and brick building exteriors as part of the reason she decided to support the project, besides its positive impact on the local economy.
Others on council appreciated the developer's willingness to work with town staff.
"This project is our last big opportunity. It's our last big piece of land in the downtown," Councilman Ron Campbell said. "If we do nothing, we fail."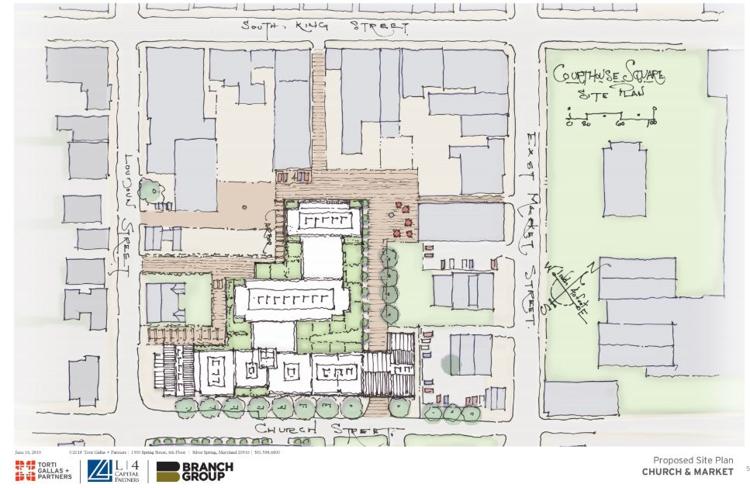 Four residents came out to speak in favor of the development that includes the historic former Times-Mirror building.
"No matter what happens, it's going to change," said Sarah Carter, a longtime Leesburg citizen. "[Church + Market] I think is the greatest thing that place can be."
Church + Market still has a long way before breaking ground. Plans will have to pass the Board of Architectural Review, and Burk has requested a thorough traffic study.
Council also has a decision to make before December: Landmark has offered two options for parking. The first would be a garage of 169 spaces that would be reserved for office and retail parking but would open to the public after 5 p.m.
The second option would have 145 spaces and an additional 57 serviced by a lift system. The lift spaces would be reserved for apartment tenants. The town could then buy some spaces through a shared-use agreement for public parking.
Council will discuss both options during an upcoming work session.
______
Editor's note: Times-Mirror Publisher Peter Arundel is a partner in the Church + Market project.
Correction: This story has been updated to correct the commercial square footage included in the Church + Market project.