An Ashburn mom is taking her love of flowers and turning it into a mobile business at locations around Loudoun County.
Angela Rabena, who is known around the county as a fitness guru and Pilates and Barre instructor, said she recently realized that she was missing a creative outlet in her life. She heard about Alice's Table workshops from her sister-in-law, who attended one of the company's events in Virginia Beach. Rabena researched the company and found out it is an emerging business based in Boston that has recently received funding from Mark Cuban and Sara Blakely on the national TV show "Shark Tank." She felt there were a lot of opportunities for growth in northern Virginia.
Alice's Table's business concept is much like a paint and sip night out, where a group of friends gather and learn how to make a flower arrangement.
"It's wonderful. Everyone is totally disconnected from technology, having a good time and making friendships in a relaxing setting. I love to feel present and focus on flowers -- they are very powerful and uplifting" Rabena said.
Rabena has always enjoyed working with flowers and feels they instantly brighten up a room or make an occasion feel special.
"A table with a flower arrangement is a different experience. It is happy and festive and uplifting," she said.
For $65 a person, Rabena sets up public and private events at locations around Loudoun County and the region. All of the supplies are provided, and attendees take their finished product home.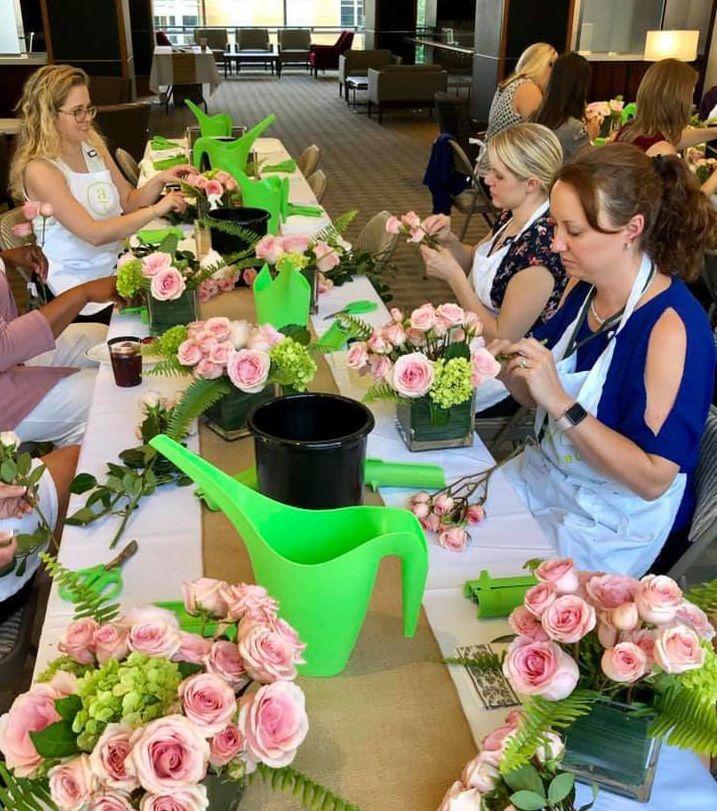 Each season brings new designs that Alice's Table teaches through online training courses.
"The company is a well-orchestrated machine. They provide you with all of the details you need to set up a workshop, including how many pieces of each flower to make an arrangement. It is all planned out. You just walk in and see the flowers and it makes you happy," she said.
Rabena purchases flowers for each session from Metro Flower Market in Chantilly, which she says is "really fun to visit to see all of the beautiful flowers."
"I still have a passion for teaching fitness classes, but this is another layer of health and wellness, which is being creative and interacting with people," Rabena said.
More information can be found on Facebook at Alice's Table NoVa In Full Bloom.