Going without food for 16 out of every 24 hours might sound daunting to some. But for Cynthia Thurlow, Loudoun-based owner of CHT Wellness, intermittent fasting is key. And her message has gone viral: Her Tedx Talk from May 2019 has gotten 4.5 million views and counting.
"The more digging I did, the more I started to see relationships between food and health," Thurlow said.
If anyone understands the busy schedule of Loudoun living, it's Thurlow. A longtime Loudoun resident, she worked as an ER nurse, then a nurse practitioner before starting CHT Wellness, a health coaching business. Driven by critical thinking and research, Thurlow thrives on "big, scary goals"—and with a husband, two kids, speaking engagements, a new book in the works and her business, her calendar remains full.
But Thurlow believes it's completely possible to have a busy life and stay young and vibrant. All it takes is healthy eating, sleep and taking time for yourself.
Thurlow discovered intermittent fasting when Western medicine couldn't answer some of her son's food allergies. As she did more research, she discovered the classic food pyramid was wrong in a few vital ways.
For one, proteins and fats are good for you, as long as they come from organic meats and healthy oils. For another, our bodies need lots of time to digest our food. And sugar both ages skin and increases body fat.
"[Intermittent fasting] is a transformative technique that doesn't cost any money," Thurlow said.
The practice is flexible depending on your lifestyle. People can start out fasting for 12 hours and then increase the number of hours as they are ready. And fasting doesn't mean staying off of liquids: water, tea and coffee without cream are okay to enjoy at any time.
While consulting her CHT Wellness clients, Thurlow has seen intermittent fasting lower blood pressure, increase self-esteem and reduce reliance on medication. It also decreases people's risk for Alzheimer's and can help people lose weight, though a lower number on the bathroom scale or fewer wrinkles aren't her ultimate goal.
"We might look a certain age on the outside, but we think of ourselves being 18 or 20 or 30," Thurlow said. "[With intermittent fasting, people] feel like they're getting back to their younger sense of self."
Thurlow has put her own prescription to the test within the past few months. Shortly after a vacation with her husband, Thurlow went into the hospital for an inflamed appendix and stayed for 13 days.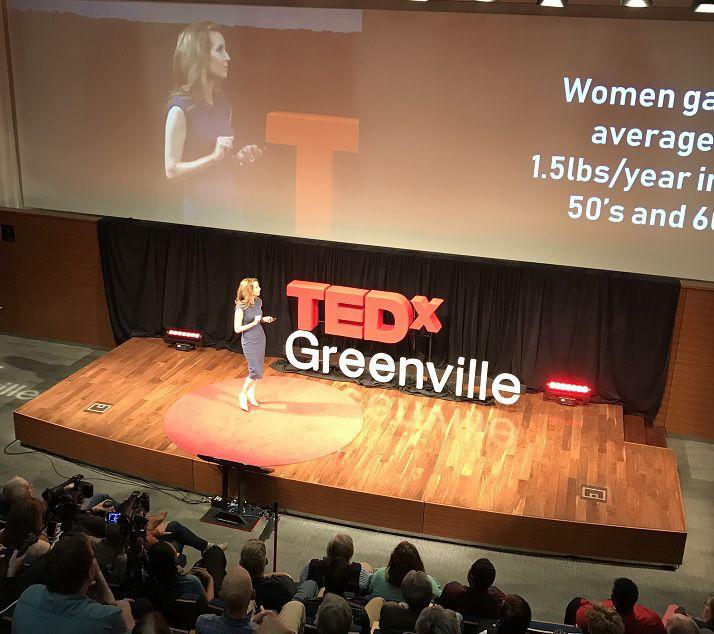 The entire time, she focused on her children and going through with her Tedx talk. While she didn't use intermittent fasting during or immediately after her hospital stay—the practice doesn't apply to people with certain health issues or conditions like diabetes—she credits it with making her healthy enough to recover quickly.
Thurlow gave her viral Tedx talk 27 days after her hospital visit.
As for what to eat when you aren't fasting, Thurlow recommends foods with five ingredients or less, lots of healthy proteins and fats, and carbohydrates as needed. Try to eat seasonally and locally, as well.
Equally important as good food is good sleep, Thurlow said, because our brains are more active at night than during the day.
"Most people sacrifice sleep thinking it's not important, but we need seven to eight hours a night," she said.
Thurlow advises her clients to stay away from screens before going to bed. If you must do computer work, wear blue-blocker glasses. The blue light from a computer messes with the body's circadian rhythm, which is why you can stay up late staring at a computer and feel tired, but not ready to sleep. When you do get into bed, Thurlow recommends a cool, dark room.
For mental health, Thurlow recommends connecting to nature. Even five to 10 minutes in the sunshine is good for feeling awake, besides giving our bodies the chance to make some necessary vitamin D.
She also recommends getting in touch with your spirit, whether that means practicing a faith or realizing a higher purpose in life. Exercise is also important, especially for anti-aging.
Thurlow shares much of her health advice on her blog and her podcast, Everyday Wellness. For women who want to work with Thurlow directly, she offers one-on-one coaching and small group coaching. Because some women don't have the time or money for in-depth coaching, she has recently launched a small private Facebook group called "Full Hormone Reset." The program offers information about gut health, food and lifestyle as well as group calls.
At her home, Thurlow and her family practice what she preaches—and they are healthier for it, she said. Her husband at 50 years old looks 15 years younger and is the same weight he was when they married. Her two sons play sports at school and almost never get sick.
"The worst thing you might find in my house is organic ice cream," she said. "We can still enjoy fun foods … but everything in moderation."