With the opening of the 15th Manhattan Pizza in the Catoctin Corner Shopping Center in Purcellville, owner Jack Azar sat down with the Loudoun Times-Mirror to talk about his dream to open a restaurant in the western Loudoun town and his plans for the future. Manhattan Pizza at 1211 Wolf Rock Drive in Purcellville will host a grand opening event Oct. 19 at 3:30 p.m.
Tell us a little bit about your background and what motivates you.
I love Loudoun County and our relationship with the local community. I love to give back.
Part of the reason why I love to give back to the community is that my brother Essa and I grew up in an orphanage from the time I was six years old. Without the goodness of others, we would have nothing. It is part of why we want to do what we do.
At the age of 18, I opened my first restaurant in California and began a career in the food service industry. Through a family friend, I met my wife Jumana, who is from Leesburg. We hit it off but she did not like California and wanted to live in Leesburg. So in December 1995, I drove to Virginia and began a new life on the east coast five days before Christmas.
I started working with Jumana's parents who owned Del Rio in Leesburg. Her family had another popular business in Leesburg - Uncle Abe's.
In 1997, my wife's parents opened the first Manhattan Pizza in Ashburn, which I later bought with my brother in 2005.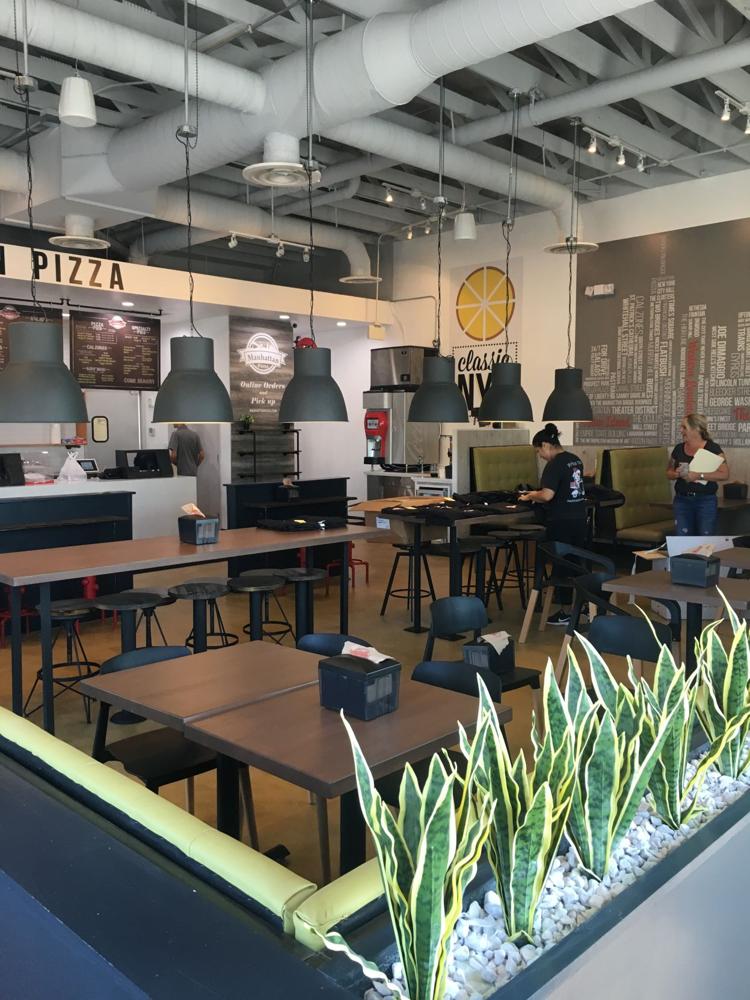 I made plans to open additional restaurants, as I was never satisfied with just one restaurant and had a vision to expand the Manhattan Pizza brand to become a very well-known regional restaurant chain. I thought this concept had a good appeal – fast-paced and fun, and we could expand on it.
I called a lot of landlords in 2006 and 2007 and a lot of them turned us away for bigger brand names.
In 2008, the market took a downturn and the same landlords I had called were now calling me and we were able to parlay that into finding a few locations. In 2009, we opened Manhattan Pizza in Leesburg, then in 2010, one in South Riding and in 2011 another one in Herndon. All of them have been major successes. In 2013, we formed a consulting group to navigate becoming a franchise. We currently have two locations in North Carolina, two in Maryland and 11 in Virginia.
In 2009, the first location I wanted to go to was Purcellville. We looked at the former Al's Pizza location, but that did not work out. Then we looked at the space where Coney Island Diner was located. We also tried to get into the place where Top Kicks is in the Purcellville Gateway. I looked at the Pizza Hut space, the old BB&T building, IJ Cann's old space, the Shamrock Music Shoppe building, the Anthony's Pizza building, the old Blockbuster space and where Bank of Charles Town is now located. None of them worked out.
It shows how badly I wanted to be in Purcellville. I know it very well now!
What are some of the highlights of the menu?
We started doing desserts many years ago. We had frozen yogurt in Leesburg and Ashburn, which was a great success. More recently, we began making our own gelato – in a $70,000 gelato machine – and serving fresh gelato and gelato pops. The pops are really cool – we make them here. I love making desserts, and it gives the concept and our brand a perfect complement to pizza.
In Purcellville, we are planning to put in a window on the side near the gelato bar so people can order from outside.
About half of our sales are pizza and the biggest seller is our salads. We make huge salads that are very healthy – grilled chicken, superfood, harvest salad, vegan salad with falafal. Other popular items on the menu are the New York pastrami on rye, corned beef on rye, burgers and gyros. It is an Italian menu with a New York theme. 
Describe your new path to ownership for employees.
It is a new program where we put together the ownership group with loyal managers of our stores. If they do well, the idea is to get them to ownership. Zach Zarou and Jordan Whitehurst are brothers who are in this program in the Purcellville location.
Where do you plan to go next?
We have five locations in Loudoun County – and are looking to do more in the west – Winchester, Front Royal and Culpepper is where we will head next.
How do you plan to give back to the community of Purcellville and western Loudoun?
We are very happy to be here and lucky to be part of this community. I am a blessed man and God has blessed me and my brother and my family. Without the goodness of others I wouldn't be where I am and it always reminds me to give back and help others. If someone comes in here and has no money to eat I will feed them always.
We have set up a fund to give back to this community.
I love to hear from schools, how we can help for the holidays. We will sponsor families for Thanksgiving and Christmas.
It is amazing we live in Loudoun County and you would never know how many needy families are out there and can use our help. We have partnered with Elara and Feeding America to provide about 300 meals a month through Loudoun Hunger Relief.
This is our core and what gets me up in the morning.
I also absolutely love mentoring kids. We teach them our values and why we are different – we genuinely care about everybody else.