Historic downtown Leesburg's retail shopping has had some new additions in recent months, providing options for people of all ages to find a range of fashion and gifts.
The Lucky Knot, located at 9 N. King Street in the former Cooley Gallery space, opened in mid-April. Owned by Andrea Ploutis and her three daughters, Stavroulla Kokkinis, Athina Kohilas and Stella Koukides, the shop's flagship store is based in Alexandria and launched in July 2012. They also have locations in Annapolis, Maryland, which opened in April 2015 and Baltimore, which opened in October 2018.
The store sells American-made products for men and women with a nautical theme from the likes of Vineyard Vines, Scout, Lilly Pulitzer, Jude Connally, Gretchen Scott, Mahi Gold and Peter Millar.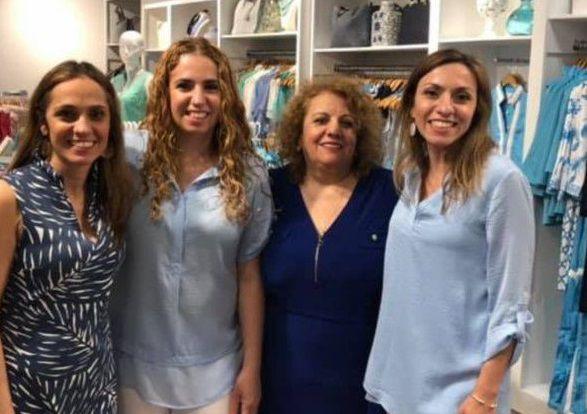 "We have a focus on American-made with a preppy, nautical, resort-inspired theme for men and women. Something you can wear for work or pleasure and will travel well," said Koukides.
On the upper level there is a formal wear section with special occasion dresses for weddings, prom and other events.
"We really like Leesburg and will host a grand opening in the near future. It has been a wonderful welcome ... We especially love seeing people leave with a beautiful dress to wear and we like making our customers look great and feel good," Stella said.
The Sunflower Shack, located at 36 S. King St., moved down the street from its previous location on Loudoun Street into the renovated Antiques Emporium building next to the just-opened Senor Ramon Tacqueria. The shop opened on Memorial Day.
Store owner Peggy Arnone said she wanted to be in an area with more foot traffic where she could be in the center of all the downtown events. She said she has immediately noticed an increase in business.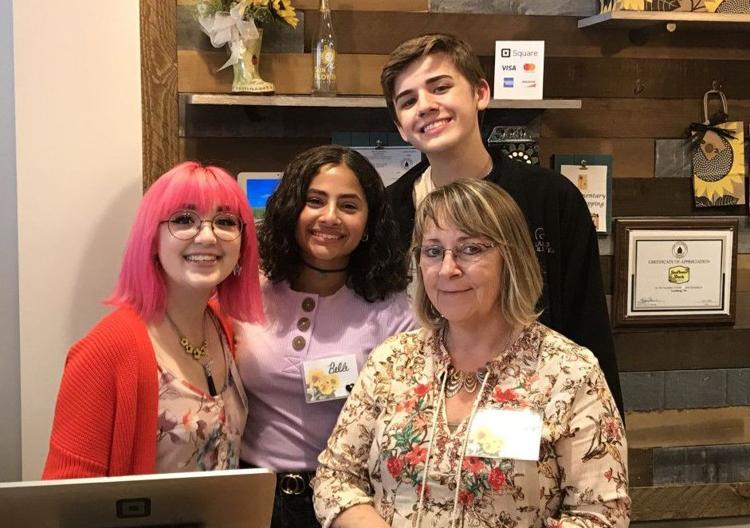 The shop sells a wide array of gift ideas including jewelry, scarves, handbags, cards and home décor. Arnone is especially proud of her extensive line of old fashioned candy for sale.
"They did a great job with the renovation of the building," she said.
Misguided Angels opened April 4 at 14 S. King St. in the space where The Other Kind of Jewelry Store was located.
Shop owner Kim Hutchings decided to close her other two locations in Brambleton and Great Falls to focus on one shop in Leesburg.
"The shop sells casual weekend wear, cute tops and bottoms, jewelry and other accessories, things to wear for going out to dinner, girls night out, or a day at a winery. The clothes are cute and sexy but age appropriate," Hutchings said.
In addition to clothing, Misguided Angels has a range of jewelry, accessories and handbags. Some of the featured designers include Bailey 44, Bella Dahl, Young Fabulous & Broke, Chaser, Veronica M and Level 99.
"Everything is fun and fabulous and won't break the bank ... If you want ordinary, this is not the store for you," she said. "I love Leesburg, it is a lot of fun. We are excited to add to Leesburg's shopping scene."
Brick and Mortar, owned by Middleburg-based West Federal Retail, the parent company of Lou Lou Boutiques, Creme de la Creme and Zest, opened April 15 at 32 S. King St., next to The Sunflower Shack.
The new concept features "upscale urban goods, unique gifts and home accents in an inspirational and entertaining environment," according to the website.
"Brick and Mortar has been such a fun and different experience for all of us. We really set out to make a place that was fun for the customers and engaged them in a way they might not be used to. Customers are greeted by our vinyl record player and pet parakeets -- Brick and Mortar -- but the surprises shouldn't stop there," said Michelle McNaughton, West Federal Retail's director of public relations.
West Federal also has a Lou Lou store in Leesburg and formerly had a Creme de la Creme location downtown. It is owned by Ben and Tara Wegdam, who operate 34 boutiques across the East Coast.
"We have seen a ton of business and gotten great feedback on what we are doing. But what has been most exciting is all the amazing people we have meet. Authors and artisans alike have been visiting the store and we have been lucky enough to feature a few in local pop ups," McNaughton said.