Church & Market, the proposed mixed-use development at the site of the former Times-Mirror building in downtown Leesburg, is one step closer to approval after the Leesburg Planning Commission signed off the project June 6.
The vote passed 5-2, with Chairwoman Doris Kidder and Commissioner Ad Barnes voting against. The development will now go to Leesburg Town Council for final approval.
"I'm happy to be back with a project that we feel is every bit as good, if not better, than the project we brought forward seven and a half years ago," said Landmark Commercial Vice President Blair White. "We believe we have a project that fits a little better into the historic district."
In 2012, Leesburg Town Council approved the developer's special exception application for an office and retail space, but the plans never moved forward. However, with recent calls for more and affordable housing, Landmark decided to develop a residential component.
The proposal going to council is similar to Landmark's plans announced last year. Church & Market is set to have 116 apartment units, 11,500 square feet of office space and about 5,000 square feet of retail or restaurant space.
Using the historic Loudoun Times-Mirror building on East Market Street as the first floor of an office and retail space, the development will be more a cluster of brick buildings than a single behemoth of a structure. Buildings will be three to six stories tall, with gardens and terraces atop some. Walkways and plazas will create a pedestrian-friendly area, project representatives said.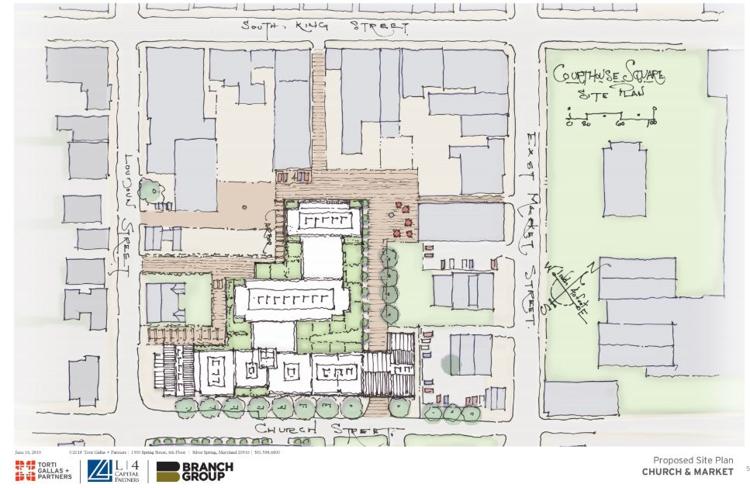 "There are no fat and big buildings in Leesburg," said architect John Torti of Torti Gallas + Partners. "We wanted to scale down to be within the city of Leesburg."
New to the development are two options for parking that will be presented to council for a final decision.
The first option, a garage of 169 spaces, would be reserved for office and retail parking but would open to the public after 5 p.m. Residential parking spaces would be permanently set aside, as well.
The second option would have 145 regular spaces and an additional 57 reachable by a semi-automated vehicle lift system. This option would include a shared-use arrangement with the town to provide unrestricted public parking.
For both options, the garage will be concealed behind a façade and won't look like a parking structure from the street, architects said. Eight street parking spaces will also be available.
According to a town study, the new parking spaces would add 151 peak-hour trips in the morning and 225 during peak evening hours. By 2040, the surrounding intersections would still operate at an acceptable level of service, staff said.
Most of the commissioners seemed optimistic about the plans, but Kidder wasn't sold.
"I'm a little concerned about the height. The feeling I get … is almost a concrete tunnel," she said. "It just looks so massive to me to be in the middle of Leesburg."
White responded that any shortening or tightening of the development would dramatically reduce parking, but Kidder held to her position and voted against the development.
Barnes joined her out of concern for increased traffic.
Council has scheduled a public hearing for Church & Market for its July 9 meeting.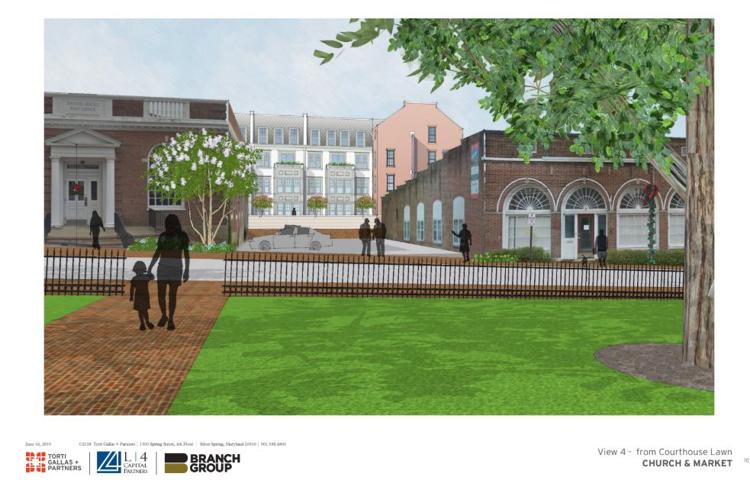 ____________
Editor's note: Times-Mirror Publisher Peter Arundel is a partner in the Church & Market development.