Besides being a quaint, historic town and home to a growing film festival, Middleburg can boast a new claim to fame this year.
The Christmas Sleigh at 5 E. Washington St. ranked on Country Living's eight best year-round Christmas stores in the nation.
For owner Dieter Rausch, who grew up in Germany, Christmas has always been an important holiday. As a child, his parents would decorate the tree with candles—no electric lights for them. At local fairs, craftsmen would carve ornaments and decorations with incredible attention to detail.
When Rausch came to America decades later, he found Christmas stores filled with mass-market decorations that looked cheap and didn't last. Rausch opened The Christmas Sleigh to bring a taste of international holiday craftsmanship to America.
"I like [having] a real Christmas store for my customers," Rausch said.
The majority of Christmas Sleigh's ornaments and decorations are one-of-a-kind pieces made by European families. For instance, each of the store's walnut shell ornaments is slightly different; so are the hand-painted William Schweizer pewter figurines and ornaments.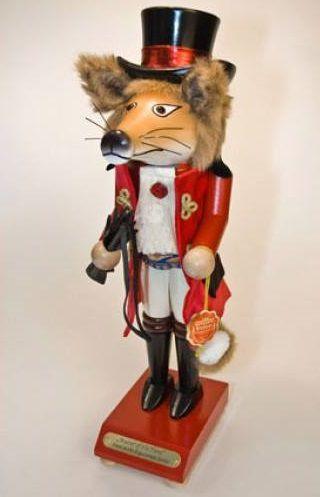 Rausch is proud of all the work he puts into his store. He spends three or four days each at several different German toy and Christmas fairs, finding the best items to ship back to America.
Each room is an organized Christmas wonderland, with every decoration displayed to its best advantage. Rausch, who often wears traditional German vests and Alpine hats, enjoys pointing out the delicate craftsmanship that has gone into every piece.
One of Rausch's favorite areas is the nutcracker room, filled with rare pieces designed by craftsman Christian Steinbach. The Steinbach family, who made nutcrackers for about 200 years, went bankrupt in 2015, but not before they created a Middleburg-themed line especially for Rausch.
The Christmas Sleigh offers non-holiday European gifts, as well: German-made beer steins, smokers, traditional clothing and more. The store's stollen, a sweet German bread with a center of almond paste, is a popular and delectable treat.
The store also sells American handicrafts, such as Williamsburg favorite Byers Choice figurines and a line of White House ornaments starting from 1999. Artwork and cards featuring images of Middleburg's Christmas parade are a popular local sell.
Rausch hopes that each of his decorations will become family heirlooms, passing down for generations to come.
"I am very happy with my store," he said.