While zoning in the Algonkian District has remained status quo for much of the past 20 years, a proposed housing development has caught the attention of residents in the Sterling community.
In a large room at the Cascades Library in Sterling on Tuesday, a couple dozen residents watched two presentations and asked questions about Sterling Meadow LLC's proposed rezoning.
The project calls for developing 166 stacked multi-family residential units and 11 affordable dwelling units in place of the Countryside Regal Cinema built in 1996, according to the developer's statement of justification. The 11.27-acre site is located between Route 7 and Tripleseven Road in Sterling. The adjacent retail uses, which are not part of the application, would remain.
"It's important for this to be a thorough process, and the reason I wanted to have this type of meeting and have an overall conversation with county staff is, in my mind, this is my district's first redevelopment type of project where you have an existing use and you're talking about that use going away and new use coming in," Volpe said.
Residents opposed the traffic studies by the applicant and county staff, even at one point asking, "What is your education background?" They called some information provided false.
On the project's online portal, people have opposed the additional homes and higher density.
Sterling Meadow representatives said the site will be accessed from the existing Regal Plaza entrance off Pidgeon Hill Drive and two entrances on Tripleseven Road. The existing northern entrance to the cinema will be relocated, and the existing southern entrance will remain in place.
The applicant said it seeks to provide additional residential units to "bolster the amount of people who can walk to support the proximate commercial uses while taking a small portion of the underutilized commercial space and the associated sea of parking offline."
Several residents have expressed concern about the potential development's impact on local schools and transportation.
Writing on the county's project portal, Vivian Gutierrez said: "This area cannot accommodate an additional 180 families. Most schools in the vicinity are at capacity and current residents will not allow zoning changes to affect our children's education. From a transportation perspective, most of our roads can't handle more vehicles. Traffic in Triple Seven Rd will significantly increase affecting residents of Calvert Glen and Environs. This application if approved will harm our community."
"We do not need high-density development here," wrote Michael Sziede. "There is no place for these kids to go to school. There is no proffer for school or roads. This place is zoned commercial and needs to remain commercial."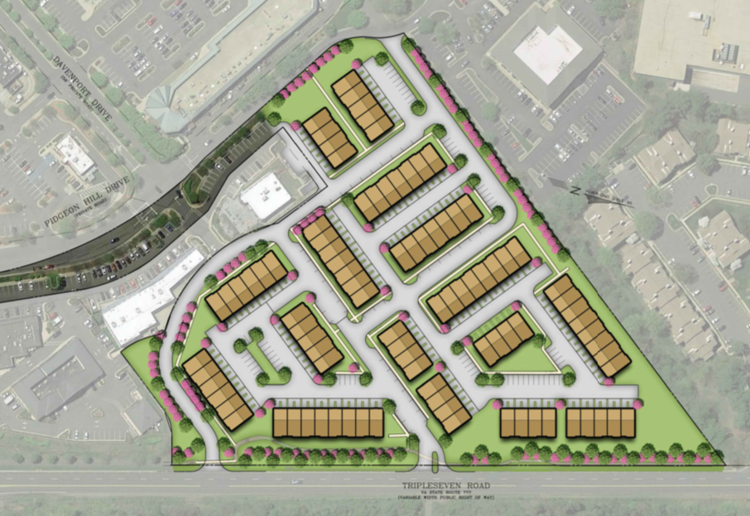 The applicant is proffering four recreation spaces combining for a minimum of 35,200 square feet and two pocket parks, sidewalks, a trail along Tripleseven Road and a $1,744 contribution to the county per dwelling unit to address the unmet housing needs. Additionally, Sterling Meadow said a contribution of $325,000 would go to improve the playgrounds and fields at Countryside Elementary, over $1 million would go improve the weight room and fields at Potomac Falls and a restripe of Tripleseven Road would create two left turn lanes at Palisade Parkway. The most recent proffer package also includes a $1 million contribution toward the county's unmet housing needs.
While the restriping could alleviate some congestion, resident Heather Johnston said that would create more traffic issues on a nearby roadway, Cromwell Road, and Tripleseven continues to be a concern for commuters.
"This should be addressed at a higher level outside of the development process because Tripleseven, while being re-designated as I've heard this evening, it's not being appropriately addressed before – and let alone after – the planning," Johnston said.
Residents also spent a portion of the time saying they felt "abandoned" and left out after economic development projects have gone up around them in Ashburn, Dulles and Leesburg.
"I appreciate your comments, but I think our ability to impact this will be better in the future than it's been in the past because of the Comprehensive Plan," Economic Development Director Buddy Rizer said. "But we've put a lot of emphasis on it. We just haven't been as successful as we would like."
Before wrapping up the meeting, a resident asked Volpe whether she accepted a donation from one of the developers and whether she'd consider recusing herself from the vote.
Volpe did not directly answer the question, saying the resident appeared as though he had already made up his mind with regard to the inquiry.
Volpe has received $2,000 from real estate developer and Sterling Meadow co-applicant Brian Cullen, according to the Virginia Public Access Project.
Sterling Meadow is scheduled to meet with the Planning Commission Nov. 19. The meeting begins at 6 p.m.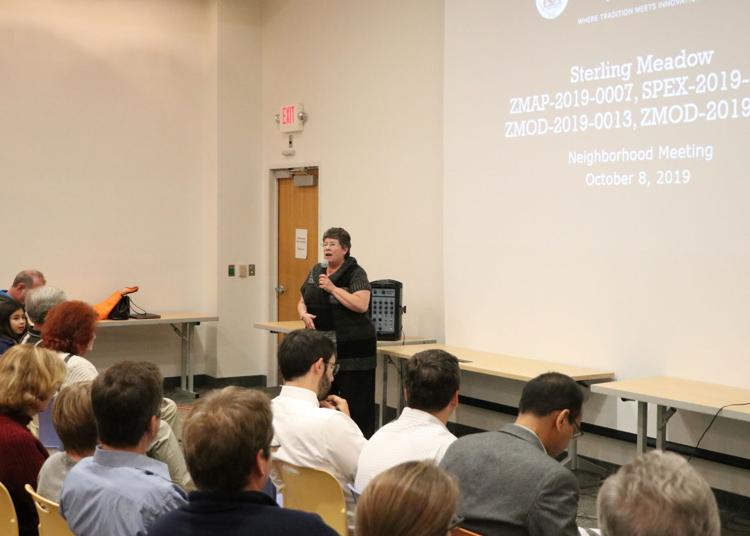 Correction: An earlier version of this story stated that the project calls for developing 184 stacked multi-family residential units and 12 affordable dwelling units. The Sterling Meadow application was recently revised and now proposes 166 housing units with 11 ADUs, according to a development representative.