Graydon Manor boasts an impressive view of Loudoun County. The 20th-century manor house looks out over 131 acres of trees and hills and neighbors the Rust Nature Sanctuary. From a hilltop on the property, visitors can see all the way to the urban centers of Reston and Tysons Corner.
Property owner and developer David Gregory believes this view would be ideal for a destination winery, brewery and a co-housing development.
"No one's built anything like this in Loudoun," Gregory said. "I think people would love to live here."
Loudoun County officials, however, have taken issue with Gregory's application, leading Gregory to file four active lawsuits against the county. And now, Leesburg too is facing threatened litigation over town sewer service to the property.
While each side alleges the other is misreading the zoning ordinance, one thing is clear: The county and Gregory represent different sides of what it means to keep western Loudoun rural.
Gregory's vision
As David Gregory drives his Lexus sedan over a field with a barely-marked trail of trampled grass, he remarks on the contrast between his co-housing vision and the isolated mansions at Shenstone Reserve next door.
"Done right, it's a village," Gregory said of the property just west of downtown Leesburg.
Inspired by neighborhoods in northern Europe, Graydon Manor as proposed would feature about 240 co-housing units at a variety of price points. While each home would have its own essential living space, other amenities – larger entertaining areas, a workshop, a gym and more – would be housed in central community buildings a short stroll away.
On the Leesburg side of the development would be fields for animals like goats and ducks; a 40,000-square-foot, high-end wine barn and vineyard; and a brewery and event space expanding off the historic house. Another smaller brewery and recreational area would sit next to the W&OD Trail along with a parking lot catering to people who want a base from which to walk or ride, according to plans.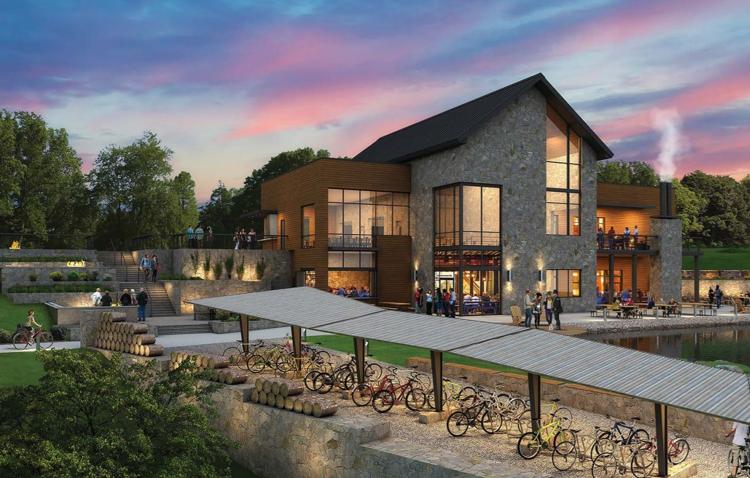 Residents of the co-housing neighborhood would be invited to participate in some of the agricultural uses, but most would have day jobs, Gregory said. The property would maintain the use of its well water—Gregory calls the quality of the water "fantastic"—but needs Leesburg to provide sewer services.
The county's perspective
According to site plan documents dating back to last year, Gregory and Loudoun County have disagreed over the county zoning ordinance's definition of co-housing. According to the zoning ordinance, co-housing is a permitted use for the AR-1 zoning district where Graydon sits.
In comments from Zoning Administrator Mark Depo in July of this year, the county contends the co-housing neighborhood needs a subdivision application because the houses would actually be detached dwelling units on their own separate lots.
Gregory has countered that according to the zoning ordinance, co-housing does not require a separate subdivision application because it has a condominium-style ownership where residents own the building, not the lot.
In addition, he claims, the AR-1 uses lot coverage instead of house density. Lot coverage is the area of rooftop covering a property. According to the zoning ordinance, the lot coverage limit for residential units in AR-1 is 10 percent of the property. At a property size of 131 acres, Gregory's co-housing development would fall within the limit.
Even so, Depo says co-housing must be, according to the zoning ordinance, "a residential arrangement on the site of an active agricultural, horticultural or animal husbandry operation," with an agricultural use being a principal function of the property. While the majority of the property would go toward agriculture, the co-housing element would not be directly tied to agricultural use, the county claims.
Gregory counters that it's all merely semantics, alleging the county is "slow walking" his application while fast-tracking changes to the zoning ordinance that would rule out his development entirely.
"We are finding the county to be extremely creative in their obstructionary behavior," Gregory said.
When the Times-Mirror asked the county the average length of time for approval of a site plan application similar to Graydon Manor, staff said that times vary.
Board of Supervisors Chairwoman Phyllis Randall (D-At Large) said that changing the zoning ordinance will be a major part of county business next year, though she denied that the county is specifically slow-walking Graydon Manor.
"Our zoning ordinance has not been updated in two decades," Randall said. "[Applications] have taken more time than needed."
Leesburg sewer
Leesburg rarely extends sewer to property outside town, especially property outside Leesburg's Joint Land Management Area. In 1998, Leesburg Town Council voted not to extend sewer services beyond its western borders.
However, Graydon Manor is unique. In 1963, Leesburg extended sewer to the property when it housed a group home and school for children with epilepsy, and later, a mental health center that specialized in drug rehabilitation. Today all of the property's buildings—about 20—have town sewer service.
In a report to Leesburg Town Council on Sept. 24, Director of Utilities Amy Wyks said that if the sewer pipes installed at Graydon channeled more than 765 gallons per day, it would require an extension from the town.
Gregory, however, alleges the 765 gallons figure is bogus, saying that the pipes channeled more than 13,000 gallons per day when Graydon was open as a mental health facility. He said the pipes are designed to handle tens of thousands of gallons. 
Gregory does not have an active application with Leesburg, though he sent a sewer capacity modeling request in late July. Leesburg returned his check a week later, claiming that they could not process it without "council approval of the extension of sewer to the parcel," Wyks said.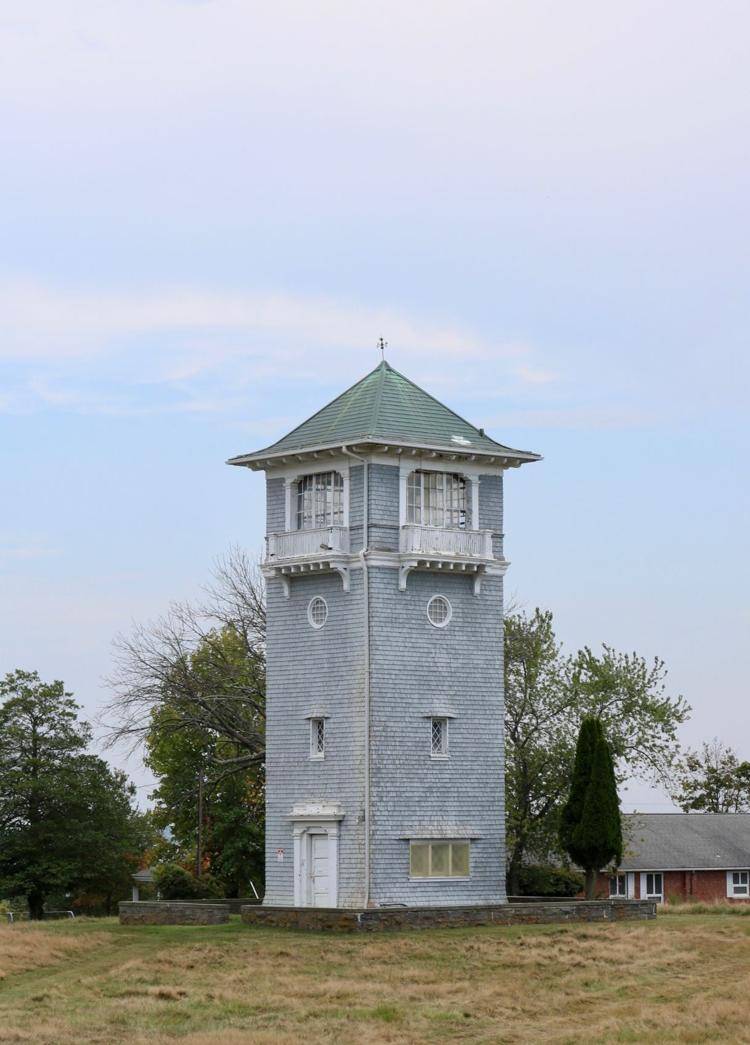 Gregory has not filed a suit against Leesburg, but he says it isn't out of the question.
"We are somewhat perplexed as to why the town is suing the county to acquire new customers in the JLMA while they're trying to terminate a customer that has been with them for more than 50 years," Gregory said, referring to the recent spat between Leesburg and Loudoun County over JLMA utilities.
Leesburg council members appear divided over the proposed development.
Councilwoman Suzanne Fox supports it. "The plans for Graydon would be a boon for the town economically," she said. "Additionally, the revenue the town would stand to gain by offering increased sewer service would probably defray some of the loss that the town will most likely experience from losing the JLMA to Loudoun Water."
Fox has received more than $23,000 from Gregory for her political campaigns, according to the Virginia Public Access Project. The Leesburg councilwoman is currently running for the state Senate's 33rd District seat.
Mayor Kelly Burk is uncertain how the development would affect Leesburg and Loudoun County.
"My concerns center around the fact that this is a Rural Policy Area, and we've been chipping away at it," she said. "I think we need to honor the fact that this is zoned for rural activities and not housing."
Graydon Manor
While lawsuits simmer and fingers point, Graydon Manor itself remains a grand, if dilapidated, rural Loudoun property. The clapboard water tower looks like a fairy-tale lighthouse, and the manor rests like a Southern estate at the end of a tree-lined drive.
As Gregory walks through the manor house, littered with construction equipment, he describes how attractive the property could be as an event venue: suites for bridal parties upstairs, an upscale bar for the brewery. He passes campaign signs for Fox and commonwealth's attorney candidate Nicole Wittmann (R) that lean against the walls. Gregory, however, has given more than $100,000 to candidates on both sides of the political aisle – including $2,000 to Randall and $20,000 to Del. John Bell (D-87th), who is running for the state Senate's 13th District seat.
Gregory says if his current plans don't work, he might turn the property into a dog kennel, a project approved by the Board of Supervisors in 2018, or a skeet shooting range. But the co-housing project is his top choice.
"I would love to start construction tomorrow morning," he said.
Gregory reaches the main staircase at the front of the house. The wood and wrought-iron railings seem to defy the decades, floating to the second floor without a missing rung. In spite of crumbling plaster and abused hardwood flooring, the building has the potential to be lovely once again.
Just what kind of place it becomes, though, is uncertain—as is the future of rural Loudoun.