Last September, two Ashburn moms were stuck in traffic, talking on the phone and they began brainstorming ideas for a new business venture. After discussing an array of options, the entrepreneurs came up with the idea of starting their own subscription box service.
Just a few months later, in January, the two friends – Brooke King, a married mother of three who works in human resources and has a health and fitness coaching business, and Julie Powers, a married mother of two boys who has her own meeting and events consulting company – launched the Mom Things subscription box service.
According to Marketplace News, the consultancy McKinsey reported subscription boxes became a $10 billion business in the U.S. last year. Consumers can find just about everything in a subscription service – food, wine, beauty products, cleaning supplies and gifts. Some of the most popular and successful boxes include Birchbox, Fabfitfun and Graze. Consumers are drawn to buying subscriptions because it's typically a good deal – the value of the contents inside the box is usually greater than the cost of the subscription.
After coming up with the concept – a monthly box of five to seven hand-selected products that King and Powers enjoy using themselves – they spent time developing the company's branding and design.
"We went through a process to find the look and feel. We worked with a local designer on the logo and found what we wanted with a navy box and rose gold writing – a simple, feminine look," King said.
Each month, the business partners find a new quote to use on the inside cover of the box.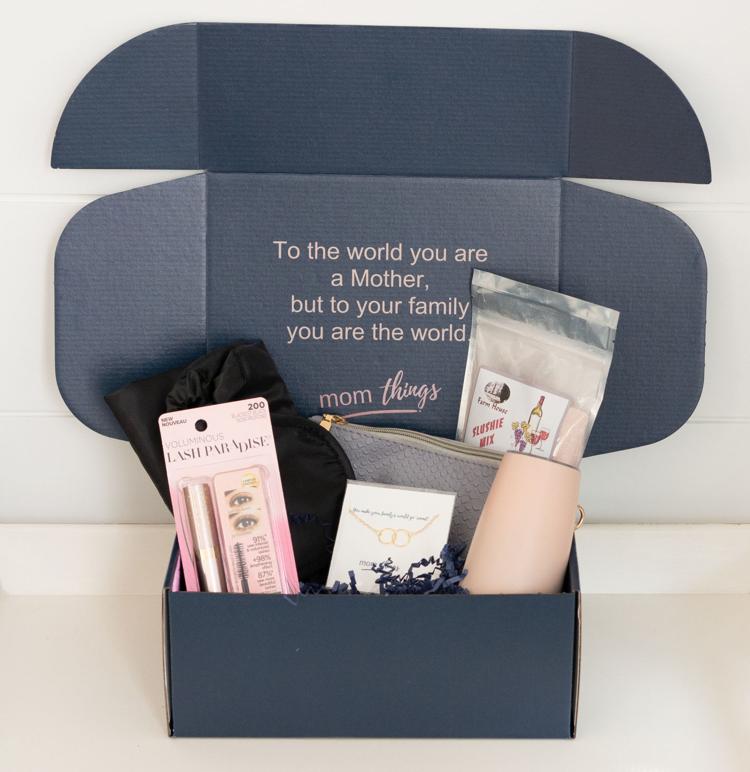 "We wanted to have a monthly quote to inspire, empower and make someone smile each month when they receive our boxes. We intend for it all to make the recipient feel excited to receive something nice while in the midst of a busy day, where many women do not have time to do something for themselves," Powers said.
Each box contains practical items the founders enjoy using themselves, such as kitchen tools and pampering items like a face mask, tech gadgets, stationary or gifts to share with a friend.
The business partners are constantly looking for things moms would enjoy receiving in the boxes. Then, they go out and find them in bulk and negotiate a price with the manufacturer.
"We are both great at negotiating and finding good deals," King said.
The company launched at the start of the year. They are mailing hundreds of subscriptions to consumers in 27 states, and they are "growing every month." Each box is $34.99. There are three- and six-month options, or one-time buys.
King's favorite item so far are Blenders sunglasses, which retail for about $48. "They are great sunglasses, and it shows the consumer how much value they are getting in these boxes," King said.
Powers said her top picks for the boxes include Paradise lash mascara and fleece-lined leggings, which were in the January box. "This is a great way for businesses to get their products out there and introduce them to new customers," Powers said.
Mom Things has used a couple of Loudoun-made products so far – Harper Leigh Design necklaces and bath bombs by Tammy.
"We love working with local moms. We also worked with Trader Joe's in Loudoun," King said.
The two partners agree the new business is so fun it doesn't feel like work.
"In addition to what we sell, we are interested in creating an empowering community on social media -- a place where women can go after a chaotic day to make you smile," Powers said.
For more information on Mom Things, visit themomthings.com. King and Power are offering Loudoun Times-Mirror readers a discount by entering in Loudountimes5 with their purchase.