This fall Loudoun County will become home to the flagship location of The Ballpark, a new, state-of-the-art training and entertainment facility currently under construction in the Lexington Seven development located off Route 7 in Ashburn.
The 22,000-square-foot sports facility will serve as a destination for baseball and softball lovers, offering training and social entertainment using high-tech equipment.
The venture is being led by its President and CEO, Chris Bourassa; General Manager, Josh Swirchak and Vice President of New Business Development, Laila Victorine.
"It's a very collaborative idea," Bourassa said. "We have been bouncing this around together for a while."
The trio currently work together at Play to Win, LLC, a Loudoun-based company focusing on youth sports.
"We are excited to continue our efforts of developing youth character and leadership through sports — specifically, through The Ballpark Loudoun's youth program offerings," he added.
Using HitTrax, Driveline Baseball and Pro-Batter technology, players can set the system for baseball or softball and it can be used for competitive practice or for fun engagement with friends and family, according to Swirchak, who is a former professional baseball player with the St. Louis Cardinals.
"You can simulate a game and calculate velocity and distance for a full experience," Swirchak said. "It's awesome. You can literally play a complete game and select any ballpark to play in."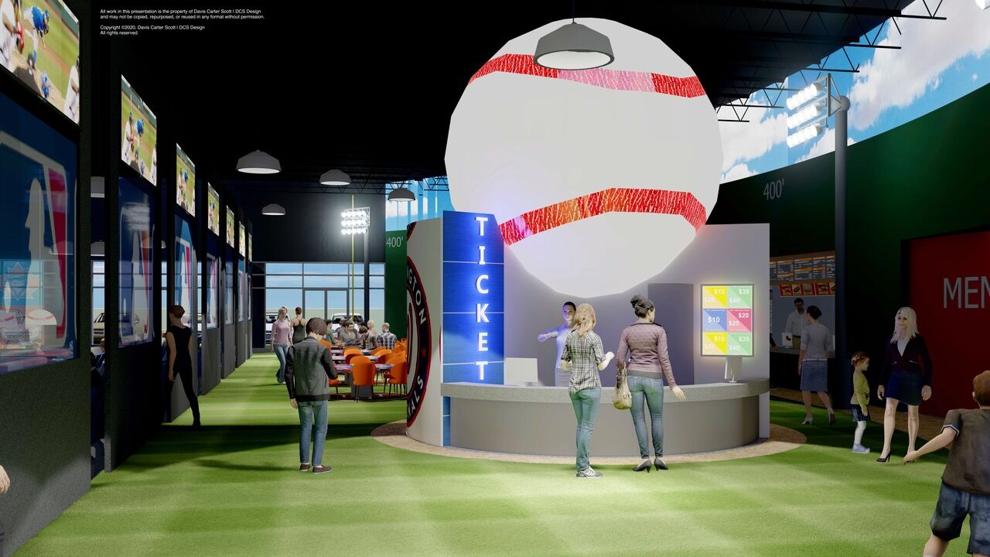 There are also plans to form leagues and tournaments for all ages.
In addition, the in-house restaurant, Chibop, will offer a food program featuring a menu with a "Korean twist," along with traditional ballpark fare. The venue will have several different seating options, including on the patio or outdoor bar, or on the viewing deck overlooking the hitting lanes.
Swirchak said there will be memberships available with incentives to register early.
"Once we do launch, we will partner with little leagues in the area to build excitement," he said. "We want to make it a community facility and a cool place to train for your sport."
Over the next five years, the goal is to open five to ten locations regionally from Baltimore to Richmond and then expand nationally, Victorine said.