Two years ago, John and Bonnie Branding headed out onto their farm to forage for a specific ingredient for the brewery they had recently opened. For this particular ingredient, however, the pair didn't require the use of a tractor or any of the tools typical of farming.
Instead, they needed nothing more than mason jars filled with sugar water — or wort, in brewing terms.
What the Brandings, who own Wheatland Spring Farm + Brewery in Waterford, were looking to collect was wild yeast to use in place of the myriad strains available commercially to brewers.
Armed with a dozen jars, the Brandings went to work searching for the ideal spot, joined by their head brewer, Austen Conn.
"There's no real rule to where you're going to capture a pleasant yeast," Bonnie Branding said.
The team, she said, even made an unofficial competition out of seeing who could find the best location to capture usable yeast samples. She doesn't recall who won, but she recalls it wasn't her.
The samples they collected were eventually given to Jasper Akerboom, who operates Jasper Yeast in Sterling, she said.
Akerboom, who provides a variety of strains of yeast for commercial brewers and home brewers alike, isolates the yeast samples and stores them for whenever they need a fresh batch.
Now two years later, they're using three strains of what they refer to as "estate yeast" to brew some of their beers, including a new one made from 100% Loudoun-grown ingredients.
Loudoun Grown Farmhouse Ale — which is currently fermenting in a stainless-steel tank — is a collaborative effort between Wheatland Springs and three other Loudoun agricultural businesses, all of which contributed ingredients for the beer.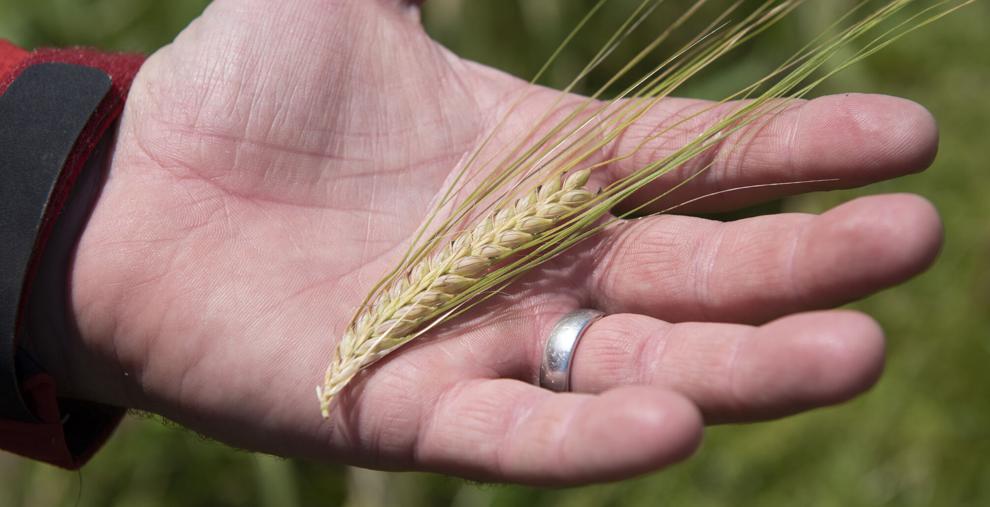 Three Monkeys Farm and Hanging Rock Hay & Grain each provided grain to augment Wheatland's estate grain — that is, grain cultivated directly on the farm — along with hops from Fabbioli Cellars.
The all-local beer is set to be released on June 23.
The project, "was something that we want to do to highlight other small agriculture in Loudoun County," Bonnie Branding said.
"This is a unique environment," she said. "We have some of the best soil here in the country, and no one ever talks about that. We were looking for ways to highlight it."
While only a few farm breweries across the country use grain from their own fields to brew, what's exceedingly rare is to see every single ingredient sourced locally.
One of the biggest hurdles in brewing beer that's 100% locally sourced is the hops.
"They tend to be finicky little buggers," said Doug Fabbioli, a co-owner of Fabbioli Cellars.
The tiny, cone-shaped flowers provide beer the bitterness and floral aromatics, depending on when in the brewing process they're added.
But they are notoriously difficult to grow in the mid-Atlantic.
Hops, he said, are different than grapes, of which he also grows. They "like temperatures that are a little bit cooler than we have [in Loudoun County]."
"The basic rule of thumb with agriculture is, if it doesn't produce a crop, don't keep growing it," he said. Which is why of the six varieties he's attempted to grow, only two continue to be grown.
Fabbioli's whole leaf Cascade hops were used for the Loudoun Grown beer.
John Branding said that while he's proud to be able to use Loudoun-grown ingredients exclusively for the project, such an accomplishment is only possible because of the high-quality products being farmed in the county.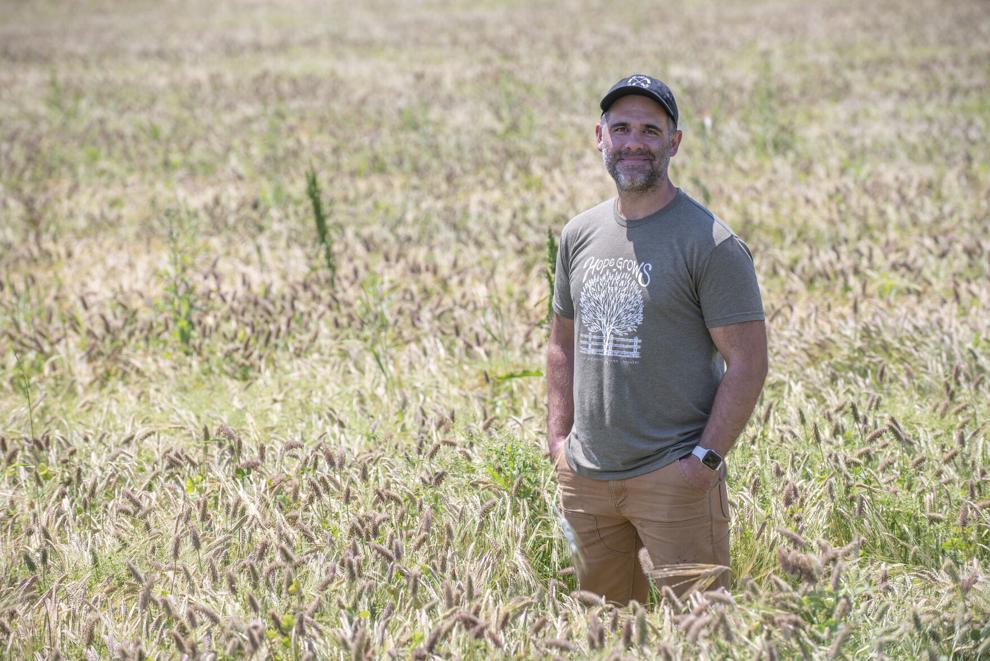 "Our belief — and the last couple of years have borne this out — is that if we can grow extremely high-quality ingredients for brewing [and] not just grow ingredients and throw them in beer because we have them on the farm … then we're able to produce beers of the highest quality we can," he said.
"And at the same time create beers that can only exist right here — similar to what a vineyard might do in different regions of the world."
Branding, who said he knows even the pH level of the soil his grain is planted in, compares the intricacies of craft beer to that of the terroir of wine.
"The question I have is, 'Why is beer any different?'" he said. "Beer is just as much an agricultural product as wine."
While large brewing operations, known as macro breweries, aim for consistency regardless of which crop of barley or hop goes into a beer, Branding embraces the distinctive characteristics inherent in a beer sourced from a small farm such as theirs.
"It's a feat," he said of the consistency large operations can attain. "But we're on the other end of the spectrum. That's antithetical to what we're trying to do here.