At the heart of a sprawling, 121-acre estate sits this picturesque, 7,000-plus-square-foot mansion, its Georgian design wholly transportative while at no lack for contemporary comforts. This historic Middleburg property is under conservation easement and is currently listed at $5.5 million.
Built in 1850 and currently operating as a destination event venue and working horse farm, Mortgage Hall sits surrounded by panoramic views of lush Loudoun countryside while also mere minutes from Middleburg's historic downtown. Its 10-bedroom floor plan accommodates up to 20 guests— a layout well suited for hosting a large Thanksgiving or opening a bed-and-breakfast or sleepaway wedding venue.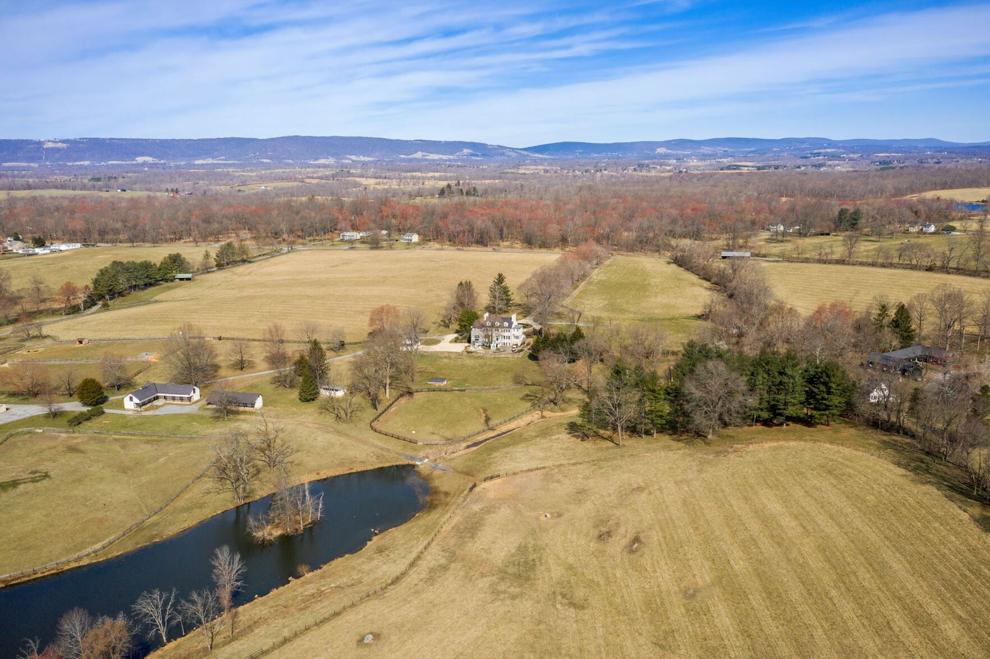 Guests can enjoy a drawn-out welcome with a trip up the lengthy gravel driveway, flanked on either side by fenced-in pastures and leading to the three-story façade topped with a metal roof and four towering chimneys. Restored hardwoods welcome visitors into the foyer, from which one can either get cozy in the living room or sit down to eat in the formal dining room — both of which bask in the warmth of wood-burning fireplaces.
The living room offers access into a tiled, luminous sunroom, which in turn leads outdoors onto a shady deck. The dining room, meanwhile, connects directly and conveniently to the eat-in kitchen, which boasts a wealth of cream-colored cabinetry, stainless-steel appliances, a sizeable center island and an overhead cookware rack — not to mention period-specific crossbeams. An informal dining space sits immediately adjacent for quick kitchen-to-table turnaround, while a sitting area rests at the opposite edge of the room, offering a view of the pastures and fishing pond that lie beyond.
Most of the house's bedrooms can be found on the second and third levels, with the primary bedroom being found on the former. Here, with more than 440 square feet of space, the owner or owners can stretch out and relax in serene style while also enjoying a bounty of closet space and a private bathroom. The four bedrooms on the top level all share a full bath, while the ninth and final bedroom on the finished lower level has its own bathroom.
Also on the lower level is a large family or entertainment room, a laundry room and a bounty of storage space, as well as walk-out access to the rear patio. Warm and chilly evenings alike can be enjoyed huddled over the fire pit while the horses graze nearby. Speaking of which, three barns — two with six stalls each and one with a whopping 24 stalls — will accommodate dozens of four-legged friends. Finally, a detached guest house offers an opportunity to bring in additional income through renters or can function as a newlywed suite.