Keren Jayne of Pearson Smith realty said this historic Purcellville home is one the few that survived a "big burn during the Civil War." Thanks to unique zoning just inside the Town of Hillsboro, this $1.8 million property — which features a three-story barn and lake in addition to the main home, which was built in 1903 — presents potential buyers with an array of business opportunities.
The main residence has four stories, including an attic and basement. A stone fence surrounds the home's yard, and visitors walk past a small iron gate at the center front of the yard to approach the house. Its exterior features white shiplap siding, dark shutters, and a raised wraparound porch with white banisters.
The home's front entrance leads to a hallway with a stairwell to the upper floor, and a sitting room with an antique brick fireplace stands off to its side. A living room in the rear of the home's first floor sports an exposed brick accent wall in front of another antique wood-burning stove — this one cast iron. Hardwood floors span the width of the main floor, which features white trim and historic wallpaper in different rooms.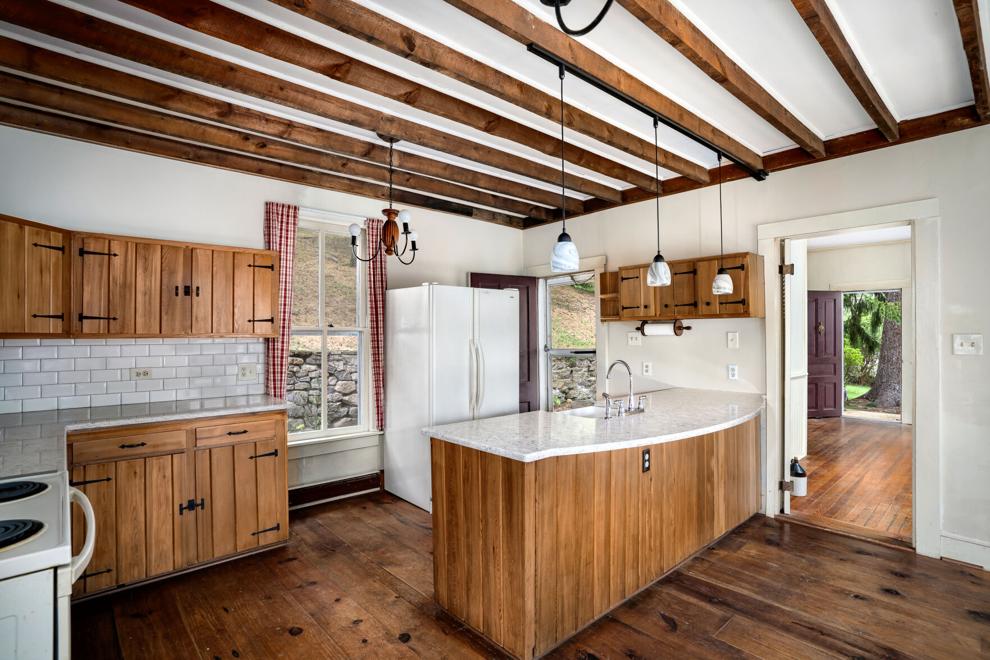 Toward the rear of the home, an antique kitchen has been updated with new stone countertops, a subway tile backsplash and dark metallic pendant lights with opalescent lampshades. The kitchen's walls and trim are white, while its millwork highlights rustic wood tones with dark metal hardware. Exposed beams in the ceiling add to the rural feel, and a doorway in the kitchen's corner leads out to the backyard.
Opposite the kitchen, a set of glass double doors leads out to the yard, with a combined half-bath and laundry room to its right, and another sitting room with vintage trim and wallpaper, and a brick fireplace to its left.
The home's second floor likewise has hardwood floors throughout a main hallway and four bedrooms. One of the bedrooms hosts two large closets, and preserves a vintage shiplap accent wall. Walls and trim in all four bedrooms are white — except in one that features an antique floral wallpaper — and share a full bath in the center of the second floor that also sports antique wallpaper and a double sink vanity.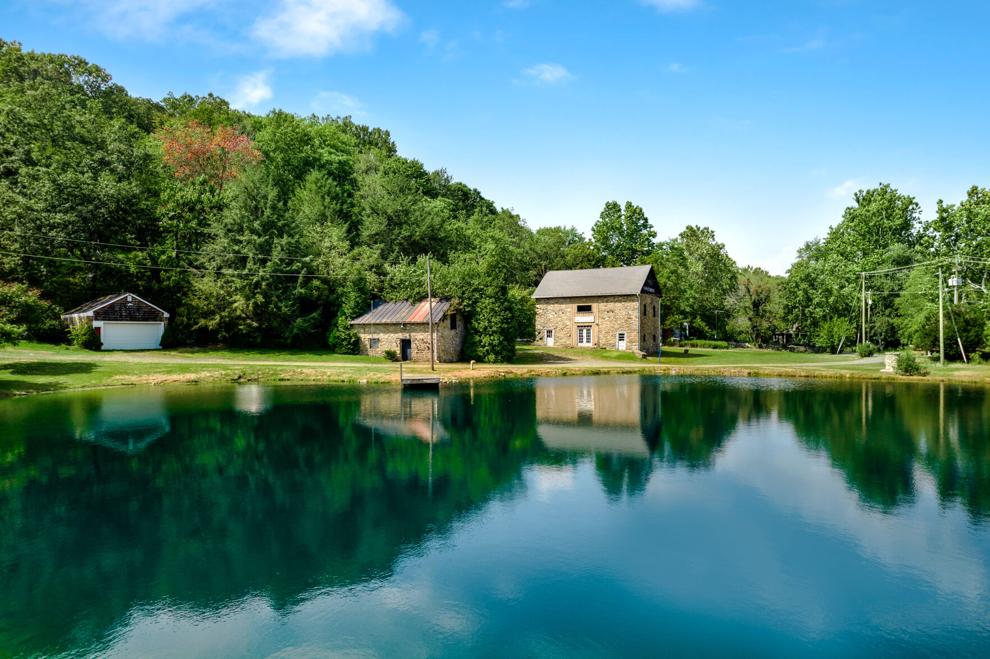 Just down a road on a hill that leads to the main home, a small lake with a small dock sits opposite a detached two-car garage, a small spring house with potential living space on its second floor, and one of this property's main selling points — a three-story, converted stone barn that's been used most recently to host an antique and restoration shop.
Jayne said that in the past, the barn has been used for a store or shop, pub, or tavern. And now that Hillsboro has water and septic services, those potential business ventures are all the more doable.
"Somebody with the right vision," she said, "could potentially live here and run a business in the town." Jayne added that the home's features make it, "so unique, and there are really not many opportunities like this in Loudoun County."
A similar property just across the street was under contract within two days, selling for $1.8 million, she said. "The buyer's gonna have to understand the opportunity here."