For the past 25 years, Dolly Stevens has been in her element on stage working with students in western Loudoun County and producing award-winning theater shows. Whether she was singing, dancing, acting – or a combination of all three – Stevens' main goal was to make a difference in students' lives.
After 10 years producing musicals at Blue Ridge Middle School, "Miss Dolly," as she is known to her students, has decided to move on to the next phase in her career, although she is planning to "keep a presence" in Purcellville.
Stevens, 62, has moved to Strasburg in Shenandoah County, and she said she is ready for other creative projects with her production company, Spotlight Productions.
Stevens, who lived in Purcellville for 34 years, lost her husband in 2011, and her son died in a car accident in 2013. Following those life-changing events, she spent a couple of years examining what to do and where to go next, although she was reluctant to leave her treasured home in Purcellville on Orchard Drive, where she and her husband raised their three children.
"We owned land outside Strasburg and always talked about building a home there. It felt like I was being called to live there," she told the Times-Mirror.
In 2016, she decided to sell her home and build a new one to "restart her life and career" – a process that took a few years.
"I loved my time in Purcellville, and I'd do it all over again. However, it felt like that house needed a new young family to live in it," she said.
Stevens began her career on stage at Shenandoah University and worked professionally "up and down the East Coast."
In 1993, she worked in local theater at the Community Center in Purcellville with her friend Alice Power. She then founded the Growing Stage with Laurie Farnsworth. She said they became the "premier youth theater group" in the area, teaching workshops, acting classes and summer theater.
"Theater does everything for kids. The best thing is that it dramatically increases self confidence, self awareness and self esteem. All of those things are addressed when a child has an opportunity to express themselves," she said.
Specifically, Stevens has enjoyed working with middle school students.
"Middle school is a tough age. I can get through to them if I can get them in a drama class. What matters is a place where they can express themselves, feel they can belong and be accepted. Theater has the ability to allow someone to be who they are and express themselves and feel good about it," she said.
Stevens always sets high expectations for her students, and that is what produces results, she said.
"We built the production values around the students to make them sparkle. All I ever wanted to do and still want to do is make a difference in their lives. I wanted to make sure every kid had a positive experience and memories they will always have," she said.
"I really enjoyed my time at Blue Ridge. The principal, Brion Bell, was very supportive, and the teachers always made me feel welcome. I'm still in touch with many of the kids. But it's time to start a new chapter," Stevens said.
Stevens reflected on the productions at Blue Ridge, starting with "Bye Bye Birdie," then "Seussical," "Annie" and "Cats."
"'Cats really stands out – it was unique because we were the first middle school east of the Mississippi to do the show and only the second in the country," Stevens said. "We had the perfect cast and great parents that year. With all of the singing involved, everyone was saying, 'How will she do that show?' Well, watch me, I told them."
They won four National Youth Arts Theater Awards for "Cats," including Outstanding Ensemble. The group traveled to New York City to receive the awards.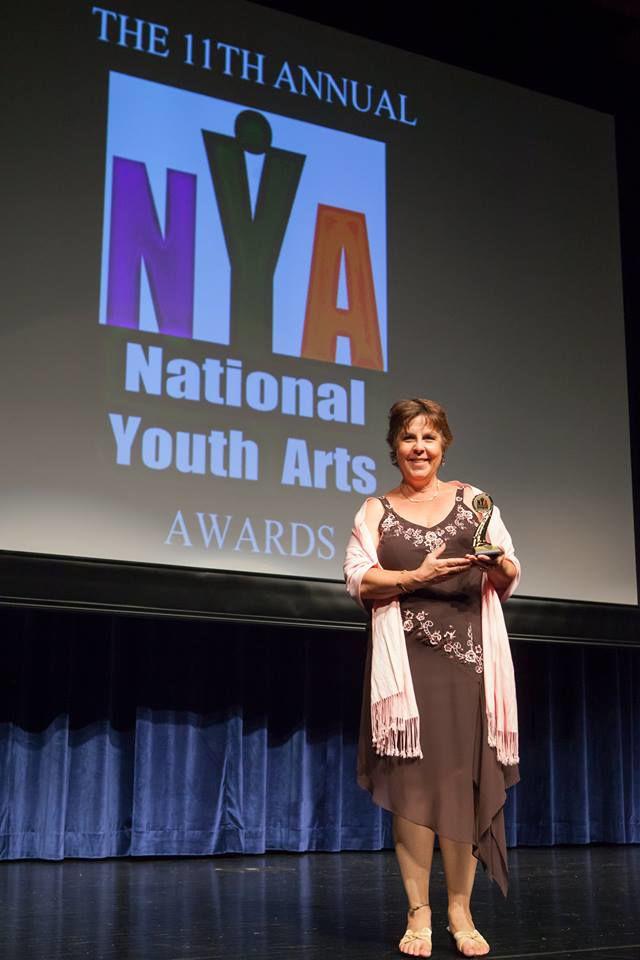 The next year, Blue Ridge produced an original version of the "The Little Mermaid" written by Stevens, followed by "Beauty and the Beast" and "The Lion King" in 2016.
"By this time we were getting recognized for our work every year on a national level. 'The Lion King' show was like catching lightening in a bottle – everything about that show was perfect. We swept the awards that year," she said.
Over the years, Stevens has worked with hundreds of students and their parents around Loudoun County. Krista Winger was the costume designer for several productions at Blue Ridge.
"Dolly has a rare and true gift for understanding and valuing what young people are capable of. She guides them with love, support and believes in them as individuals. Dolly provided not only a Broadway experience for my two children, but hundreds of students in our community," Winger said. "She instilled a confidence and skills set her students will carry on with them long after the final bow."
Greg Powell, whose son Jack appeared in several of Stevens' shows, took the lead with set design.
"We really enjoyed it. My son was a quiet introvert who wouldn't say a word to an adult, and he is now a full-blown theater kid who is taking leading roles. Stevens made a huge impact on our entire family. She is tireless and it is infectious," Powell said.
On Tuesday, Stevens, who has received numerous honors including a Tony nomination in 2015 for Excellence in Theatre Education, is being honored Tuesday night by the Town of Purcellville for her work in creative arts over the years.
Mayor Kwasi Fraser told the Times-Mirror Stevens enhanced the town with her "creativity and ability to develop, produce and to showcase art."
"Dolly Stevens ranks unparalleled in her development of the artistic talents of our young people. Moreover, owing to her convincing promising athletes that they were made for the stage and not for the field or court, she was the envy of many football and basketball coaches. We thank Dolly Stevens for leaving an indelible impression upon Purcellville's youth by encouraging them to reach for the stars in their delivery of artistic masterpieces," Fraser said.
Bell, the Blue Ridge principal, said Stevens "created a culture of learning, trusting and growing in theater and life."
"When I think of Ms. Dolly Stevens and her contributions to kids and the Blue Ridge community, what always sticks out to me is how safe she made kids feel when trying something new like theater," Bell said. "Middle School kids are in a very unique time in their lives. It would be easy to feel uncomfortable being in front of one's peers or trying something completely new. Dolly made all that tension go away. Kids blossomed under her instruction and care."