Two Loudoun restaurants — Leesburg's ChefScape Kitchen and City Tap House in One Loudoun — will host drag shows for the first time next month, and with tickets for both sold-out weeks in advance, it appears county residents may have a recurring new entertainment option.
"There are so many younger people, and even older people, who want something other than a guy and a guitar in a winery," drag performer Ryan Kincade told the Times-Mirror. "They want some other entertainment, and they don't necessarily want to go all the way to D.C. or Baltimore for it."
Drag shows aren't totally new to the county. Tarbender's Lounge in downtown Leesburg first hosted a drag performance nearly two years ago when Kincade approached restaurant co-owner Brandee Baldwin with the idea.
"I'd been to drag shows in D.C. left and right and so have all my friends, and they've always been so much fun," Baldwin said. "So [Tarbender's co-owner] Paul Zangos and I said, 'Why don't we have it here instead of everyone having to drive all the way to D.C.?'"
Given Baldwin and Zangos try to host charity events at Tarbender's about once a month, they reasoned something as unique to the area as a drag event would be a fun new way to give back. They held their first drag show in April 2018 and have hosted several since, both as an evening event and as part of its series of "Sunday fun day" brunches.
The restaurant was overflowing with patrons during the latest drag event on Jan. 12, with dancing, smiles and laughs aplenty.
Baldwin said the "Sunday fun day" crowd usually consists of women and couples who are excited to see a show and enjoy mimosas or Bloody Marys "when everyone else is watching football."
Charities benefited have included the Loudoun Abused Women's Shelter and The Trevor Project, a nonprofit dedicated to crisis intervention and suicide prevention for LGBT youth. While Tarbender's donates 10% of proceeds from the shows, Baldwin said the individual performers will often contribute nearly half their tips.
Though she acknowledges a stigma surrounding drag culture, Baldwin believes the drag events Tarbender's holds are largely accessible, "PG-rated" comedy shows at their core.
"I think people have this idea in their head that a drag show is a man dressed up like a woman, but it's actually comedy, it's entertainment. It's just something fun that the whole community can get around. You can be teenagers and come in there," she said.
Baldwin said she is thrilled the Tarbender's events potentially inspired similar gigs at ChefScape and City Tap. The former is holding its "Divas Mardi Gras Drag Show" Feb. 21.
"It sold out in record time, which was amazing to us. We sold about 225 tickets in just a little over two weeks," ChefScape Chief Operating Officer Ginny Grivas said. "We had this huge wait list of about 100 people who were not able to get tickets."
Grivas believes the newfound popularity of drag shows in the area — as well as ChefScape's other culturally diverse events — signify a growing sense of open-mindedness and youthful exuberance in Loudoun.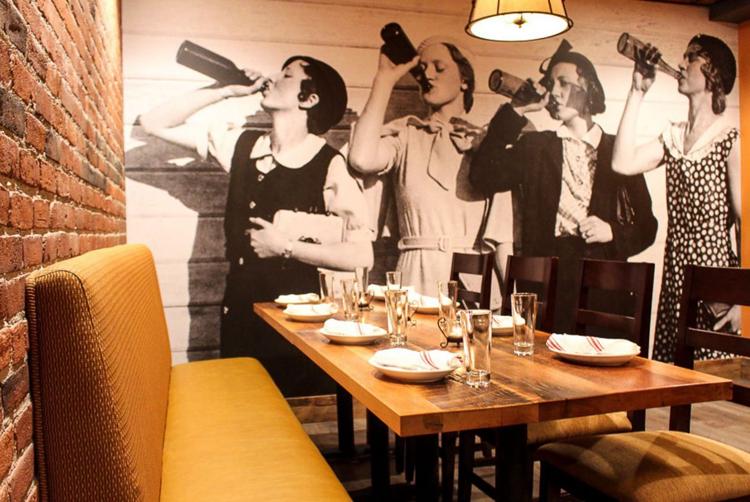 "We're seeing, as a business, tremendous demand for cultural nights. Salsa nights have gotten huge for us, and our R&B nights have gotten huge as well. So we're really seeing a trend where there's a cultural expression that people are dying for within what used to be 'sleepy little Loudoun,'" she said.
Also rapidly sold-out was City Tap House's "Drag Queen & King Brunch," which will take place Feb. 1. Liz Gartzke, director of sales and marketing for the restaurant chain, said other City Tap House locations had received positive response to similar events, so she figured Loudoun wouldn't be any different.
"We were fully booked within five days at every table with some room at the bar for lucky walk-ins," Gartzke said. "The warmth and reception from the community at large towards all of our special events has been overwhelmingly positive and we're grateful to participate in the community any way we can."
Future drag shows in the area include another at ChefScape, which is scheduled for April 24 at 9 p.m. More information and tickets are available at facebook.com/events/160982095163950.