In August 2006, Lovettsville resident Debra Schaffer was diagnosed with an aggressive form of breast cancer. She was in her late 40s, and her oncologist gave her just two years to live.
Her family was shocked and saddened by the news, and her son started eighth grade on the same day as her surgery to remove the cancer.
She told herself and God, "I'm not okay with this. If you let me stay here to be with my son, I will do what you need me to do."
After receiving a clinical trial treatment for triple-negative breast cancer along with radiation treatment, Schaffer is a breast cancer survivor.
"I believe that because I had a healthy attitude I got through it," she said.
She noted other non-traditional therapies also guided her, including Reiki, a healing technique based on channeling energy through touch, which in turn introduced her to a spiritual practice using meditation.
While meditating, she heard a voice telling her to look in her gardens for additional healing properties.
Listening to that voice, she went outside and found roses, peonies, lavender and herbs in her garden, which she said all have healing properties. She was guided to work with the spiritual and energetic properties of the plants. When paired with crystals and essential oils, she said they produce spiritual and magical effects.
"The practice of spiritual herbalism is using plants to heal a soul and is very intention-based. Everything has a deeply thought-out and supportive purpose, because then you are truly in sync with the universe," she said.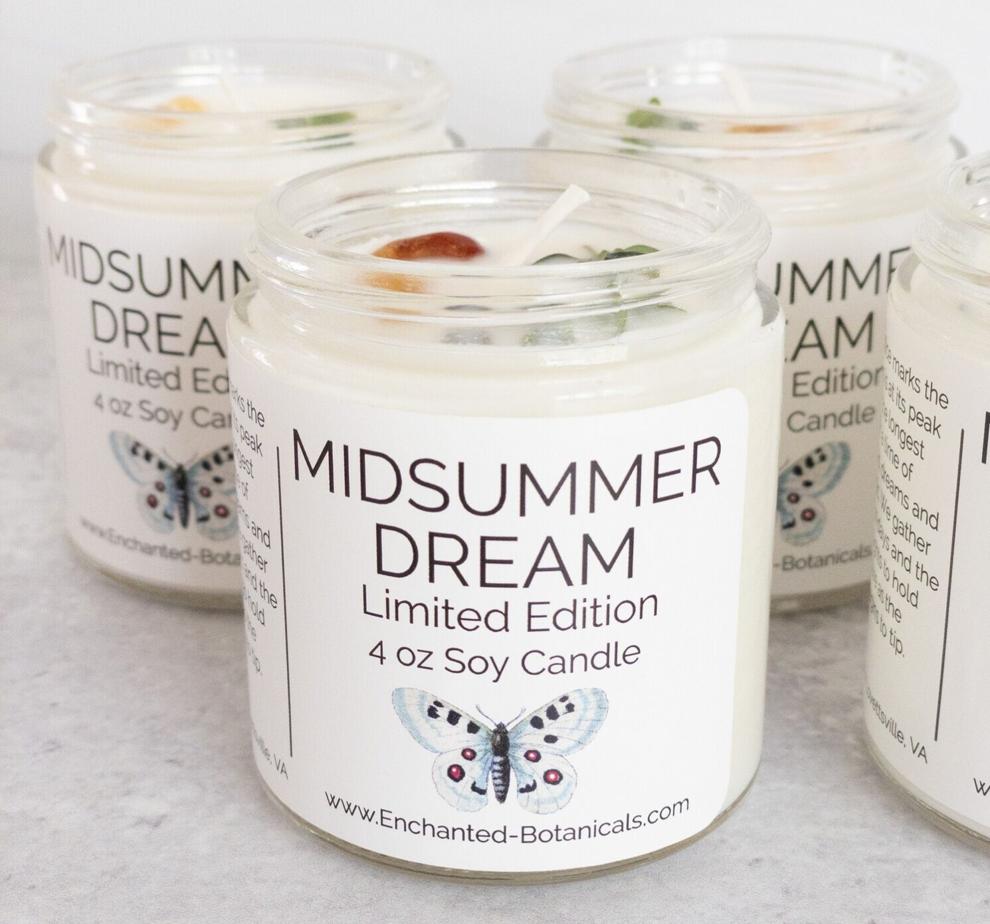 Through trial and error, she developed in her basement studio a variety of skincare and body products in addition to candles and incense. Everything has its own purpose.
"I can direct people to products that I believe will work well for them," she said.
Her business, Enchanted Botanicals, launched in 2016.
Schaffer previously owned an interior design store on King Street, The Feathered Nest, however she decided to focus all of her energy into Enchanted Botanicals because she is seeing the positive results in herself and her clients.
Schaffer hopes the products she sells will build inner strength and personal power.
"They are going to fit anybody because they are divinely created with herbs, crystals and oils that all blend together," she said.
One product, a whipped energy scrub made with rose petals, she believes provides magical energy clearing properties.
The daily mantra candle is popular for meditation and dream manifesting, she said.
Schaffer has also created products for men — specifically, candles with more traditionally masculine scents. Her brother, a winemaker at Willowcroft Winery in Leesburg, encouraged her to create a wine-scented candle which is topped with amethyst crystals.
So far, sales have mostly been through online shopping and locally by word of mouth. She also sells the products in a few brick-and-mortar stores.
Owning a business during the pandemic has had challenges, she said, especially when it comes to "supply chain difficulties" with product packaging not readily available. She has embraced the ability to pivot and is adding several new products this summer.
Recent product expansion includes a home-blessing box — perfect for new homeowners, she said. Another new product line is for new moms and babies, called "Born to be Magic," which includes massage oils infused with scents such as rose, chamomile and vanilla bean.
"Physical touch is important for creating a connection and stimulating an emotional connection," she said.
Another product, which is vegan and plant based, she calls "rub my belly" for stretch marks and healing before and after pregnancy.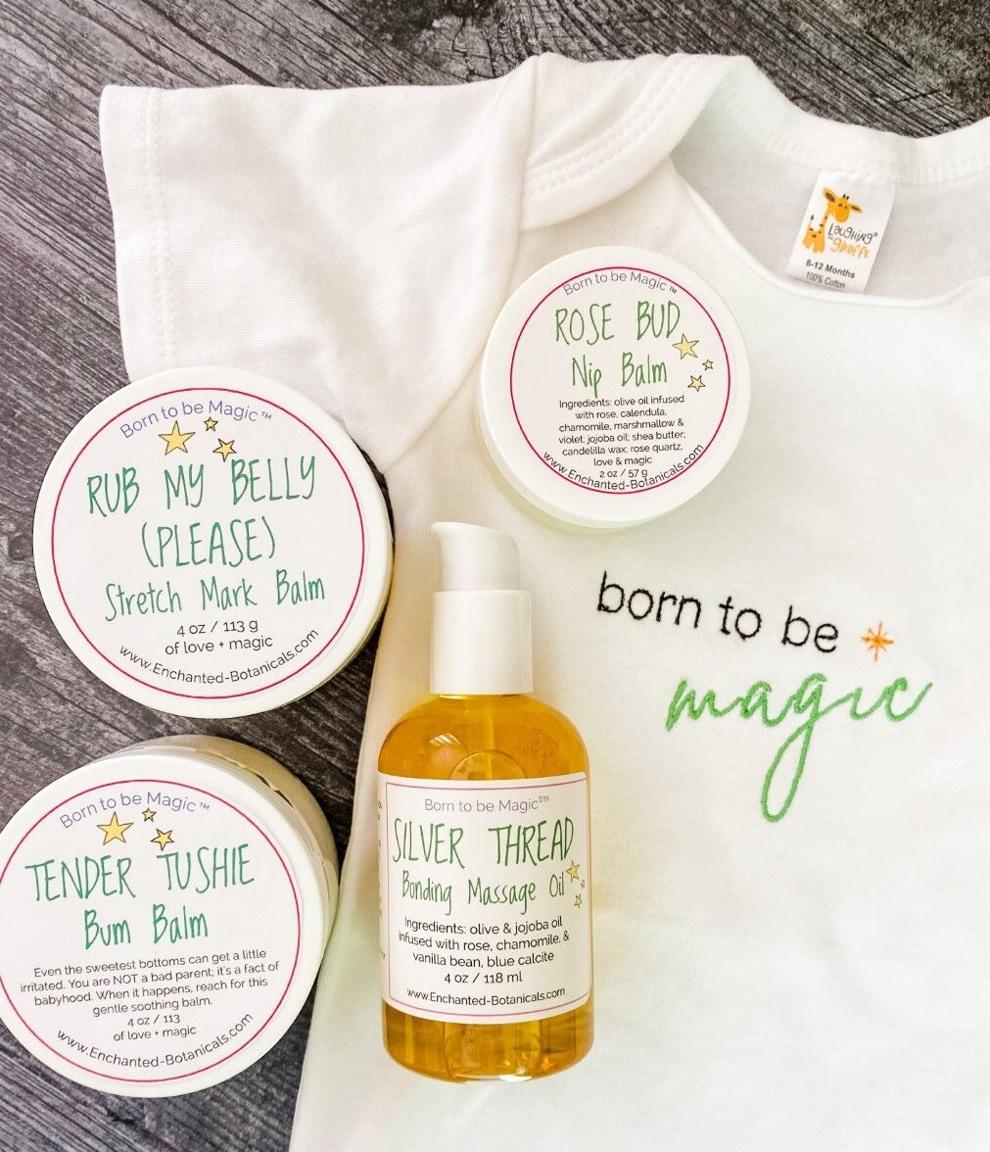 She also sells an organic and vegan diaper rash balm, as well as nipple cream and lip balm.
"All of my products have botanicals. It is all about providing happiness and joy and helping people find that. Often it is about building their confidence and connection to a higher power," she said. "Manifesting and releasing – thinking about how that energy feels, but sometimes we need to release in order to make room for what we need."