The outdoor grounds of Salamander Resort & Spa played host to the opening night of the 2020 Middleburg Film Festival on Thursday, with socially-distanced screenings of two upcoming films.
Offering a blend of virtual and in-person, physically-distanced screenings, this year's festival will continue through Sunday morning, though in-person events will conclude Saturday night.
Inflatable movie screens towered over Salamander's Grand Lawn and drive-in lot, where guests Thursday evening enjoyed writer-director Chloé Zhao's "Nomadland" followed by Edward Hall's "Blithe Spirit."
After receiving health screenings and contactless temperature checks, visitors to the Grand Lawn were provided with folding chairs to place on the grass, which was punctuated with yellow markers indicating proper, socially-distant placement.
Guests could also purchase on-site refreshments, though outside food and drink are permitted during outdoor screenings, according to festival officials.
Just before showing "Nomadland," MFF Founder and Board Chair Sheila C. Johnson expressed her gratitude at the festival's ability to proceed this year, despite limitations stemming from the COVID-19 health crisis.
"I just cannot begin to say how happy and thrilled that we are, that we have taken this gigantic leap," Johnson said. "We thought out of the box about how we could continue the Middleburg Film Festival, and isn't this exciting?"
She directed listeners' attention to the rear façade of the resort, where a number of guests sat on their balconies to enjoy the evening's presentations.
MFF Executive Director Susan Koch followed Johnson, summarizing the process by which the festival came to adopt this year's presentation model.
"When things happened in March, we said, 'Oh, October's so far off. We'll be fine.' And then as the months started going by … we thought we needed to be all-virtual," Koch said. "And then, we started hearing from so many of you who really wanted some connection with Middleburg, the place."
Per Koch, a festival tech supervisor presented the idea of allowing guests to watch movies from their balconies and from seats on the lawn.
She remarked that "Nomadland" is a frontrunner for this year's Best Picture Oscar, to which former Los Angeles Times writer John Horn joked, "It's between this and 'Trolls World Tour.'"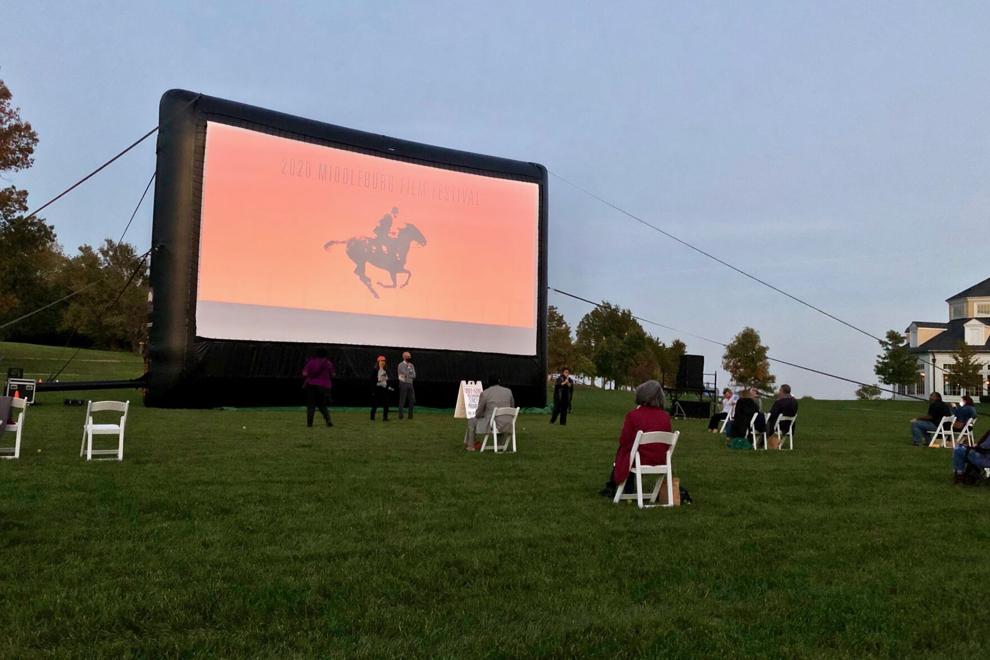 Koch added Frances McDormand and Zhao are almost certainly contenders for the Academy Awards for Best Actress and Best Director, respectively. McDormand has already won Best Actress twice, for 1996's "Fargo" and 2017's "Three Billboards outside Ebbing, Missouri."
Horn then introduced "Nomadland," which stars McDormand as a woman in her 60s who, after losing her husband and her job, travels the American West in her beloved van, working odd jobs and becoming integrated in a community of modern-day nomads.
"This film may not get released theatrically this year, the way things are going," Horn said. "It's supposed to come out in December, but every film is moving to 2021, so you have a rare privilege here to see this movie when most people might not this year."
Koch added the film's distributor, Searchlight Pictures, would not allow "Nomadland" to be made available virtually.
Zhao was the final speaker before the screening, having pre-recorded a thank-you to MFF officials for presenting her with the Agnès Varda Trailblazing Filmmaker Award.
She voiced her love for the award having been named after such "a legend" as Varda, who was a key figure in the French New Wave film movement of the 1950s and '60s, and whose film 1985 film "Vagabond" inspired the making of "Nomadland."
"I want to thank the Middleburg Film Festival … for working so hard, for persever[ing], for your passion to allow us to come together out of our isolations and just connect through storytelling, and be reminded that we're not that different from each other, that we're in this together," Zhao said.
After the film, a question-and-answer session Horn held with those involved in the film at the Rose Bowl in Pasadena, California, played on the screen.
Participants included Zhao, McDormand and several of the real-life nomads who played fictionalized versions of themselves in the film.
McDormand, who was one of the film's producers, said she knew Zhao — who made waves in the indie film circuit with her 2017 film "The Rider" — would be a great fit to adapt Jessica Bruder's nonfiction book of the same name.
"Not being a writer or a director, I couldn't imagine it, but I had seen 'The Rider,' so I knew [Zhao] could," McDormand said. "What I've learned in my very short life as a producer is, work with the right people."
Though Zhao centered her script on McDormand's fictional character, Fern, she said the greatest challenge in making "Nomadland" was to introduce and flesh out the real-life nomads featured in Bruder's book as key players in the film.
"Our challenge was, 'How do we incorporate their colorful stories into Fern's journey?' We choreographed Fern's journey in a way that that could come organically."
She added, "I like to present you the reality of the lives people live, and I like you to take away your interpretations."
Friday's in-person screenings will include Ricky Staub's "Concrete Cowboy," Bryan Fogel's "The Dissident" and Andrew Cohn's "The Last Shift."