Renowned film composer Terence Blanchard and screenwriter Anthony McCarten were honored as the Middleburg Film Festival rounded out Sunday.
A rainy morning set the perfect backdrop for a fireside chat with McCarten at Salamander Resort and Spa, where the writer — who penned "The Two Popes," a featured film at MFF this year — discussed his creative process, trials and successes with former Los Angeles Times writer John Horn.
"'The Two Popes' I wrote as a play and I thought, no one's going to want to make this as a movie. This is two old men in dresses talking about God," McCarten said. "But Netflix said, 'We'll fund it.'"
Known for writing Oscar-winning biopics "The Theory of Everything" and "Darkest Hour," McCarten addressed the critical derision he faced last year after the release of "Bohemian Rhapsody," which was lambasted by the press despite netting nearly $1 billion worldwide.
"They were by far the worst reviews of my life," he recalled. "When did critics feel it was their responsibility to kill art? When did we get across the line to that?"
However, he said that he doesn't get his satisfaction from critical acclaim, but rather when his films positively affect audiences.
"People with real sincerity saying how much my movie touched them — you know you're in the right place when people are giving you that feeling," he said. "That's better than the Forbes reviews or anything like that."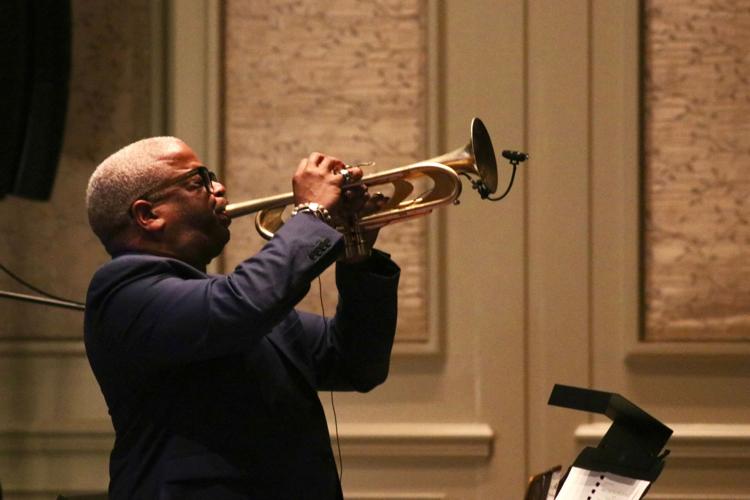 "The Two Popes," which explores the relationship between Popes Benedict XVI and Francis, will be released worldwide on Netflix Dec. 20.
The morning continued with a concert showcasing the nearly 30-year film composing career of Terence Blanchard, who scored MFF Friday Spotlight film "Harriet."
The DC Pops Orchestra and Blanchard's band E Collective joined the composer to perform selections from his scores to films like "Malcolm X" and last year's "BlacKkKlansman," two of Blanchard's many collaborations with director Spike Lee.
"I think what the great directors understand is that we [composers] have to absorb [a story] just the way they do. You know, they're going through the process of trying to develop a script, they're going through pre-production and all of those things — we have to sit down and go through the exact same thing," Blanchard said between pieces.
"Harriet" director Kasi Lemmons, another frequent collaborator and longtime close friend of Blanchard's, approached the stage to speak about their work together, including the upcoming opera "Fire Shut Up in My Bones," which Blanchard composed and to which Lemmons wrote the libretto. It will be the first opera featured by the Metropolitan Opera in New York to be composed by an African American.
"I love you, and you're such a huge part of my life," Lemmons tearfully said to Blanchard.
Blanchard and McCarten were respectively awarded the MFF Distinguished Composer Award and Distinguished Screenwriter Award, as well as personalized bottles of champagne presented by festival founder Sheila Johnson.
Two final rounds of screenings wrapped up the festival Sunday afternoon, including a showing of Martin Scorsese's new three-and-a-half-hour crime epic, "The Irishman," and Rian Johnson's comedic mystery-thriller "Knives Out." The former will be released globally on Netflix, while the latter will be released theatrically in the U.S. – both on Nov. 27.
__________
-Related: "Scenes from the 2019 Middleburg Film Festival"