The town of Purcellville was recently adorned with a series of large, brightly-painted words affixed to sections of fencing as part of a community art project, the goal of which is brightening onlookers' day, according to project organizers.
Coordinated by the nonprofit Discover Purcellville, the project, "words on a fence," is being led by business owners Michael Oaks, owner of Re-Love It, his wife Kim Patterson, owner of Top Coat Nails and Hillary Coley, owner of Dominion Tea.
"We wanted to do something positive and uplifting to put a smile on peoples' faces," Oaks said.
Throughout town, the words — which were cut from sheets of aluminum using a giant laser cutter, attached to 4x8 foot fences with each painted by one of 30 participating local artists — are now on display until the end of October.
Like previous years, they will be auctioned off at the Purcellville skating rink on November 13 at 7 p.m.
Anne Stine, a Purcellville-based artist, has participated in other Discover Purcellville projects and said she's looking forward to this year's event.
"It's especially important this year and it was a great decision to pick encouraging words," she said. "I love how the businesses and the artists come together."
For artists, the pandemic has been particularly difficult and Stine says this is an opportunity to be seen in the community and to give back.
"Artists are part of the local tapestry," she said.
Stine selected the word "joy" which is an important part of the message she portrays through her landscape artwork.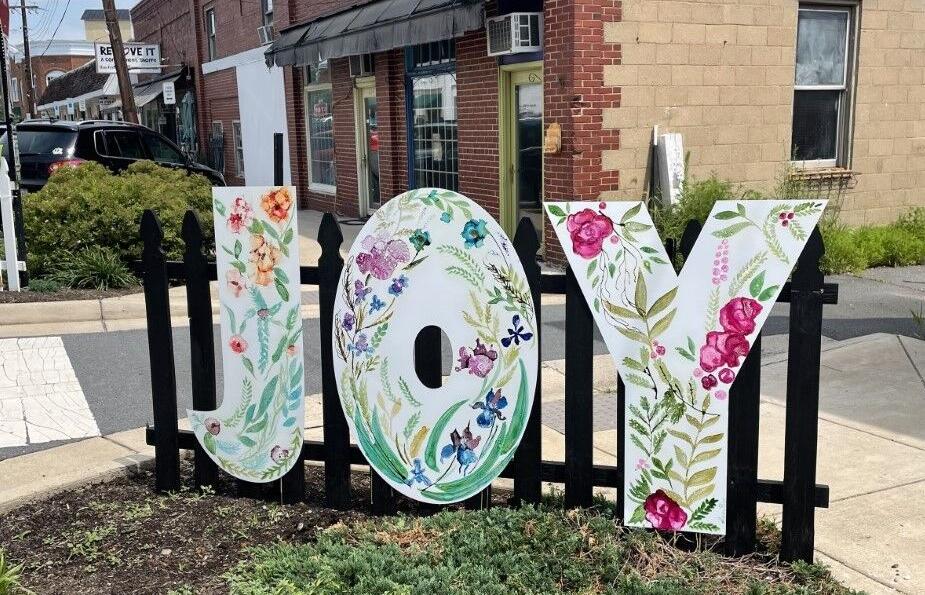 She painted the letters J-O-Y using alcohol ink, giving the images a watercolor appearance, she said.
"It gives it a very vibrant texture which is fun," she said. "I knew it would work well."
"Driving through town brings a smile to my face. To see these colorful words of encouragement it brightens my day," Stine said.
Oaks said the project has been very well received by both visitors and residents in town, and Stine and another participating artist, Kevin Bednarz, agreed.
"I think this is one of the best projects that Michael Oaks and Discover Purcellville has done yet," said Kevin Bednarz, an artist and business owner who painted his favorite music legends on the word "music" located in front of Shamrock Music Shoppe.
"The ability to have such an impact with these signs is incredible," he said.
"Words on a fence" marks the fifth art project sponsored by Discover Purcellville. Past projects include painted benches, wine barrels, holiday ornaments and Adirondack love seats.
The funds raised at the auctions are reinvested in the community through future art projects and events. For more information, follow Discover Purcellville on Facebook.