A long-time dream is becoming a reality for former Romanian Olympic skater Luiz Taifas and his wife Mitra Setayesh as they prepare to host a grand opening celebration June 15 at their world-class ION International Training Center.
The nearly 100,000-square-foot center, located at Compass Creek's 550-acre retail, office and entertainment development off Battlefield Parkway in Leesburg, is among the largest facilities in the mid-Atlantic region. ION has two National Hockey League-size skating rinks, and the owners plan to build two more in the future.
The couple, originally from Romania, has lived in Leesburg for about 20 years and said they are excited to see their many years of planning come to fruition. For the past 19 years, Taifas has worked in the skating industry as a coach, elite trainer and judge.
"This has been a dream since I was a kid. I was always complaining that there was no high-level training center in this area, and my wife told me to open one. This is the American dream to open a center like this. Anyone who has a dream, follow it and you can see it happen. We are doing this for the community," Taifas told the Times-Mirror.
The project took four years from creating the business plan to opening day. Setayesh said 49 different companies were involved in building the center, with one company from Pennsylvania and the rest hired locally from the greater Washington, D.C., area.
The owners say ION will cater to all levels of skaters. There are skating rentals and lessons, public skating hours and ice hockey teams.
Setayesh says in addition to skating events, they plan to use their multi-function rink to host graduations for Loudoun County Public Schools, concerts, birthday parties, corporate events, camps and sports tournaments.
"We are a mini Verizon Center [now Capital One Arena]," Setayesh said. "For one reason or another everyone will set foot in this building. We are here to help the community."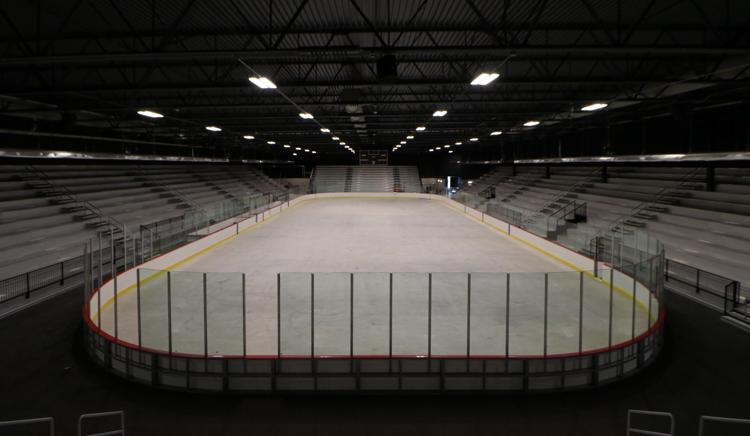 Travis Huff has been hired as general manager of the facility. He previously worked as manager of the nZone in Chantilly and as an assistant football coach at Briar Woods High School in Ashburn.
ION has a state-of-the-art fitness center offering memberships to the public. There are group exercise classes, personal fitness and conditioning training, cryotherapy machines, compression sleeve injury treatment and a red light bed for collagen production.
Food service includes healthy choices at the full-service bistro. There are also three concession stands and a food cart to accommodate feeding up to 5,500 people attending events.
"Our chef is amazing. He will work with the coaches to design menus around the players' needs," Setayesh said.
The grand opening will be held on June 15 at 6 p.m. hosted by three-time National Champion and two-time world medalist Michael Weiss. The event will feature Michael Chen, a two-time World Champion and Olympic Medalist; Mirai Nagasu, National champion and Olympic medalist; Nam Nguyen, Canadian National Champion; and Dan Hollander, National medalist. Tickets are on sale at eventbrite.com.
There will be hockey games at 1 p.m. and 3 p.m. on opening day benefiting The Wounded Warrior Hockey Program, and free ice skating will be offered from 10 a.m. to 5 p.m. on Saturday and Sunday. For more information, visit ionitc.com.