One of the greatest challenges for recovering stroke survivors is regaining a sense of self, and the Different Strokes for Different Folks choir gives new meaning to the idea of finding one's voice.
Tom Sweitzer, co-founder of Middleburg-based music therapy organization A Place to Be, began the choir five years ago to help stroke survivors work toward regaining their verbal skills, memory and physicality.
"Music, its ability with text, its ability with rhythm, connects to a human being in the brain where nothing else can," Sweitzer told the Times-Mirror. "We find a lot of music ... to be something that not only engages their memory but prompts them for words that they might not be able to access very easily."
During the group's final rehearsal before its Dec. 8 Christmas concert, it's clear each of these people has been affected by his or her stroke differently. Some members are able to sing operatic solos or play power chords on an electric guitar, while others struggle to form sentences, let alone words, between songs.
Further, some members suffer from neurological damage other than having had a stroke: one has Parkinson's while another is grappling with dementia. According to Sweitzer, this variety of challenges is what makes something so universal and all-engaging as music such a useful tool.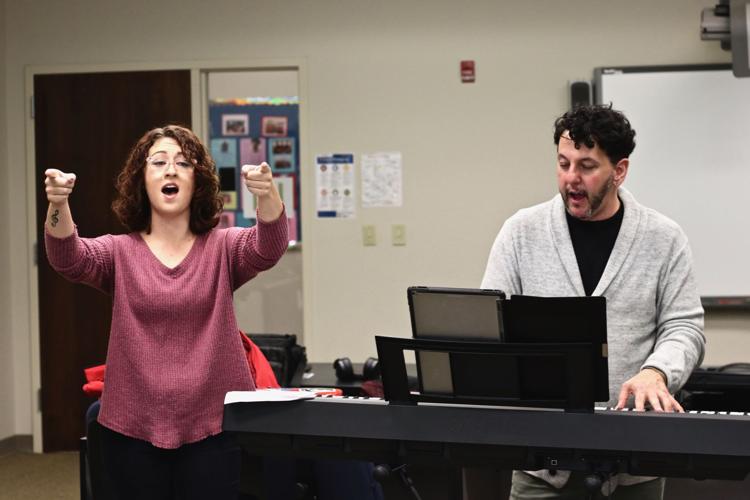 "We take in consideration where everybody is in their healing journey," he said. "If we're maybe dancing to music but we know somebody only has the ability to tap their toe or move their toe, we make that their success."
Perhaps the choir's greatest draw, however, is the sense of community it creates between people who endure similar difficulties, and who might have trouble engaging with those who don't. Cate Partain — a stroke survivor who attends rehearsals with her longtime partner, Bob O'Connor — said she enjoys singing with others much like she did in her youth, and the choir thus "allows me to seem and feel more normal."
"We do a lot of joking and teasing and listening," said Jim Burns, a life coach who volunteers by interacting with and encouraging the other singers. "Some days we'll go around the room and talk about what we're experiencing, or what was difficult this week, or what was great this week."
WATCH:
The familial bond between members has grown so strong that they'll often spend time together outside rehearsals or recitals. Sometimes they'll exercise together, other times they'll arrange trips to the movies — almost always independent from the choir's organizers.
"We've never put together an outing for them besides what we do as a choir. Their socialization and their friend group, their family group that they have created, completely was created by them themselves," Sweitzer said.
Not that there isn't fun to be had between singers and leaders. Sweitzer and other music therapists at A Place to Be lead the collective while playing a number of instruments — keyboard, guitar, cello, percussion — and everyone present exchanges a steady stream of wisecracks, laughs and smiles while gathered.
This genuine, open feeling was just as apparent during rehearsal as it was at the Christmas concert at Middleburg's The Hill School, where Sweitzer once taught music. No invisible barrier stood between the audience and the on-stage performers, if one could even call the recital performative — "celebratory" is far more fitting a word.
Yuletide tunes on the setlist included "A Holly Jolly Christmas" and Howard Blake's "Walking in the Air," though a few not-so-holiday-themed songs managed to slip in as well, notably Survivor's "Eye of the Tiger," a real crowd-pleaser. Keeping with that song's theme of endurance in the face of great trial, the show wrapped up with a song the group penned together, "We Are Survivors."
During an instrumental break in the finale, singers took turns rattling off what they love about music therapy and being a part of Different Strokes.
"Seeing all these good people," one singer said.
"All the songs are so inspirational, and I love to sing them," said Partain.
Sweitzer, the last to pitch in before the final verse, said, "I love how brave everybody is."
An annual tradition since the group's inception, Sweitzer hopes more people will flock to the Different Strokes for Different Folks Christmas concert in years to come and be inspired by the courage on display.
"In the holidays we are really desperately looking for hope, and I think when you watch them perform, hope is what you get," he said.