The 84th annual Loudoun County Fair opened on Tuesday, and visitors of all ages are bound to find something to enjoy about it.
The fair takes place at the Loudoun County Fairgrounds just west of Leesburg and acts as a fundraiser for Loudoun 4-H, which calls the fairgrounds home year-round. During the event, 4-H youth have the opportunity to show off the work they've done over the past year in raising and caring for their various animals.
Among the most important ways these members display their skills are showmanship demonstrations, in which they compete with one another to prove their ability to keep their animals presentable and under control. Demonstrations are scheduled throughout the week and feature horses, sheep, pigs, cows, chickens, rabbits and — for the first time this year — alpacas.
"I like to see how far the kids have come, how much they've put into their projects and how hard they've worked," 4-H Youth Development Associate Extension Agent Carly Griffith said. "They learn responsibility, they learn leadership … different things that are going to help them grow into effective adults."
In between demonstrations, guests are encouraged to engage with 4-H members and their animals, who are stationed all around the fairgrounds. Young visitors can meet and interact with creatures big and small by watching milking demonstrations, sending ducklings down a waterslide and dressing up bunnies, to name a few options.
"The little kids love looking at the animals," Youth Superintendent Carly Campbell said. Campbell would know — she's attended the fair every year since she was three.
"Different clubs have arts and crafts; each club has an informational display about their animal," she said.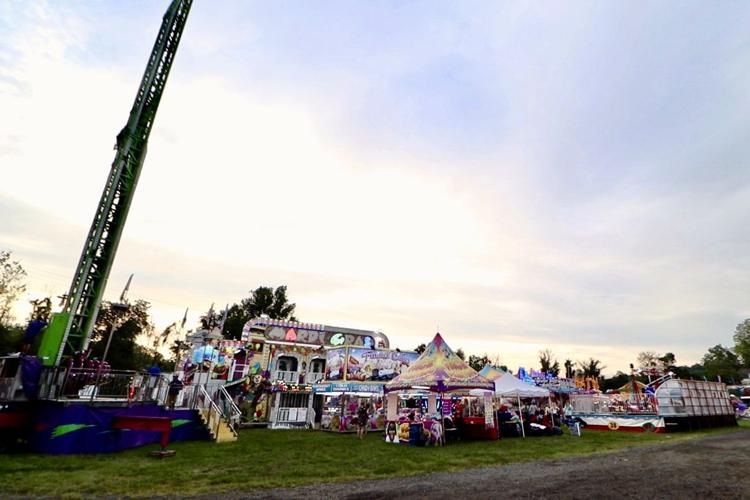 According to the official program, the first fair took place in 1936 at Fireman's Field in Purcellville — now home to the Purcellville Cannons. It moved locations from year to year until 1956, when the Loudoun County Fairgrounds was built.
In the 50-plus years since, the fair has steadily grown to welcome an estimated 20,000 to 25,000 guests every year. It is organized by Loudoun Fair and Associates, a nonprofit that welcomes hundreds of volunteers to keep the festivities running smoothly.
All funds raised go toward maintaining the fairgrounds — a $50,000 to $60,000 yearly expense, according to Griffith — so staff members place particular importance on giving visitors the most enjoyable possible experience.
"We've worked really hard over the last couple years to increase the entertainment value that you're getting. We want people to feel like they're getting value for their money when they walk through the door," Superintendent Arlée Harris said.
To be sure, those looking to be entertained at the Loudoun County Fair won't leave disappointed — each day's schedule carries a unique offering of amusements.
Some events, such as The Marvelous Mutts dog show, the Agricadabra agriculture-themed magic show and chicken poop bingo occur every day. Each night, the fair finishes with a hilarious show from hypnotist Brad Matchett.
"He's had the shyest people I've ever met up on stage blaring out Miley Cyrus songs," Harris said of Matchett. "All kinds of crazy stuff. He puts on a really good show."
Others are special, one-time events: fire and rescue departments from all over the county participated in Tuesday's firefighter competition; Friday night will feature live professional bull-riding and rodeo; a kiss-a-pig contest and lawn mower races will take place Saturday night; and the week's entertainment will wrap up with Sunday's much-anticipated Stoney Roberts Demolition Derby.
For thrill-seekers and competitors at heart, the fair partners with Amusements of America to include a sprawling carnival section, which opens at noon every day. It features several high-speed rides, a drop tower, fun-houses and several games in which guests can win prizes.
Of course, no good fair would be complete without excellent food. Vendors selling classic carnival cuisine like corn dogs, funnel cakes, lemonade and cotton candy are scattered across the fairgrounds, and 4-H offers a nightly dinner for $10.
"Each night is designated to a different 4-H club, and we're going to have live music playing for people while they're sitting and eating, which is going to be really fun," Harris said.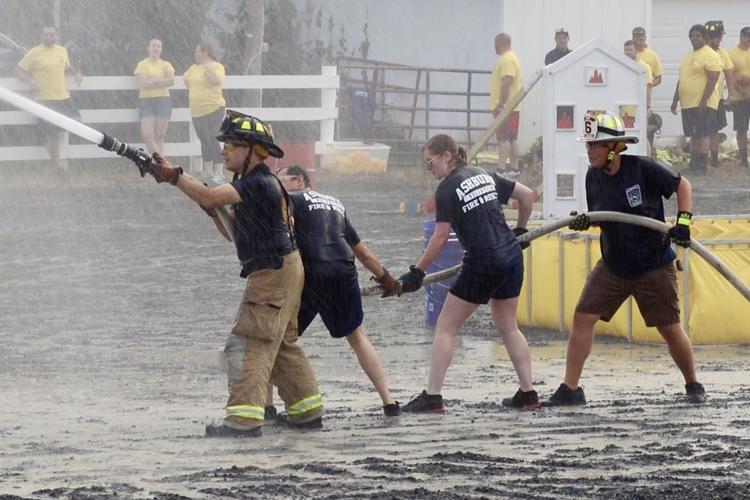 The fair is open until July 28, with hours varying each day. More information can be found at loudouncountyfair.com.