Perhaps the most striking characteristic of Aldie's Lightridge High School — the newest public high school in Loudoun County — is its sheer size.
According to Principal Ryan Hitchman, the school's two-story floor plan comprises 310,000 square feet and is one of Loudoun County Public Schools' largest learning facilities, stretching roughly three football field lengths from end to end.
"Typically during the day, I can walk 6 or 7 miles through the halls," Hitchman told the Times-Mirror, not at all joking.
As of March 3, 30 percent of Lightridge's roughly 950 students currently participate in two days per week of in-person learning as part of the LCPS hybrid education plan, with as few as 125 students joining 150 on-site staffers in the building on a given day.
Before then, students had attended Lightridge entirely virtually since its August 2020 opening, with the exception of some special education and English Learner students.
The halls of the school thus have yet to display the livelihood Hitchman has long hoped to see since he signed on as principal in July 2019.
"I'll be happy when we get four days a week [of in-person learning] hopefully, because I hate walking past rooms seeing only one or two kids in there, so it'll be nice once we get five [to] 10 kids in the classroom," he said.
Still, Lightridge's state-of-the-art campus offers students a haven for high-quality learning, creativity and community, even as staff awaits the in-person arrival of the full student body.
Roughly 60 percent of the teachers currently working at Lightridge came from other Loudoun schools.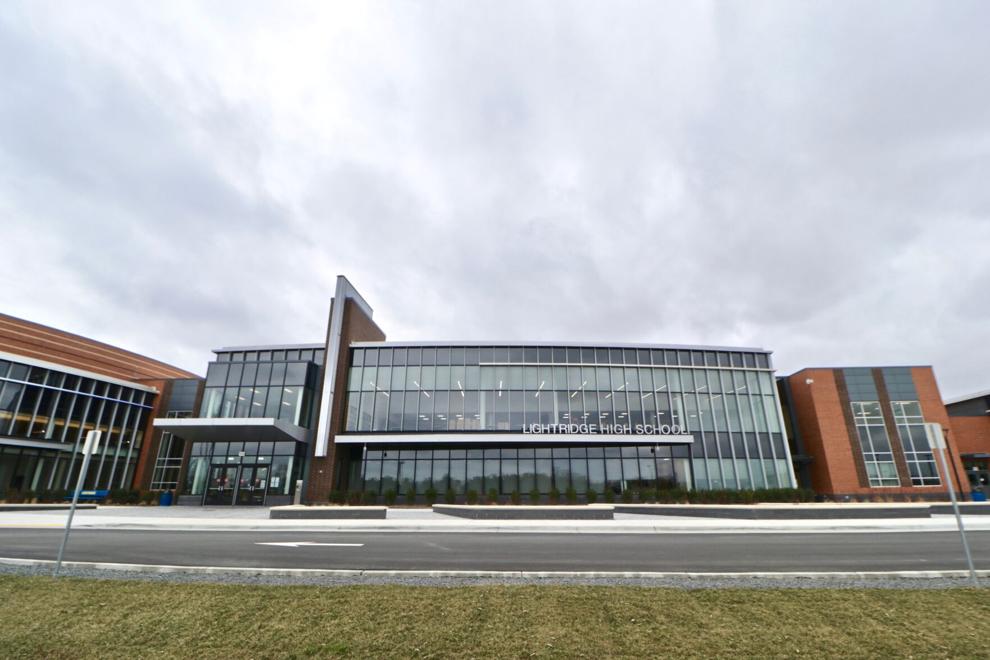 In addition to STEM-focused coursework, students have a number of opportunities to take on creative and skill-building challenges as part of their coursework, including in the culinary arts classroom, which mimics the layout and function of a professional kitchen.
"Everything in here is commercial-grade. It's the same thing you would find in a restaurant," Hitchman said.
The school's language arts program also offers a variety of courses one might not find in the standard high school, including Latin, German, Chinese and American Sign Language.
Among the larger-scale amenities in the building are an expansive arts wing with a 999-seat auditorium, a black-box theatre, and practice rooms for band, chorus and strings ensemble.
Though Lightridge students and staff spent the school's inaugural semester unable to use these accommodations, educators still found ways to engage students in collaborative arts-related projects.
Hitchman said the school marching band — 85 students strong in year one — remotely composed and recorded a fight song, while the theatre department virtually produced a musical rendition of Jane Austen's "Emma."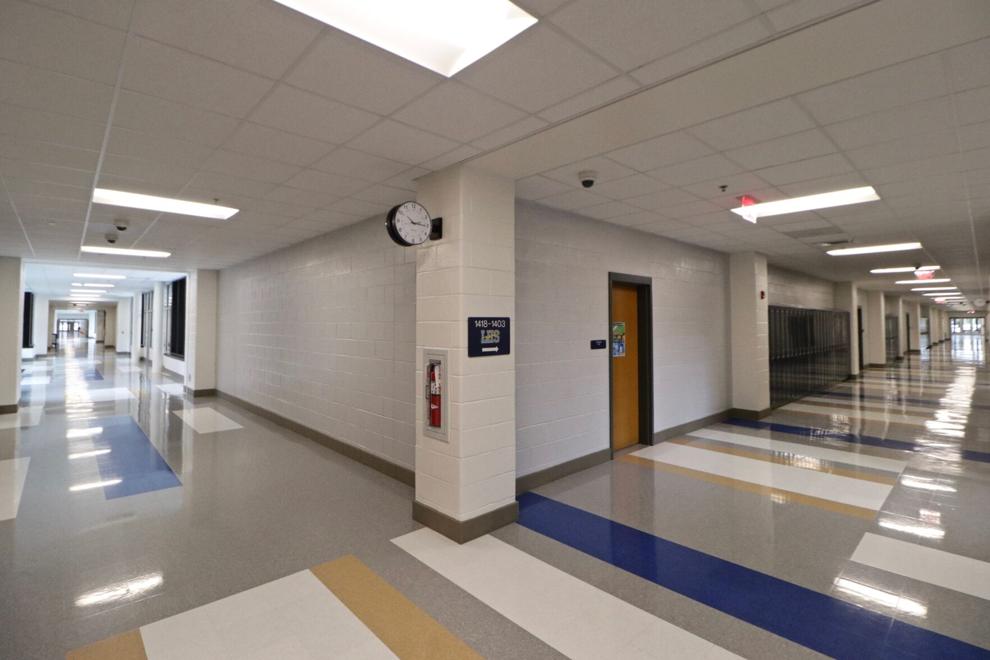 "Our theatre teacher thought it was important for the kids to practice and have a performance," Hitchman said, adding that the department also plans for its spring production to be virtual.
On the opposite end of the school is the athletic wing, complete with an abundance of indoor gym space while several outdoor fields — including practice turf — lie outside.
The halls of this particular area are plastered with photos of the school's 14 sports teams so far, imbuing passing students and visitors with a sense of home-team pride despite how new the school is.
"It's nice to actually have a place they can call home," Hitchman said.
In the lead-up to the school's opening, Hitchman and other administrators wanted to tailor the building and its various functions to not only increase students' productivity but also bolster their sense of comfort and burgeoning independence.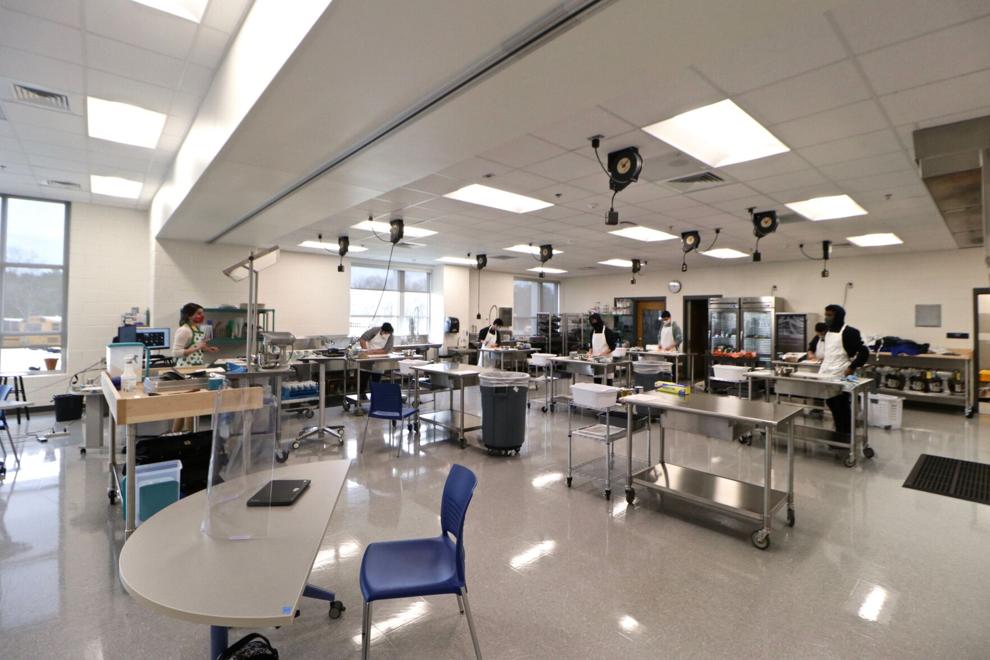 Staff regularly held online meetings with students and parents last summer to ask what they most desired in a high-school experience.
These talks resulted in some of more fascinating and quirky elements to be found in the floor plan, including a "wellness room" featuring bean-bag chairs and flooded with light thanks to its window-covered walls.
"We're really concerned about the mental well-being of our students," Hitchman said. "If people want to meditate, do yoga, read a book or relax, we have [the space for] it."
In addition to the wellness room, students can spend their free periods studying in the upstairs library or working on a project in the downstairs "creator space," which includes six 3-D printers, a T-shirt press, a laser engraver and other high-tech creative tools.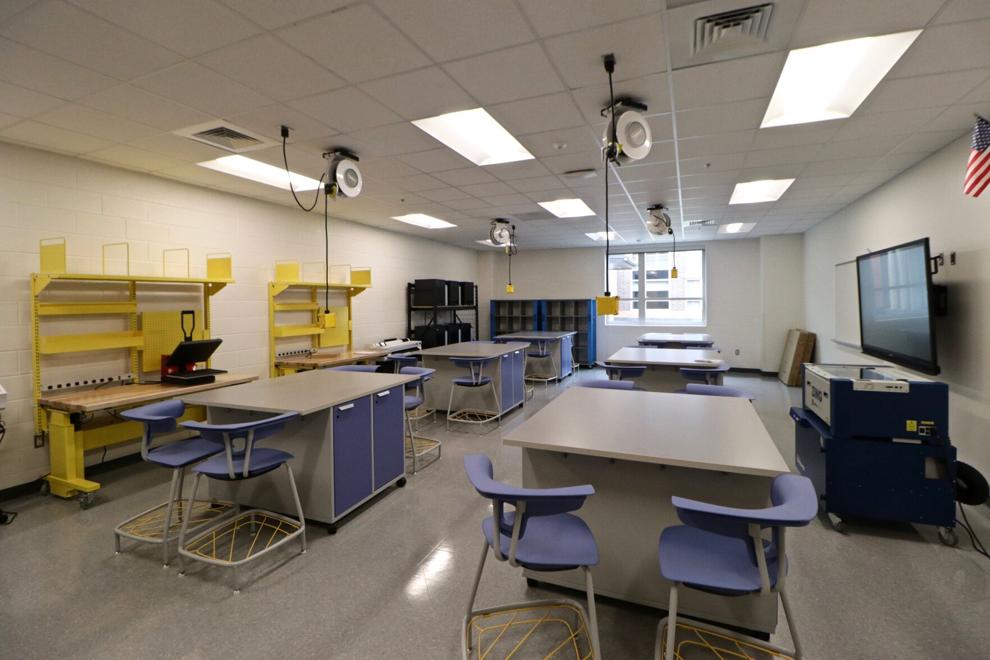 Hitchman said this room in particular was implemented to help familiarize students with the kinds of tools they could expect to encounter in the workplace, particularly if pursuing a creative or technical field.
"The goal is to prepare kids for post-high school careers, and coming in a room like this, you're like, 'Wow, this doesn't look like a high school,'" he said.
Most unique among Lightridge's interior features, however, is the upstairs coffee shop — dubbed "The Lightning Lounge" after the school mascot — where kids and teachers can enjoy a between-class pick-me-up or listen to fellow students perform music or poetry.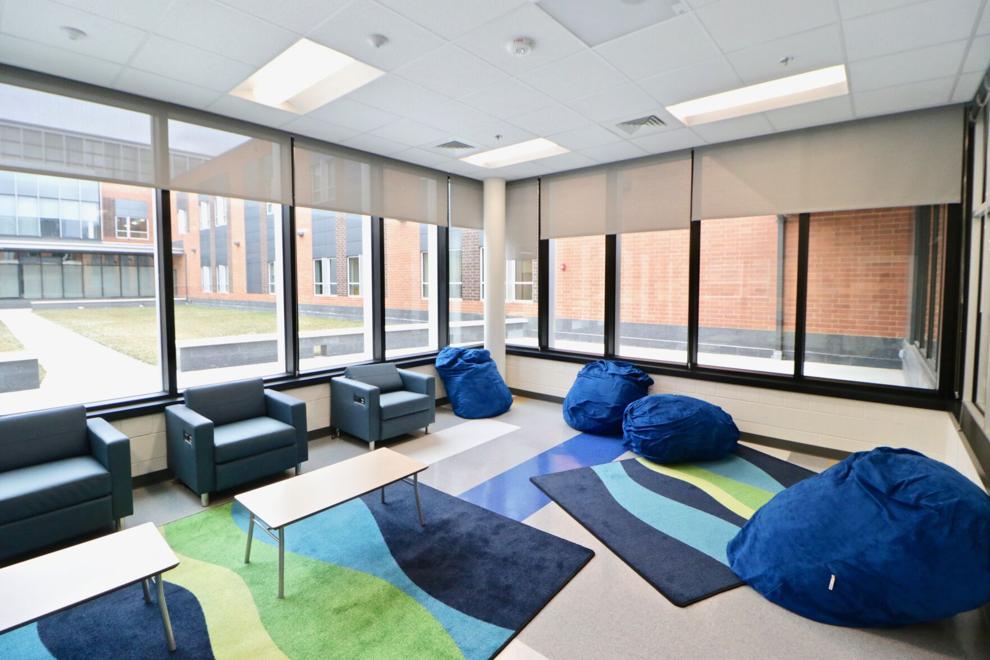 This area will be manned by students in the LCPS Community and Schools Together (CAST) program, which helps people ages 18 to 22 with special needs build job-related skills.
"It'll be a nice little venue for people," Hitchman said.
Yet more than coffee shops, fancy technology or bean-bag chairs, Hitchman said what makes Lightridge High School a truly singular institution is its already booming sense of community, the school's nascence and the ongoing pandemic notwithstanding.
About 160 current juniors left the nearby John Champe High School last year to be part of Lightridge's inaugural Class of 2022, and Hitchman said the staff largely relied on them to "be our leaders," a task they accomplished with flying colors.
More than 70 student clubs and organizations — including student council and a chapter of The National Honor Society — currently meet either on fully-remote Mondays or before in-person classes.
"Everything that a normal, brand-new high school does we have been able to do, but we're just doing it in a virtual environment during a pandemic," Hitchman said. "It's been a great journey."