Dr. David Goodfriend started looking into the novel coronavirus, then named 2019-nCoV, in December 2019 — much earlier than most.
Goodfriend, the director of the Loudoun County Health Department, said he recognized the potential severity of the virus — which impacts the respiratory system and has now killed more than half a million Americans and more than 250 Loudoun residents — based on the impact of the H1N1 pandemic more than a decade earlier.
Now, nearly a year after the county's schools, health department and operations division sprang into action to try to protect residents, Loudoun leaders continue to battle the pandemic, though now armed with much more information.
"There were a lot of unknowns," Goodfriend said of those early days.
"We're in a much different place now," he said. "Now we know really how it spreads among kids, among adults [and] how we prevent it with mitigating factors. Because we think back then, at that point, we didn't realize that masks were so important because they're not with the flu, but for coronavirus, they're critical."
As of March 10 — roughly one year into the pandemic — Loudoun had seen 23,641 cases of COVID-19, including 260 virus-related deaths and 884 hospitalizations.
Last February, as the federal government began restricting non-essential travel and rerouting flights to selected airports including neighboring Dulles International Airport for enhanced screening procedures, local government leaders and members of the health community stepped up communications and held several high-level discussions about how to keep the county safe.
Goodfriend started having conversations seven days a week with his counterparts elsewhere in northern Virginia about best practices for preventing illness from the virus.
Later, those calls trimmed down to five days a week but remained a constant source of cooperation.
Comparing fighting COVID-19 to combating H1N1 in 2009, the health director said he knew schools would become a breeding ground for the virus. That prompted conversations with then-Superintendent Eric Williams to consider their options.
The school system announced it was suspending all international travel starting March 8, 2020. It then closed the schools for a teacher work day with the possibility of distance learning on March 11, 2020.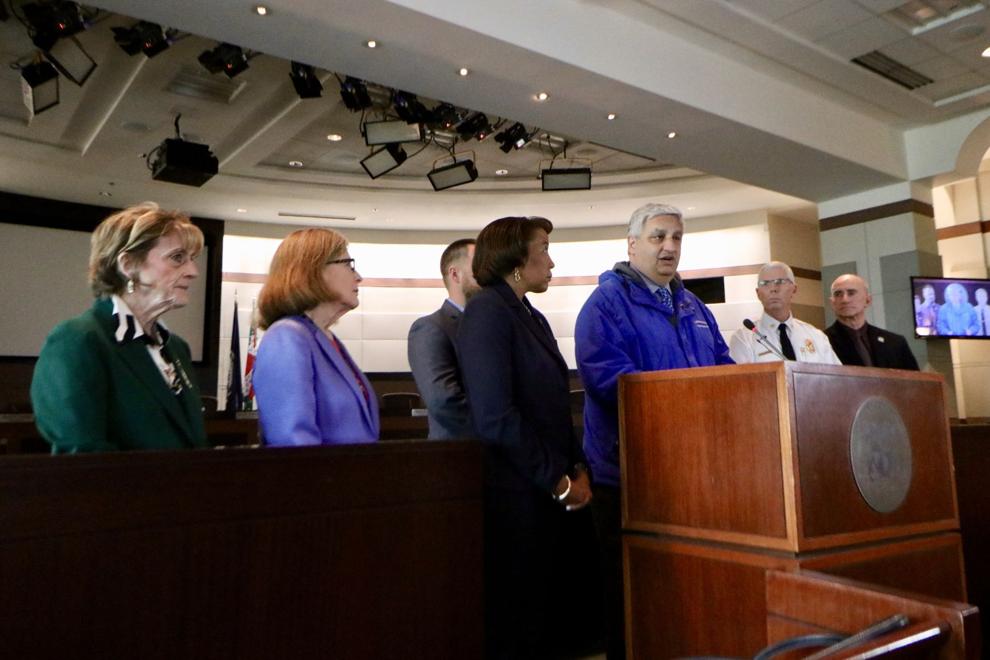 The discussion came to a head around midnight going into March 12.
Goodfriend and Williams invited County Administrator Tim Hemstreet into the call. By 5 a.m., Williams announced schools would be closed through March 20, 2020. Later, Virginia Gov. Ralph Northam (D) closed all schools in the commonwealth for a minimum of two weeks.
"We gave our best advice to the school superintendent," Goodfriend said. "At the end of the day, it's their decision and determination of what to do and they believed that their best answer was to shut down the schools, again, given that there were a lot of unknowns."
Hemstreet said the health department has since led the county's response.
On March 16, 2020, County Administrator Hemstreet declared a countywide emergency, becoming one of the first jurisdictions to activate its emergency operations center.
The move directed county staff to begin acquiring goods and services needed to assist in the response to the threat posed by the coronavirus.
The declaration also modified normal employment rules so employees could be reassigned to county operations involved in response activities. The county also suspended in-person meetings and changed its operations by maximizing telework.
Hemstreet said staff is still diverting time between regular operations and responding to the pandemic. He added that looking back on the past year, everything was new and guidelines were constantly changing, from the use of face masks to how many people could gather in the same place.
"All of those things were surprises in their own little way because when you talk about the county government operation, yes, we're the county government, but we're also a business," Hemstreet said.
Hemstreet said guidance provided from multiple agencies then created a patchwork of directives that affected county operations.
"Those are things now that we, as an employer, and a business now need to enforce or now need to implement in the workplace," he said. "And so each of those became something that we now had to adjust to."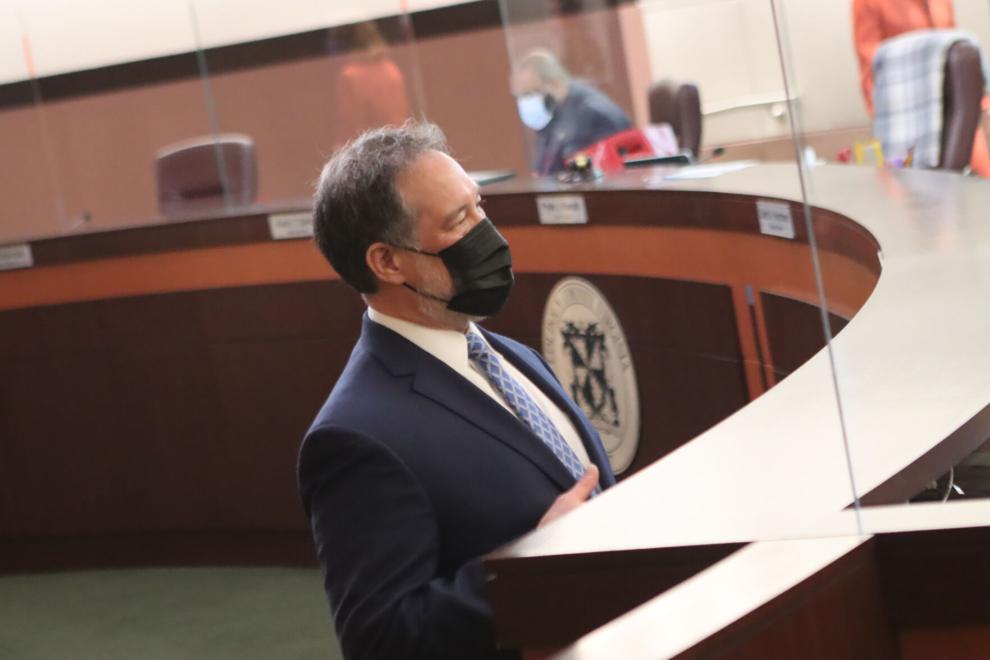 One of the challenges for county staff was acquiring personal protective equipment, or PPE, including items such as facemasks, hand sanitizer and gowns for frontline workers.
Cheryl Middleton, assistant director and purchasing agent in the Department of Finance & Budget, said the process was dubbed across the nation as "the wild west of public procurement," and the county was competing with the entire country for supplies.
She said price gouging for limited supplies, specifically with N95 masks, became a big problem.
The county's purchasing agent said staff had to get creative in finding, vetting and negotiating for new resources. Guideline changes from the federal and state government also changed the buying process.
The county even had a shipment intercepted by the federal government in April, Hemstreet told the Board of Supervisors last May.
Approximately 30,000 N95 respirators were ordered and expected in mid-April, according to Glen Barbour, county public affairs and communications officer.
Employees in the Loudoun County Departments of Family Services and Mental Health, Substance Abuse and Developmental Services, as well as Loudoun County Fire and Rescue and the Loudoun County Sheriff's Office, had expected to receive the items, which were then seized.
Middleton said once the county reached a point where it had enough PPE for three to four months, staff created a formal bidding process to see what was available and could be vetted.
But it wasn't until the fall that staff was satisfied with its stock of PPE.
"Prior to that, I really just was making spot buys every day all day to get us to a [comfortable] place, because there were points in time that were really scary for the county," Middleton said.
She said as staff analyzed its usage rates for PPE such as isolation gowns, N95 masks and other key PPE, the county was down to a matter of days before it might run out.
The spike in cases over the holidays, she said, also impacted the county's usage of PPE
Middleton added that it's "not a good feeling to have when you're trying to make sure that your public safety staff are protected so that they can in turn help the community."
A new issue quickly emerged: getting enough supplies to support the vaccination efforts.
Still, Cheryl believes the county's experience this past year will help improve emergency plans during and after the pandemic.
Prior to the pandemic, she said the county did not have centralized buying or warehousing.
As a result, the county established a procurement center to avoid departments competing with each other to purchase items and found ways to store and manage the items.
Simultaneously, while the county was underway with its coronavirus response operations, staff in the county finance and budget offices were preparing to adopt the fiscal 2021 budget and questioning a number of financial matters including the economic impact of the pandemic and how bad the recession would be.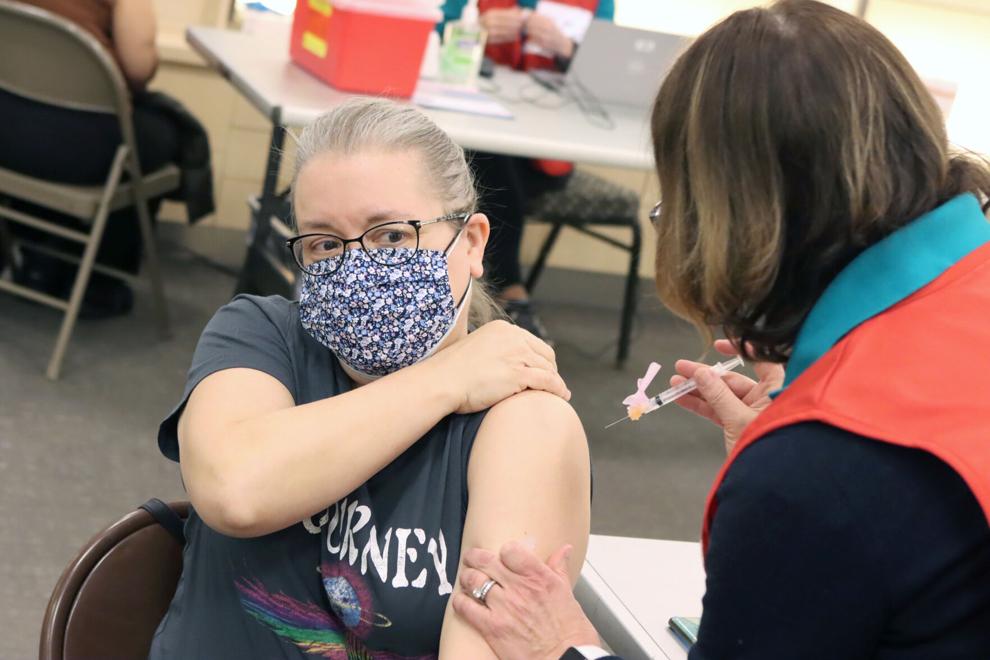 In April 2020, the board reserved $100 million — $40 million for county expenditures and $60 million for school system expenditures — until the county's economic future became clearer.
The $100 million in the fiscal 2021 general fund expenditures was expected to protect any revenue shortfalls, according to county staff.
Staff was also directed to limit expenditures in the remaining months of fiscal 2020 by instituting a hiring freeze for vacant positions and limiting all non-essential operating and maintenance expenditures for the rest of the fiscal year.
"Getting the budget adopted and having a clearly defined strategy to deal with COVID revenue loss let us take a little bit of a breath," said Caleb Weitz, assistant director in the Department of Finance & Budget.
Janet Romanchyk, then-acting chief financial officer in the Department of Finance & Budget, said, "we locked down as much as we could pretty quickly," but there was a lot of concern from departments and how the year-end budget would look.
Sales tax receipts in May and personal and real property taxes in June provided some calm for the department that tracked closely to previous tax collections.
The deadline for collecting taxes on personal property was extended by a month.
Romanchyk said another concern was the county's ability to sell bonds because the bond market had frozen up for a period of time. In October, the county announced that it completed a bond sale with proceeds from the sale of general obligation (GO) refunding bonds going into escrow to pay off outstanding refunding bonds and public improvement bonds.
The nation's top bond rating agencies also reaffirmed the county's AAA rating on its general obligation bonds, and the high AA+ and Aa1 rating on its lease revenue bonds.
"I think that really speaks to the fact that we were able to communicate to the bond rating agencies our planning and what our year end looked like, and potentially the next year in a way that gave them some comfort that we were able to get through that," Romanchyk said.
"So, I was really pleased and after we sold those bonds ... I felt a little sigh of relief that it was a big milestone for us to be able to get past that moment given where everyone was at that point."
With revenue forecasts on the upside, the county was able to release $50 million of the $100 million held in reserve for its fiscal 2021 budget, which was frozen in April.
The move transferred $30 million for Loudoun County Public Schools and authorized staff to prioritize expenditures totaling $20 million for county government costs, including salary increases and a supplement for the public defender's office to address pay disparity.
The remaining $50 million will help cover the forecasted revenue shortfall of $20 million and be appropriated to the general fund balance, Weitz said.
As part of the annual budgeting process, the board typically directs $25 to $40 million in year-end general fund balance for one time uses in the Capital Improvement Program (CIP).
Despite all that's happened in the past year, one of the bright spots was the federal funding earmarked for the area.
Loudoun County government received more than $72 million in CARES Act funding last year, according to county staff. After allocating funds to the seven incorporated towns and the school division, nearly $48 million became available to the county to offset eligible expenses.
The board appropriated nearly $12 million for the Business Interruption Fund and the Outdoor Seating Grant program to provide financial support to more than 2,000 Loudoun businesses.
The county was also able to use the funding for personal protective equipment, specialized cleaning supplies, nonprofit support and emergency food and housing assistance.
"Prior to having that federal funding, we were in a fairly tight position in the county's own budget," Weitz said. "So, it was difficult to not have funding available to address all of the needs that we knew were out there in the community."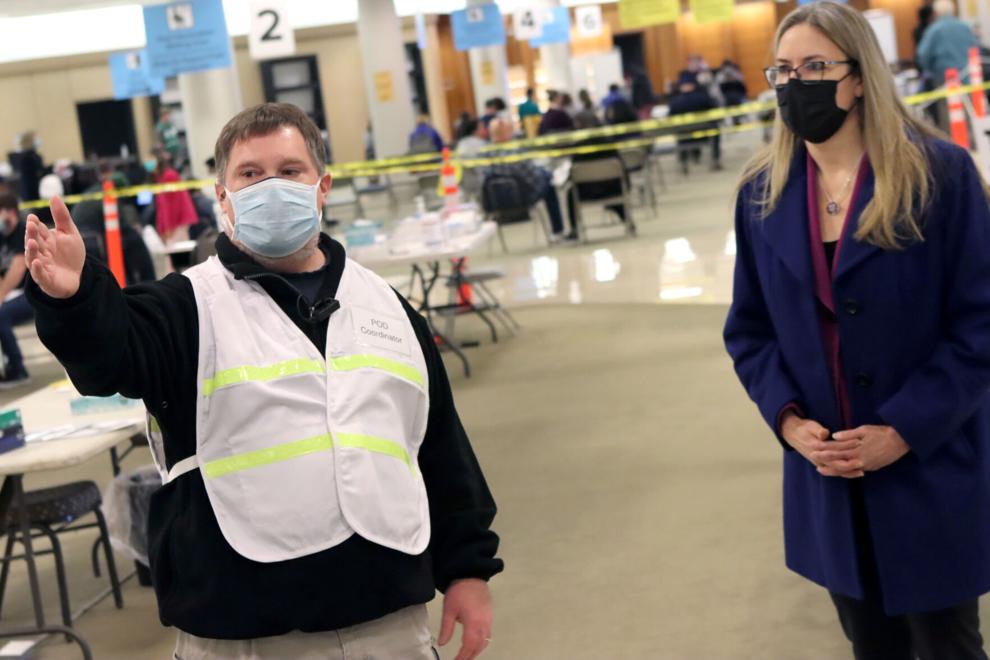 This is part one of a series looking back at the COVID-19 outbreak in Loudoun County.