The Academies of Loudoun broke ground Thursday on its first House Build Project at 606 Wirt St. SW in Leesburg.
"This is not the first time Loudoun County Public Schools students have built houses, but we are super excited to launch our first project at the Academies," Academies of Loudoun Principal Tinell Priddy said during introductory remarks.
LCPS students have collaborated with licensed contractors to build homes four other times in the last 20 years, and members of the Academies of Loudoun Monroe Advanced Technical Academy will finally get a chance to put their skills to the test on a real home construction site.
"We like to talk about the importance of students having authentic or real-world experiences, and clearly you can not have a more authentic learning experience than building a house," Superintendent Eric Williams told the nearly 30 students present. "That's amazing. I'm excited for you in terms of the work that you are about to embark on."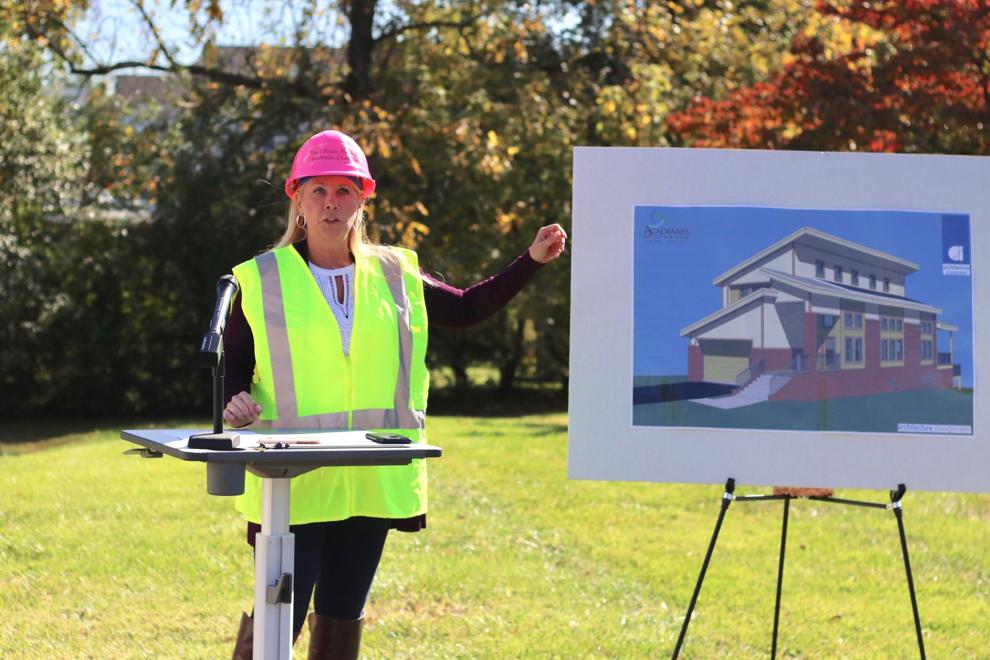 Comprising 2,400 square feet, the new house is expected to take three to four years for students to complete. It will incorporate sustainable design and provide a home to a local family.
"Our mission as a school division is empowering all students to make meaningful contributions to the world. Well clearly building a house that will be used for decades to come is a meaningful contribution," Williams added.
Loudoun Career and Technical Education Foundation President Cody Francis, whose organization provided funding and resources for the project, urged students to appreciate the many life skills — as well as the pride and enjoyment — they will get out of building something together.
"Learn the reward of hard, physical work, because it feels great," he said. "I promise you that you'll be driving by here saying, 'Hey, I helped build that house.' You'll be pointing it out to your parents, at some point probably to your kids."
Francis added that participating students will inevitably make their share of mistakes during the undertaking, but encouraged them to view their errors as learning experiences.
"My father told me probably a million times, his favorite saying was, 'Oops doesn't mean it can't be fixed,'" he said.
After Francis' address, he, Priddy, Williams, MATA Director Matthew Wilburn and Academies of Loudoun junior Allison Rojas dug up the first bit of soil.
Rojas, who was selected to represent her peers at the ceremony, said her interest in building construction came from her family's past struggles with housing, and the new project will let her fulfill her goals to help people with similar problems.
"I'm excited. I'm leaving my life's legacy here, we're all putting something here in the community and helping out, so we're all excited," Rojas said.