Rohini Das, a senior at the Academies of Loudoun in Leesburg said she'd always been interested in Science, Technology, Engineering and Math. During middle school, she said she enjoyed robotics, as well as "coding and building things and making them move."
Her interest in math, science and technology stems from having two parents who are professionals in those fields. Das' father is a software engineer, and her mother is an accountant, so she said she grew up surrounded by the subjects.
But Das recalled that around the time she was in middle school, her interest in STEM made her feel like "the odd one out." She was the only girl on her robotics team, she said. And when she wanted to undertake more complex and challenging tasks in her favorite subjects, teachers would suggest she take on easier ones.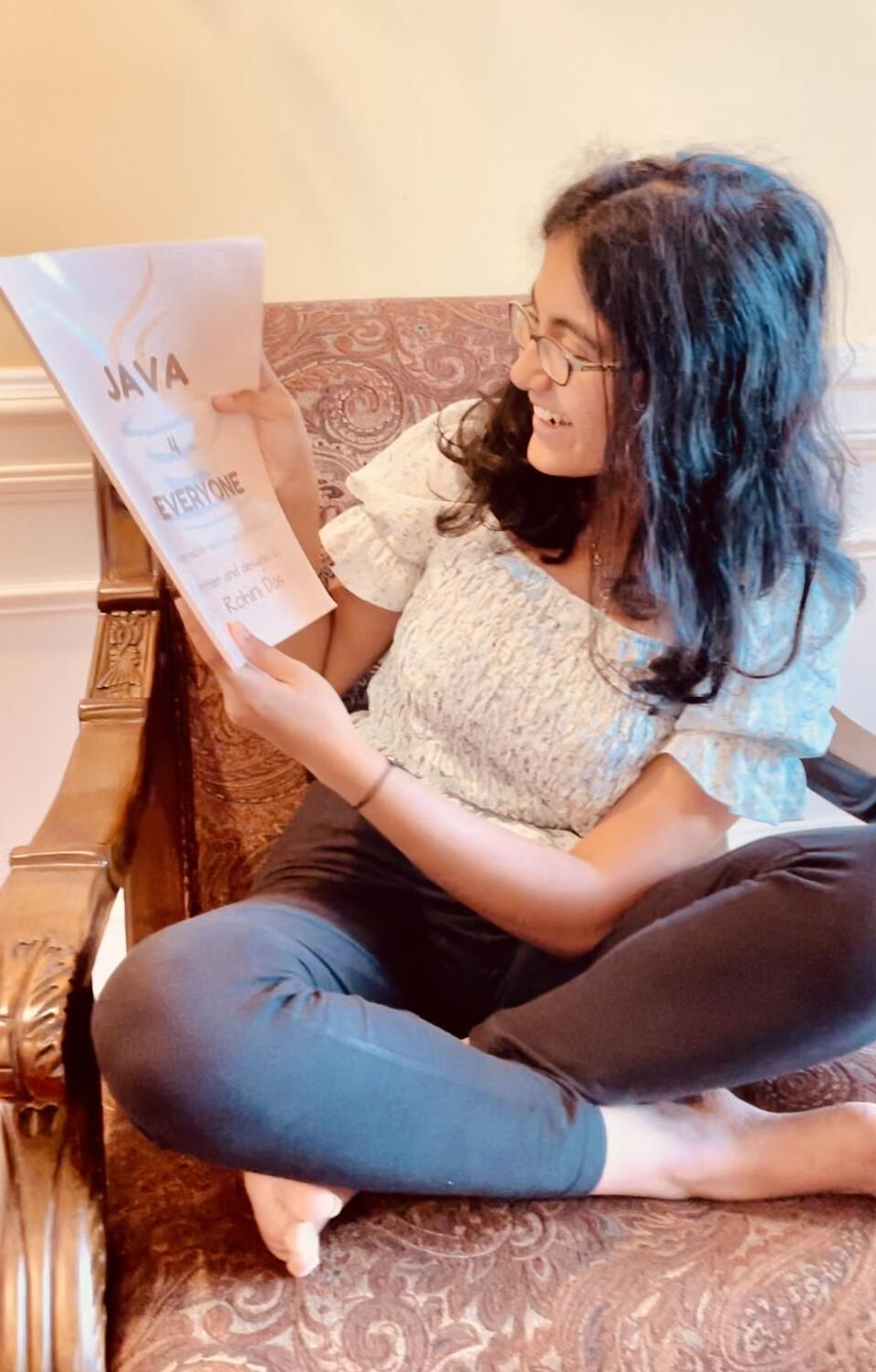 Das said her instructors at the time seemed to implicitly believe that boys were more apt to pursue careers in STEM. When she started attending the Academies of Loudoun and enrolled in an AP computer science course, "I met these other girls like me, and I realized that I wasn't the only one going through this," she said.
But after landing a research internship at the University of Pennsylvania where she worked with professors and graduate students who treated her as an equal, Das said she was inspired to create a web series featuring women in STEM fields and to write a book on the Java programming language to make sure girls who were interested in the subjects didn't get discouraged by implicit gender bias.
"It started during quarantine — during COVID," she recalled. "I always had it in the back of my mind that, 'Oh, I want to do something,'" for girls interested in STEM. "I want to show these girls the other side of things," Das said. "I want to share the stories of other [successful] women in STEM," and in doing so, she hoped to empower girls who have an interest in the subjects.
When she was a sophomore, Das launched a series of video interviews featuring women in STEM, calling the project STEMinist Stories. Her first interview subject was a graduate student with whom Das was working during her internship at the University of Pennsylvania.
She said the graduate student was from India, and had come to the States to pursue her master's degree. Das appreciated that the graduate student had the perspective of someone who she said probably faced an even more prevalent gender gap between women and men in STEM fields.
After recording about 35 minutes of footage for her initial interview, Das said she had to acquaint herself with iMovie to edit the video down to about 10 minutes. "It's very hard to keep people engaged for so long," she said.
After posting that first video to YouTube, Das said she realized hosting her content exclusively on a single platform would make it harder for an audience to find, so she decided to build an entirely new website to host the series.
"I spent the next couple of weeks teaching myself how to code," she said. Das recalled that after learning those coding fundamentals, she made sure the website was user friendly, featured working buttons and hosted all the interviews from her series on a single page.
Over time, she also decided that in order to attract a larger audience, the series should highlight women who worked in different STEM fields. "We went to neuroscience, we went to biology … We went to a math teacher," as well as artificial intelligence and education.
After designing an algorithm to track the number of visitors to the site, Das said she conducted outreach for the project on platforms such as Instagram, Facebook and LinkedIn. "We started spreading the word and we got more and more people to join," she said.
During the summer of 2020, Das said she felt inspired to write a book laying out the fundamentals of Java for middle and high school students, minus the implicit gender bias favoring boys.
She said many of the science and math textbooks she was told to buy at the time had "a lot of pictures of boys, and race cars ... It doesn't explicitly say that, 'Oh, you're a girl — you shouldn't read this.' It's just there's this implicit bias that … encourages boys and sways away from girls."
It was that bias that prompted Das to write a book that was "completely gender neutral," she said. "It was just about spreading knowledge and encouraging both of them — boys and girls — to have an [easy] introductory Java book."
Das' Java book is carried by Amazon and has sold somewhere between 30 and 40 copies, she said.
"It's literally not about the money," Das said of her book sales. She instead emphasized that she wanted to create a text that was accessible to boys and girls alike. Das said she brought in copies of her book to peers in her AP Computer Science class and received positive feedback from male and female classmates.
"The actual content itself — the way it's colored, the way it's illustrated — it's something they would both like to read," she said. "That's kind of how I measure myself, personally."