An hour before the Loudoun County School Board's meeting began Tuesday, a crowd of hundreds of conservative Northern Virginia residents, parents and activists gathered outside the school district's administration building in Ashburn to protest a series of issues that have incensed critics of the district's leadership.
Policies on mask-wearing and the use of transgender students' pronouns, COVID-19 vaccine mandates for student athletes and critical race theory, which some allege is being taught in LCPS classrooms, were among the topics addressed by a series of speakers.
The rally included among its list of featured speakers, Leesburg Elementary School physical education teacher Tanner Cross, Loudoun County High School history teacher Monica Gill and Smart's Mill Middle School English teacher Kim Wright, all of whom criticized an LCPS policy that requires teachers to use trans students' preferred pronouns.
Cross, who has been involved in protracted litigation with the school district in recent months after he was suspended for telling board members that he would refuse to use trans students' preferred pronouns, said the policy forces teachers to "say things that are false, go against our consciousness, go against our faith and speak to students in a way that could harm them for the rest of their lives."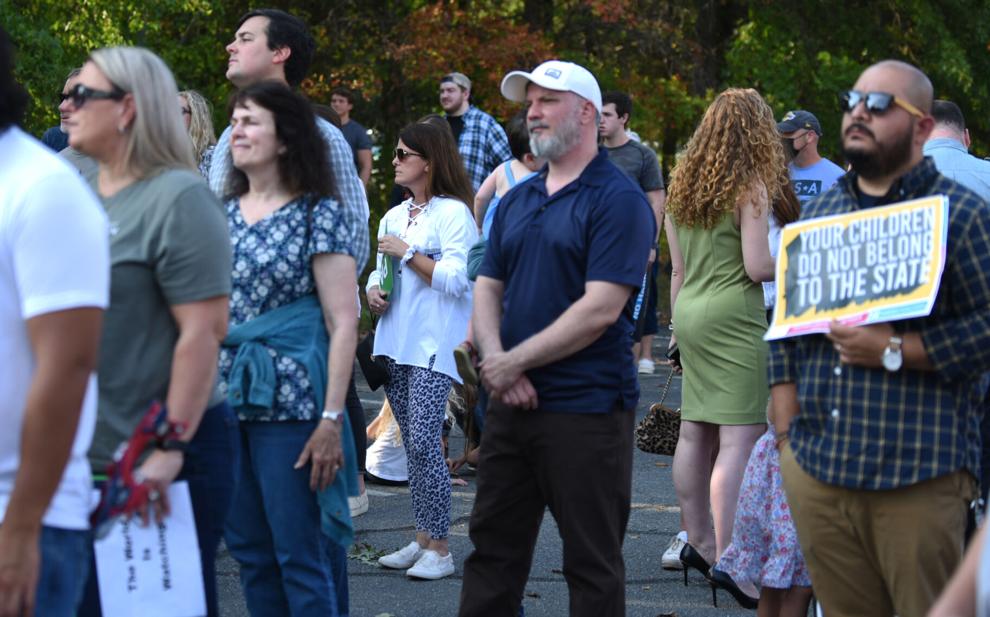 Wright and Gill — who successfully joined the lawsuit filed on Cross' behalf by the Alliance Defending Freedom which is asking a court to strike down LCPS' trans student policy — echoed those points, and stressed that teachers have an obligation to tell their students the truth. The policy mandating the use of students' preferred pronouns ran afoul of that principle, they said.
"As a teacher, I use my best judgment, and all of my heart and caring for each one of those students and their unique needs," Gill said. "Because of this, I cannot support Policy 8040. It requires all teachers to deny biological truths about what it means to be male and female."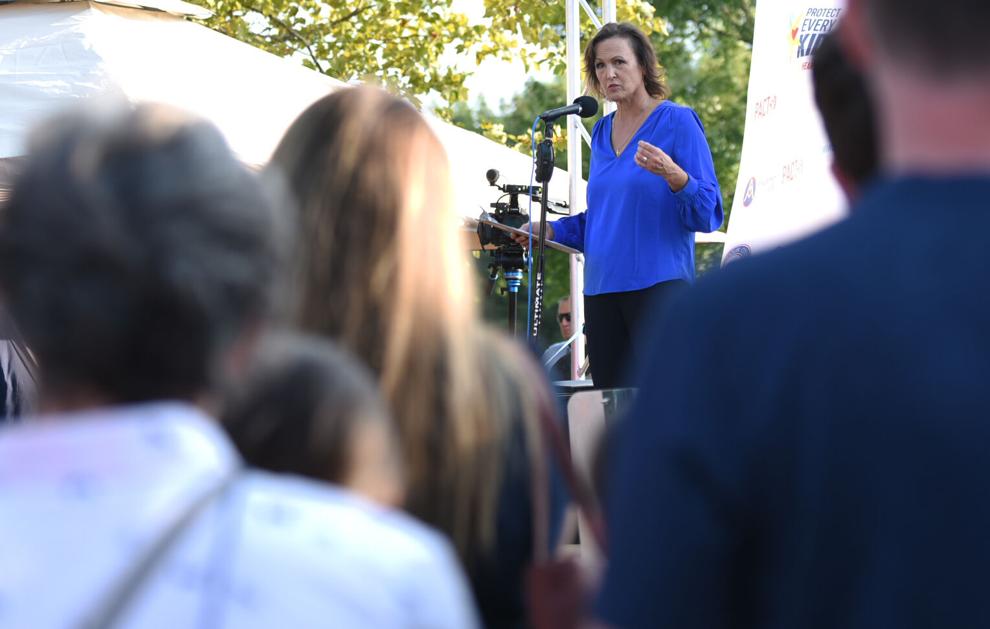 Wright added, "I love my students and I want what's best for all of them. That requires me to be honest with them at all times, and that is why I joined the lawsuit to fight Policy 8040." She also said LCPS was "using our kids as pawns in a political debate," and that the trans student policy was "based on ideology and not sound science."
The school board's action items that night steered clear of those controversial topics. With strong majorities, the board approved proclamations recognizing Indigenous People's Day, Disability History and Awareness Month, National School Lunch Week, Bullying Prevention Month and School Bus Safety Awareness Week.
The board also effected changes allowing individual board members to send e-newsletters to constituents monthly as opposed to quarterly, as well as a policy to provide timely notification to parents or guardians of K-12 students who fail to meet benchmarks for grade-level academic performance.
But during the board's public comment section, parents and eligible Loudoun residents would not let up on criticism of the trans student policy and mask and vaccine mandates.
Tumay Harding of the Ashburn District criticized what she called the board's attempt to "tell my children how to feel and react" by enacting policies that promote racial diversity and inclusion.
She said the school board's policies send a message to her children that "they are racist and oppressors because of their outwardly appearance," and that, "My children will not submit or be distracted or bullied by the diversity inclusion equality lie."
In her remarks to the board, Yulia Weatherman, of the Leesburg District, questioned the decision to implement mask and vaccine mandates when none of the members nor the superintendent are medical experts.
"I was trying to figure out what and who gave Dr. Ziegler and the board right to tell us what to do with our bodies," she said, referencing LCPS superintendent Scott Ziegler and the rest of the school board.
Weatherman read off a list of Ziegler's degrees listed on the LCPS website and addressed him as "Mr. Doctor," questioning which of his credentials gave him the authority to enforce the mask and vaccine mandates. "And I'm free to ask, are you an ambassador of [the] CDC, Ph.D., Communist China, Satan?" she added.
During a school board meeting on September 14, Ziegler cited recommendations from the Virginia Department of Health, saying, "our definitions of close contact are exactly taken from the VDH guidance." According to those recommendations, properly masked students could be at least 3 feet apart from each other without it constituting a close contact for COVID-19 transmission.
In the same meeting, he also cited criteria from the Centers for Disease Control and Prevention, according to which, a fully vaccinated person does not constitute a close contact for transmission even if they come within six feet of an infected individual.