Learning to ride a bike is a challenge for kids of all ages, and for children with special needs the process can be especially daunting for parents and caregivers.
Thanks to a partnership between the Arc of Loudoun, iCan Shine and Tuscorara High School -- and with the help of more than 80 volunteers --  40 young campers learned a life skill and gained confidence in themselves at a week-long camp in Leesburg in late June.
Twelve-year-old Jordan Rhodes of Woodstock arrived at the beginning of the week with no experience riding a bike. His parents, Carol and John Rhodes, drove two hours every day so their son could enjoy the camp.
"At first, he did not have the balance part down, but it quickly increased his confidence, and he enjoyed it. He had the biggest smile on his face by the third day. By the end of the week he was riding independently. It is nice to be around a group of people who understand his challenges," Carol Rhodes said.
Event coordinator Eileen Shaffer, who is the director of ALLY Advocacy Center at the Arc of Loudoun, said students start on the first day riding a bike designed with a "roller pin" wheel in the back to help them learn about balance.
"Then it gets progressively more difficult. They work on tandem bikes and progress to a bike with a handle so a volunteer is able to gently push them. Then the kids go outside and ride completely independently," Shaffer said.
Pennsylvania–based iCan Shine is an international nonprofit that conducts more than 100 five-day "iCan" programs in 35 states and Canada serving nearly 3,000 people with disabilities each year.
According to iCan Shine officials, approximately 80 percent of the people who participate in the bike program learn to ride a conventional two-wheel bicycle independently by the end of the five days. The remaining 20 percent leave the program accompanied by family members who are trained as spotters to keep the progress going at home.
This was the third year for the Leesburg camp.
Lisa Kimball, CEO of the Arc of Loudoun, said the program can be life-changing for many kids who may never drive a car.
"This actually opens their entire world in terms of can they get to a job and be self-sufficient. It also helps them integrate with their family so they are able to ride with siblings or participate in a family vacation. It is neat to see integration within a family. It truly does change lives for the individual and family ... it is profound," Kimball said.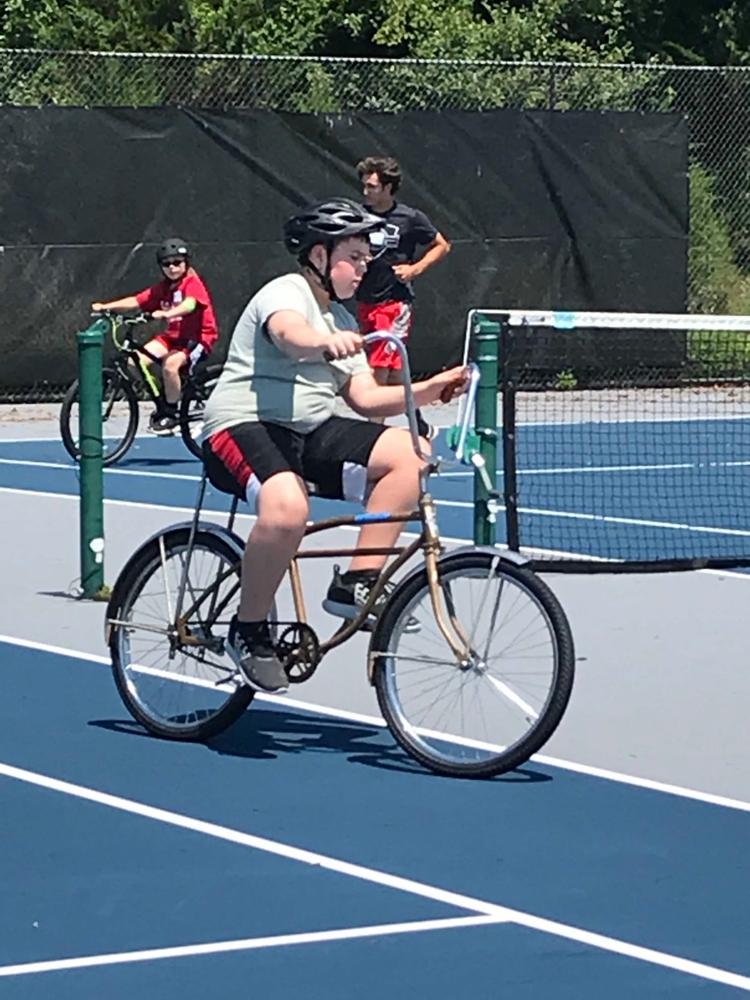 Griffin Catron, 12, of Round Hill, ended the week by riding around the gym with pride while his father, John, ran along by his side.
John Catron said he brought his son to the camp last year and he was skeptical about whether the program would be able to teach Griffin how to ride, but he was surprised how well it worked.
"It's amazing. This year he came back for a refresher. It has boosted his confidence and he is overjoyed by the experience and all of the volunteers who work with him. It's amazing to see," Catron said.
For Morgan Reddington of Harpers Ferry, West Virginia, the camp has been a major highlight of the summer, her mother said.
"She loved it. It's all she could talk about this week. She fell asleep with the helmet on. It gave her more confidence and it was a fantastic experience," Tina Reddington said.
iCan Shine operates up to 14 different camps at one time at locations around the country. With the assistance of local partners, such as the National Conference Center, Nuix, The Goddard Schoool and Nova Pediatric Dentistry and Orthodontics, the organization was able to offer scholarships to help students attend the camp. Five bikes were also donated to campers. 
Parent Diane Gibbs said she would like to see the program expanded and run throughout the year as an after-school program.
"It is a fabulous program, and we are very appreciative of the Arc. I tried for years to get my son to learn how to ride. Last year within 10 minutes he was understanding how to do it. It is a fabulous resource, and I would like to see it extended like they do in Fairfax County," Gibbs said.
At an awards ceremony on the camp's final day, Leesburg Mayor Kelly Burk showed her support for the program.
"It is a great opportunity for children that struggle with things in life to be successful and proud of their success. It's so important to help people get to that next step, and I congratulate you for having a role in making it happen," Burk said.