As Inova Loudoun continues to see hospitalization numbers rise with COVID-19 patients, doctors at the Lansdowne-based hospital say they are ready and prepared to deal with a possible surge.
On April 27, there were 27 patients hospitalized with COVID-19 at Inova Loudoun, a number that had doubled from 13 patients on April 13. System-wide, Inova had 332 patients currently hospitalized.
In preparation, Inova increased its bed capacity and opened a new $300 million North Tower on April 13, two weeks ahead of schedule.
At the request of Inova Loudoun's chief medical officer, Dr. Ather Anis, a cardiologist who is affiliated with the hospital, said he has recently changed his schedule so he is available to work nights at the hospital.
"We are seeing a number of patients who are critically ill. They are very sick. There is definitely a rise in hospitalizations here," Anis said.
Anis said providers have been treating people of all ages, gender and ethnicity with COVID-19 in Loudoun County.
"This is a time for us to act and help. The under-served community is getting hit hard – it is true all over the U.S. and here too. It is important to educate everyone to use protective gear and wash hands," he said.
Loudoun County's confirmed COVID-19 cases were reported to be 727 on Wednesday, a 252-case jump from one week earlier. 14 people had died as a result of the virus as of April 29.
Anis said he is grateful to the community for coming together, staying inside and supporting health care workers.
"Not going out counts. Every bit adds up to take care of our family, friends and neighbors and get through this, that time is now. It's real. I remember vividly in March when I saw the first ICU patient who was really sick. It's not the time to relax, everyone needs to wear masks," he said.
Dr. Edward Puccio, Emergency Department chair and medical director, says increased testing is the best way for moving forward and for identifying the root cause of other issues.
"If we know a patient is COVID positive we may intervene differently. We now have access to a rapid Abbott test which can provide a positive result in five minutes, " he said.
Inova continues to test patients based on symptoms and risk of contracting COVID-19.
Health care officials encourage people to continue social distancing and to be protected with wearing a mask.
"As the numbers continue to increase what we are doing may be our new normal. We just don't know when will we see the curve start to flatten," Puccio said.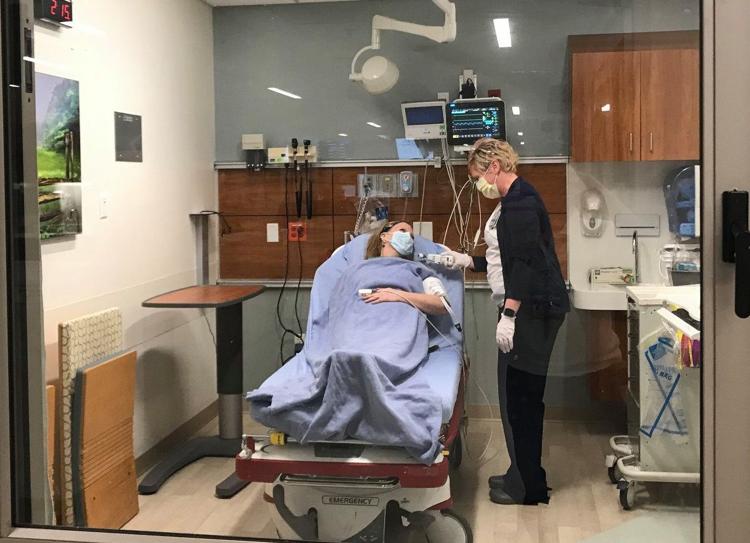 While the system is prepared it has also been hit hard financially. Inova Health System President and CEO Dr. J Stephen Jones on April 21 announced more than 400 layoffs of staff positions.
"Unfortunately, we have seen immense decline in clinical activity resulting in hundreds of millions of dollars in loss of revenue," Stephens said in a video statement. " … These significant changes and unbelievable challenges will be remembered forever. This is the defining challenge of our lifetime, and we will get through this time and we will see brighter days in the future."
Inova Loudoun Chief Medical Officer Dr. Christopher Chiantella told the Times-Mirror that while the coronavirus numbers continue to increase, he is more concerned that people are not seeking the necessary care for other illnesses out of fear of contracting the virus. This can cause long-term complications, he said.
Puccio agreed, saying the primary message to the public is that it is safe to come to the ER at any of Inova's Loudoun locations at Cornwall in Leesburg, Lansdowne or Ashburn.
"There is a risk of delaying a visit which is far greater than the fear of contracting COVID-19. We are seeing more perforated appendixes and lacerations that should have been sutured sooner. If a person needs to go to the emergency room, they should feel safe and not delay," Puccio said.
He said hospital staff is using gloves and masks, noting "it's second nature here."
"This is part of what we have always done. I want to reassure patients we have been safe from the beginning, and no staff or physicians have contracted COVID-19 or have tested positive. We have been very diligent," Puccio said.
The doctors say they have observed a rise in other symptoms indicating COVID-19 beyond respiratory issues or fever. They are seeing symptoms similar to a heart attack or stroke, and the virus can also affect blood clotting.
"The symptoms are masquerading as a lot of other things people would not typically think are related to an infectious disease," Puccio said.
Overall, as the pandemic enters its third month locally, doctors are hoping to raise awareness about community health impacted by other non-COVID-19 illnesses being left untreated.
"The big concern relates to the health of the community in general – we are trying to do better in terms of helping people maintain their health. The concern is that people are staying home when they should be reaching out for medical help. Social isolation is causing an increase in alcohol-related injuries as well," Chiantella said.
Chiantella said they have had to increase the number of trained medical staff on call to help deal with the rise in hospitalized patients.
He also urged people to start thinking about advanced care planning if they need to unexpectedly be placed on a ventilator.
"It is so important and can be catastrophic," Chiantella said. "We need to know how much support does someone want. We need to think about those things."