For some students, the Virginia Marching Band Cooperative's Woodgrove Classic, held Saturday at Woodgrove High School in Purcellville, was their first time competing against bands from other schools. For others, it was a return to a new kind of normal, after a year when the coronavirus pandemic brought many of their favorite activities to a standstill.
Charlotte Crowley, a senior at Purcellville's Loudoun Valley High School who plays piccolo in her school's marching band, said it was nice to be back because, "band is really a family. And so, it was sad to not be able to have a full season last year." To return this year and have a full season of competitions in store is "really amazing," she said.
Ryan Dempsey, who's beginning his second year as director of bands for Woodgrove, echoed Crowley's sentiment: "I'm just excited to be back," he said. Due to last school year's hiatus from marching band activities, he said Saturday's event was the first band competition in the region since November 2019.
Dempsey continued, "The kids that haven't done it in a while are excited," because it had been so long since they participated in band. "Our ninth graders have not had a full year of band since they were in sixth grade."

Bands from sixteen high schools across Northern Virginia competed in the Woodgrove Classic, according to the VMBC's website. The competition's overall top performing schools were, from first through third place, Thomas Jefferson High School for Science and Technology in Alexandria, Chantilly's Westfield High School and Freedom High School in South Riding, respectively.
Bands competed in one of four divisions — 1A through 4A — based on size, with 4A being the largest, according to Dempsey.
As the host school, Woodgrove's band was evaluated separately rather than as a direct participant in the contest.
Each of the school's bands were allotted 15 minutes — as they normally would during a football game halftime, according to Dempsey — to set up their equipment, take the field, perform and disperse.
Crowley and her bandmates from Loudoun Valley placed second in the 1A contest, narrowly losing to their peers from Broad Run High School in Ashburn. But in the mid-afternoon, before final scores were announced later that night, several members said they were just happy to perform again.
Loudoun Valley senior first bass drum player Chase Krisko said, "It's definitely refreshing to have another season just to be back with all the friendly faces and to finally compete," after losing a season to the pandemic.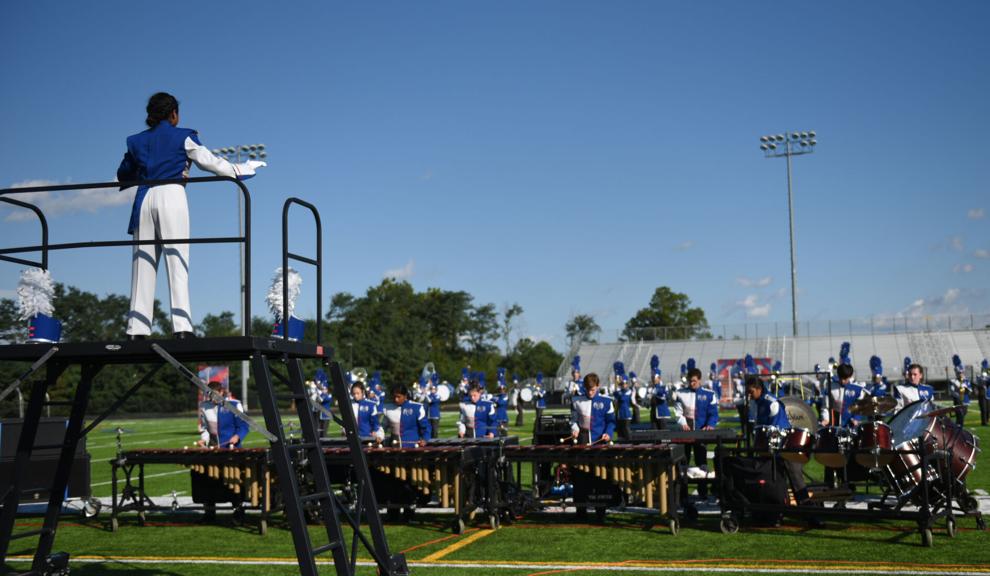 VMBC marching bands have seven more weeks of competition, according to Dempsey. Several bands will be competing at Herndon High School this Saturday, and the VMBC website indicates there will be 13 more contests before championships, which are scheduled for November 6.
For seniors like Crowley, this final season of high school performance is hopefully more of a continuation than an endpoint.
"The marching band has meant a lot to me — that's where all my friends are," she said. While Crowley described her last season with the band as "really sad," she added that, "I do plan to continue. I would like to go to [James Madison University] next year and play in their marching band."
Dempsey said after the event that there was a much larger crowd in attendance than he initially expected. By the time the night was over, he said, some of the most enthusiastic fans had migrated onto the track for a better view, and "the home side and the visitor side were completely full."
"We're just very positive about doing this thing again," Dempsey said.