Round Hill Elementary School first-grade teacher Amber Biggers and Farmwell Station Middle School special education teacher Matthew VanCleef have been named the Loudoun County Public Schools Elementary and Secondary New Teachers of the Year, respectively.
A 2014 graduate of Woodgrove High School in Purcellville, Biggers received her master's degree in teaching from Christopher Newport University. Her classroom consists of 24 students, including seven English language learners, and Biggers co-teaches with an English learner teacher and a reading teacher.
"Ms. Biggers has established herself as a true professional who seeks to inspire and teach children," RHES Principal Andrew Davis said in a prepared statement. "Her thoughtful, consistent manner is the perfect recipe for a successful teacher who will make a difference in the lives of students for many years to come."
Assistant Principal Daneesha Davis called Biggers "a student's teacher," adding her pupils "know that she cares, and she celebrates each one."
In addition to teaching duties, Biggers participates in the school-wide RHES Deeper Learning Community, and she assistant coaches varsity volleyball at Loudoun Valley High School.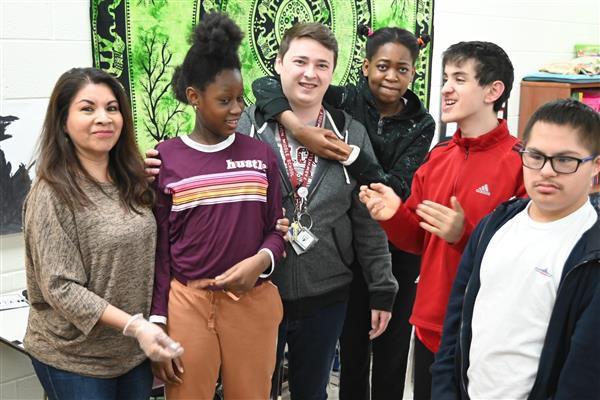 Colleagues of VanCleef, who earned his bachelor's and master's degrees from Elizabethtown College in Pennsylvania, laud the special education teacher for his patience, enthusiasm and professionalism when working with students with special needs.
In her letter nominating VanCleef for the honor, FSMS Assistant Principal Tonya Edwards said he possesses "characteristics and qualities of top educators and not your average first-year teacher. Whether it be his ability to teach a variety of subject matter at various levels, classroom management skills, or his unique capacity to connect with special needs students, Mr. VanCleef has proven himself a teacher ... students and staff look forward to working with."
Both Edwards and learning specialist Karla Campot said VanCleef's commitment to his work is inspirational to his contemporaries. "'Mr. V., as his students call him, has endured, with commendable grace, kindness, firmness, positive attitude and a smile through the challenges of a 'brand new' teacher," Campot said in a prepared statement.