As the ongoing pandemic has kept Briar Woods High School extracurricular organization Students for the Troops from conducting in-person, interactive events with U.S. military veterans this year, club members traveled from Ashburn to Arlington National Cemetery to celebrate Veterans Day in a safe yet no less personal way.
Natalie Borsuk — a senior who acts as Students for the Troops co-president alongside fellow student Sandy Smith — told the Times-Mirror she and other club members placed flags and custom-made medals atop the graves of about 200 soldiers who died in Iraq and Afghanistan between 2002 and 2005, the years current high-schoolers were born.
"We read databases for the Iraq and Afghanistan wars, and then we had to check the Arlington database to see which ones were there," Borsuk said. "We went from there to order flags, medals and all the supplies."
Each medal contains a blue background and bears the seal for each of the five branches of the military, as well as a red banner reading, "Thank you for your service."
In addition to draping a medal over each headstone and placing an American flag at its base, students laid a penny on the ground in front of each grave, partaking in a military tradition dating back to the Vietnam War. Since contemporary conversation around that war was tumultuous to say the least, people visiting the resting places of fallen Vietnam soldiers would lay coins on the ground as a silent, non-attention-grabbing form of gratitude.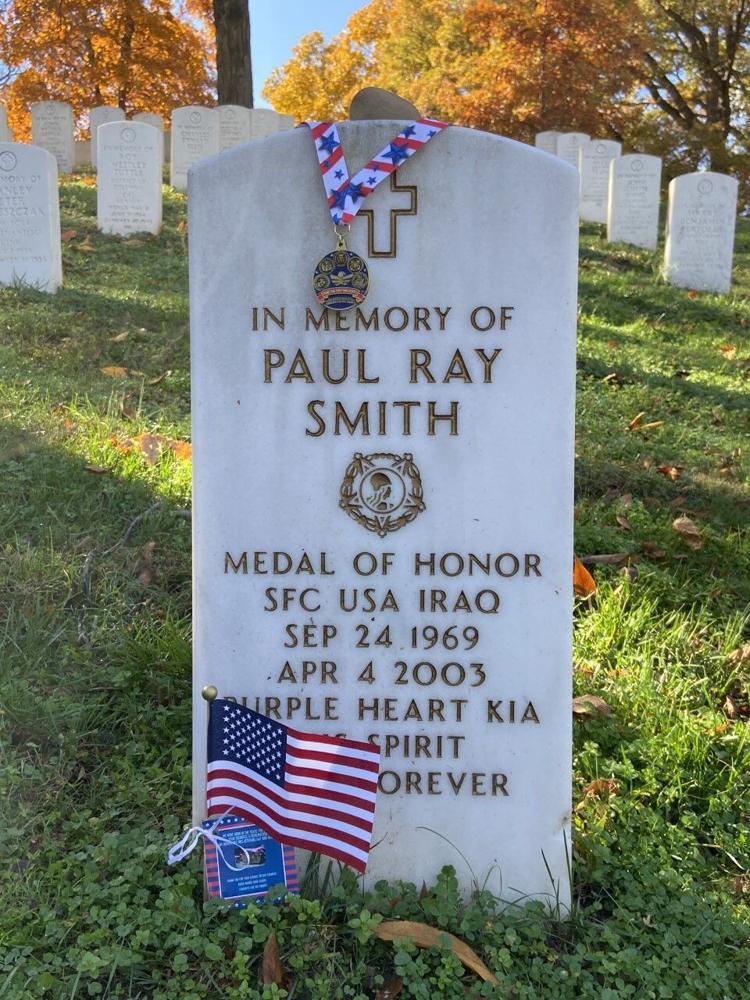 "The penny [means] you visited the grave and want to thank them for their service. Nickels are for if you served in basic training with them. Dimes are if you were in the same unit, and the quarter was if you were there when they died," Borsuk explained.
Only in its second year of existence, Students for the Troops hosted a Veterans Day breakfast last year for Briar Woods teachers and parents who have served in the armed forces, surely hoping to make it an annual tradition. Now, with school being entirely online, Borsuk, Smith and the rest of the organization have had to get creative to continue interacting with and honoring local veterans.
"We're trying to come up with some new ideas that we could do, because we still want to be involved and help in the veteran community, even though we can't physically interact with people," Borsuk said.
Though, unlike her co-president, Borsuk does not have any familial connection to the military, she still sees much value in honoring citizens who put their lives on the line to protect the liberties of fellow Americans, especially those who end up paying the ultimate sacrifice. She hopes future Students for the Troops members will continue to honor the fallen at Arlington Cemetery for years to come.
"I'm really passionate about history and working with veterans," she said. "Not everyone realizes exactly the scope of all that [veterans] did and sacrificed; some even paid the ultimate sacrifice by dying."