She just started her senior year at Broad Run High School, maintains a 4.55 weighted grade point average, plays soccer and holds a third-degree black belt, but Shreyaa Venkat still makes time to run a nonprofit and represent it on a national level.
Venkat and her younger sister Esha in 2016 co-founded NEST4US, a volunteer-run organization "dedicated to working with communities to provide volunteer and leadership opportunities to make the world better through kindness," per its mission statement. This objective eventually morphed into an organized initiative to help feed the homeless in Washington, D.C.
"My family and I would go into D.C. to sightsee quite often, and we would see a lot of homeless people on the streets," Venkat, a lifelong resident of Loudoun and Fairfax counties, said in a prepared statement. "I wondered if it would help to give them money, but we knew it could go toward a wrong purpose and didn't want that to happen. We wanted to find an alternate way to help them."
The sisters began by contacting homeless shelters to see if they could use any excess food or sponsors. They first connected with the Georgetown Ministry Center and have since regularly donated food to the shelter, in addition to having hosted a Thanksgiving feast with the residents for several years. The holiday meals are presented as self-serve buffet lines, which allow the Venkats and other volunteers the time to engage with those they serve.
"We take our own plate and sit down and talk with them. Thanksgiving is about family, and we want them to feel like they're part of a family. We bring a lot of youth and teens with us so kids can show they really care about them as well," Venkat said.
Venkat's mother serves as the legal president and volunteer coordinator of NEST4US. She makes sure there are always adults supervising the organization's efforts.
In working with the less fortunate, Venkat and other volunteers have become acquainted with people of all backgrounds. She recalled one man she met had been an ice sculptor in Ireland and had yet to find opportunity in the United States.
"He showed pictures of his sculptures that he had done back home. It was so cool — the fact that he could share that art and feel comfortable doing that," Venkat said.
NEST4US volunteers also assemble food packets for people in need and insert an encouraging note into each one — short-but-sweet messages like "Stay strong," "We care for you," "We love you," and one of Venkat's favorites, "Whenever there is a storm there's always a rainbow." One man told Venkat that he had saved all of the notes he'd received in food packets over the years.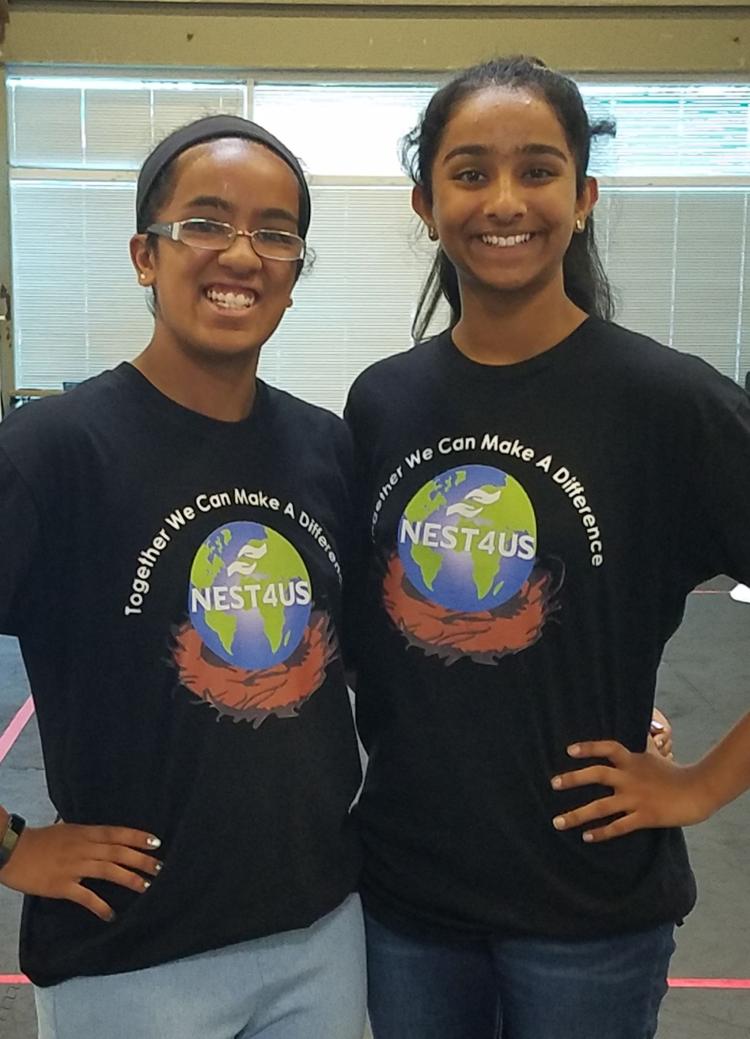 "He told us that when he was having a bad day or feeling sad or upset he reads the notes and it motivates him to keep going. It reminded us how much impact words have and that one little action can make a huge difference in a person's life," Venkat said.
Venkat was recently selected along with 10 other U.S. students to participate in the #Digital4Good event at Facebook headquarters in Menlo Park, California, on Sept. 16. The event – which will be livestreamed – is presented by #ICANHELP, a nonprofit that encourages students to play an active role in improving online environments.
The honor of being selected to participate in the event brought Venkat to the attention of Two Hat Security, a content moderation company and an official supporter of #Digital4Good. A marketing and communications specialist at the company is mentoring Venkat in preparation for her presentation later this month.
"I've already learned a lot on how to improve my pitch and how to better market our programs," Venkat said. "It is very cool especially now to know that Two Hat works to stop cyberbullying and hate stuff online. We need to promote that positive and inspirational message. It goes hand in hand with what we do, so we have similar objectives — it's very relatable."
Venkat doesn't expect her plans to attend college next year to change her commitment to NEST4US.
"Regardless of where I go, I'll open a chapter. Homelessness and food waste is everywhere, not just in Loudoun County or D.C. We have plans to expand to different states. We'll also be releasing an app that will allow people to contact us if they have excess food they want to donate or if they are looking for volunteer opportunities," she said.
_____
More information on NEST4US can be found at nest4us.org.