Candidates for the Blue Ridge District Board of Supervisors seat discussed a range of issues -- from protecting rural western Loudoun, rural broadband connection, traffic congestion and campaign donations -- at a debate attended by more than 100 people on Oct. 3.
Incumbent Blue Ridge Supervisor Tony Buffington (R), a Capitol Hill police officer, Purcellville resident and father of two boys, has been serving on the Board of Supervisors since 2016. Buffington's challenger, Tia Walbridge (D), owns a sheep farm in Round Hill and is a mother of two daughters. 
The Blue Ridge District covers a vast swath of western Loudoun County, from the Hillsboro and Loudoun Heights areas south and west through Purcellville and Middleburg and into a section of Brambleton.
The debate kicked off with the candidates being asked what they felt was the most urgent challenge facing Loudoun County and what specific plans they have to address the challenge. 
Buffington responded saying that the most urgent challenge facing western Loudoun is continuing to protect the rural, historic, and scenic character of western Loudoun "for as long in the future as possible."
"Specifically we need to work on cluster development. I wanted to do this through the comp plan and the county's attorney said we were not able to make a change to clustering, but I am eager to have that conversation and willing to bring forward an initiative in the next board. I am eager to have that conversation. Clustering is allowed by-right and you do not need approval. It automatically allows you to increase the density of the amount of housing you can build on your land. I think it is the most urgent thing we need to talk about," he said.
Walbridge said she feels the most urgent issue facing Loudoun is the amount of by-right development the county is doing.
"We need to tighten our zoning. Evergreen Mill road is a good example that is covered in by-right development and developers did not chip in to improve that road, and now we have a rather dangerous situation. And now we as taxpayers are going to be paying to improve that road," she said.
"In the west we deal with cluster development, and this board loves to talk about the work they did, but we did not limit the amount of by-right development that is still available today, which would destroy the Rural Policy Area. It is up to 11,000 units ... There are steps we could be taking to mitigate its effects while we simultaneously help the existing farms in the area, including building a farm lease database to help connect landowners with young farmers," she said.
Walbridge said the second biggest challenge facing Loudoun is the "breakneck pace of growth."
"We have lost 13,000 acres of farmland in the last five years. That is not going to stop without a lot of help to make it stop. We need conservation programs that we know work – the transfer of development rights, purchase of development rights and the easement programs. They work statewide and they work nationwide, and we need to be supporting those as a county government in implementing those to help preserve western Loudoun," Walbridge said.
Buffington responded by saying that he feels growth, residential growth and reducing traffic congestion in Loudoun County are the next biggest challenges.
"Folks are telling me we need to reduce traffic congestion in Loudoun County. Counties normally do not spend money building roads, and now we are spending so much money. Now over half of our six-year budget for capital improvement projects are going toward building – $1.2 billion – I am very proud that we are investing so heavily in that, and we have to continue doing that," Buffington said.
When asked about rural broadband and where they stand on funding for increasing broadband availability, Buffington said he agrees there has not been enough progress.
"Prior to this board, they did not see this as a vision. Since then, we have directed county staff to work on that now. We directed them to go forward on a $16 million program to connect our county buildings. There will be a loop of in-ground fiber around Loudoun County. So that makes it a lot cheaper to make the last mile connection into homes," Buffington said.
Walbridge responded saying this is an issue that "impacts a lot of families in Loudoun."
"It makes the rural businesses less competitive, and there are a lot of holes in western Loudoun. It will be an issue the state is tackling in the much same way -- we need to continue to work with our state reps," she said. 
Regarding the county's new Comprehensive Plan, both candidates were asked what the plan got right and what the plan got wrong.
Buffington said he has fought to protect western Loudoun.
"I fought very hard to protect western Loudoun, and we were successful at that. We unfortunately did vote to upzone two portions -- P1 and P2 -- of Rural Policy Area near Leesburg to bring them into the [Transition Policy Area] – it is one square mile of land – just the fact that we changed that was the worst thing that happened. The best thing that happened was that nine members of the Board of Supervisors worked very hard and were successful in removing western Loudoun in the Rural Policy Area for considerations for changes, and we maintained all of our protections and a new ridgeline to protect all of our mountains from clear-cutting," he said.
Walbridge said the biggest problem was that the new Comprehensive Plan doesn't support Transfer of Development Rights or Purchase of Development Rights programs.
"These are two wonderful programs. It was an incredible missed opportunity and we should have had both of them in there. Because we are a Dillon Rule state, we cannot supersede the rule from Richmond. We have to have that program detailed in our Comprehensive Plan or we can't use it. So walking away without a TDR program ... that was such a disappointment," Walbridge said.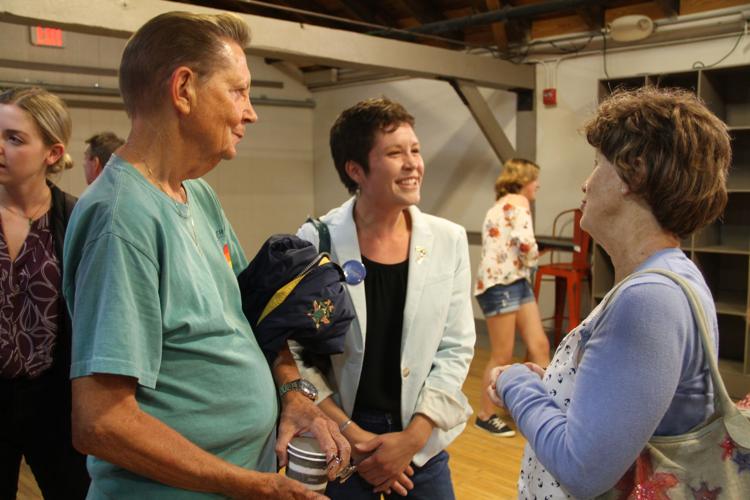 "It was a massive document. There are definitely some good things. The thing that they did right was in keeping the Rural Policy Area intact. It was successful, but there is a lot we can do to limit the by-right development that can still happen here," she added.
The candidates discussed the opioid crisis. Walbridge said she serves on a board of a nonprofit called Dandelion Meadow that is working to build a two-year recovery home in Loudoun to support women who are recovering from substance addiction.
"There are a lack of services available in Loudoun County for women. If you are coming out of long-term addiction or the prison system, you are going to either Fairfax or Winchester." Walbridge said.
Buffington said he has encouraged the expanded availability of NARCAN for first responders to save lives of people who have overdosed.
"Now even the police officers are carrying it. Also all of our emergency responder technicians -- and they have been able to save a number of lives, so that has been very helpful," he said.
The candidates were asked to explain their vision for the future of the Transition Policy Area – or TPA – in Loudoun.
"It was defined as a visual and spacial transition and it needs to continue to be that visual and spacial transition. It was a mistake to allow the data centers into the TPA. It is a narrow band, but you can tell as soon as you drive into it because you shift into a much more green and rural region," Walbridge said.
Buffington responded to Walbridge's assertion that the Transfer of Development Rights – TDR - is not in the comprehensive plan.
"It is in the plan, and we put it in there specifically so we can bring forward an item and do a very specific one. We will be moving forward with it. Regarding the TPA, it is and needs to remain a visual and spacial transition. I fought the amount of density that is allowed to go into the TPA over the next 20-30 years," Buffington said.
Leesburg Mayor Kelly Burk asked Buffington about the Board of Supervisors' recent vote to make Loudoun Water the prime water provider for the Leesburg Joint Land Management Area - JLMA.
"I did vote to support that, however, I also added language that allows Leesburg water to provide water to the applicant should the applicant want Leesburg water over Loudoun Water. We as the board had become aware that the Town of Leesburg was basically holding a gun to the head of the applicants saying that if you don't agree to annex into the town then we are not going to provide you with water. There were a number of multi-million dollar deals that we would have lost. These folks were ready to walk away from Loudoun. We felt we had to take that action. I was uncomfortable with that, and I was the one who made the amendments. So if the applicant wants Leesburg water then they can have it," Buffington said.
Walbridge responded by saying she worried about the precedent this decision set for what the board could do with other towns.
"It was something where the rug was being pulled out from under the Town of Leesburg without public comment. I really think that time should have been taken to have those conversations," she said.
On the subject of campaign donations, Walbridge was asked about $25,000 in funds from Del. John Bell (D), who has received thousands in donations from developers. Walbridge was asked if that could be considered a conflict with preserving rural Loudoun.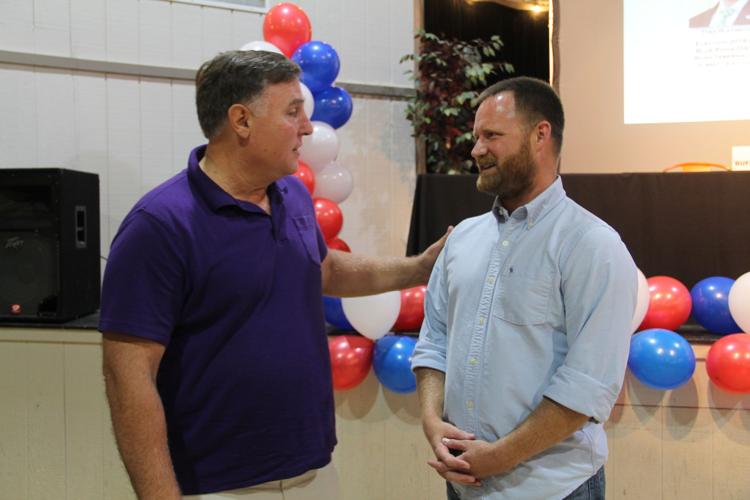 Walbridge said Bell has been her mentor through the campaign process, and that is why he is giving her support.
"Protecting rural Loudoun is what got me into this race. It is the most important thing, and this is where you can have the most impact at the local level," she said.
Walbridge noted that Buffington has taken money directly from developers. He responded by saying that over 76 percent of his donations have come from within Loudoun County. 
"I would say I got a lot of money from developers last time. I told them I am not promising you anything, and this is what I will be doing is protecting western Loudoun County. Look at my record," he said. 
The chair-at-large debate will be Oct. 9 at Ida Lee Park and feature incumbent Democrat Phyllis Randall, Republican John Whitbeck and independent Bob Ohneiser.
_____________
You can watch the Blue Ridge District debate on Facebook through this link.