The three candidates vying for the Catoctin District seat on the Loudoun County Board of Supervisors kicked off a series of debates with more than 100 residents and voters in attendance in Lovettsville Monday night. The eventual winner between Democrat Forest Hayes, Republican Caleb Kershner and independent Sam Kroiz will succeed current seat-holder Geary Higgins, who is the Republican nominee for the state Senate's 13th District contest.
Transportation, Route 15
Traffic congestion and safety issues were leading topics Monday, and at the center of the conversation was fixing Route 15 north of Leesburg.
Kershner, a local attorney who lives near Paeonian Springs, said he was the only candidate that spoke at the Board of Supervisors meeting when the board voted to expand Route 15 to four lanes up to Montresor Road. Kershner said he supports the board's action.
"We've had 700 significant accidents on Route 15 since 2012. It is a danger to this community," Kershner said. "I certainly support the board's current plan to four-lane all the way up to Raspberry [Falls]."
Hayes was at odds with the Republican nominee's remarks, saying he was at the meeting as well, and he stayed after Kershner left.
Hayes, who works for the District of Columbia government, said if elected he will work with staff to break ground in 2020.
"We need roundabouts, not traffic lights," Hayes said. " … we're going to leave Lucketts in tact, and we're going to go [from Lucketts] to the bridge with two lanes ..."
The approved proposal, Concept B, includes plans to widen the roadway to four lanes to Lucketts, build a bypass around Lucketts and add shoulders further north toward Maryland.
Kroiz, a goat farmer, said "doing nothing is not an option," but he "just wants to have a plan that works." He said that starts with conversations with stakeholders.
Rural broadband
On addressing broadband issues, Hayes suggested creating an antenna leasing program for major telecommunication companies. The program, he said, could then generate revenue for Catoctin's schools and infrastructures, he said.
" … by leveraging those fixed assets and never have the taxpayers pay an additional dime, I think that is a win-win," Hayes said, noting the county could utilize rooftops of schools and public buildings for an antenna leasing program.
Kershner said he is interested in the county's plan to deploy a middle-mile fiber network to key county facilities, using a private third-party entity.
Kroiz said "nobody wants rural Broadband more than" him. In a playful line that drew the loudest laughs of the night, Kroiz said he's "sitting on a gold mine of goat blooper videos" he can't upload because of poor Internet.
Land use oversight, development
Upset with the handling of the Gable Farm "personal recreational field" site, the candidates shared similar sentiments about land use abuse and the need for elected officials to more effectively communicate with county staff and constituents.
In March, the Times-Mirror reported that the Virginia Department of Environmental Quality ruled that there was no evidence of material contamination at the site east of Hamilton in Loudoun County. The ruling came after the 18-acre property originally approved as "personal recreation field," or a polo field, turned into a stockpile, according to the county officials.
"The place where they're doing this dumping is a farm … nothing bothers me more as a farmer than to see people abusing the farm laws," Kroiz said. "I'm going to be very firm on stamping that out."
Hayes said it a was poor code enforcement issue. Policy "should not be complaint driven," the Democrat said, adding codes and regulations need to be upheld.
Kershner said "it was pretty evident it was an abuse of a permit" the farm had.
"When I get in there we're going to tighten this up," he said. " … I don't think what they were doing on Gable Farm should be a lawful rural use."
On development, Kroiz said he opposes the new Comprehensive Plan moving small portions of land just outside Leesburg from the Rural Policy Area to the Transition Policy Area.
All candidates said they support maintaining the Transition Policy Area as a section of the county that provides open space as one moves from the developed east to the rural west.
Hayes called for a moratorium on additional home-building in the TPA, but that idea has been largely shot down by lawyers on a legal basis.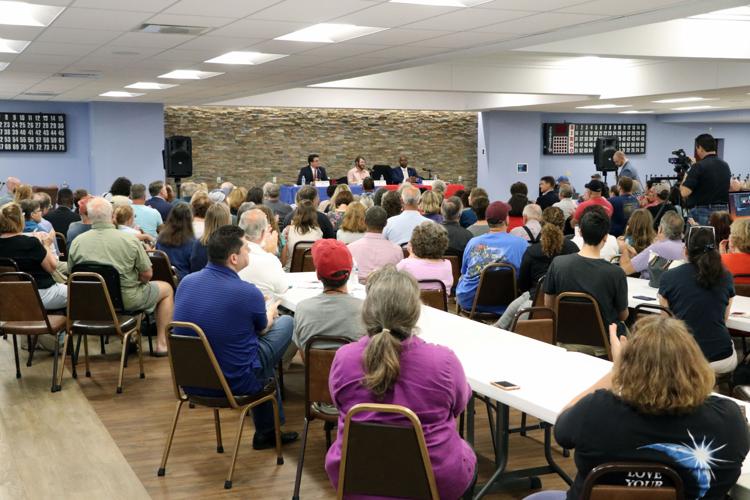 Substance abuse needs
While noting he isn't an expert on the opioid epidemic, Kroiz said he would like to start new conversations and working groups to address the crisis. Striking up conversations and bringing in stakeholders was a consistent theme in Kroiz's responses.
Kershner said he supports Republican chair-at-large candidate John Whitbeck's plan for creating a new, small mental health department in the county.
"We need to continue to do a significant job enforcing our drug laws in this county, making sure that we stop it from coming over our borders and make sure those who peddle it are punished significantly," Kershner said.
Hayes said he doesn't "believe in locking up people." He'd like to implement permanent supportive housing.
"It is a disease, and I don't believe that locking up people who are sick," Hayes said. "They need help."
Agribusinesses, development rights
Kershner was questioned about specific policies to help grow agribusinesses. He suggested the county create a more robust marketing plan and further invest in programs like "Loudoun Made" and "Take Loudoun Home."
Hayes said he would like to see "a more streamline process" from the county government and more efforts to help business owners understand how to start up.
While a Transfer of Development Rights program was not included in June's adopted Comprehensive Plan, all candidates said they would support the program designed to give landowners the option to sell development rights from their land to another person or group that can use the rights to increase the density of development at another designated location. In Loudoun, that would likely be the eastern portion of the county.
"We have to amend the comp plan to include a TDR program," Hayes said.
If elected, candidates said that they would also consider investing in the Purchase of Development Rights program.
Hayes said a funding source needs to be identified for PDRs and that more conversations need to had before implementation.
Kershner said he would consider PDRs if a "banking system" were put in place.
Kroiz said he supports a PDR program.
Kroiz also said "we need to do everything we can to encourage easements."
Increasing revenue sources
With significant revenue coming into Loudoun county from data centers and the near-arrival of Metro's Silver Line, Kershner said he would like to bring in an urban developer to create a plan for bringing in new companies that could increase revenue and keep taxes low.
"Someone who knows how to build a new urban development," Kershner said. "What that will allow us to do is hopefully attract some of your bigger fish – and those who support your bigger fish."
Hayes suggested developing tax increment financing districts to capture an increment of tax revenue into a dedicated account for other uses.
Kroiz said he's spent a lot of time keeping data centers out of the rural area – noting his fight against AT&T on Short Hill Mountain – but he supports the huge revenues they've brought in from the high-tech eastern half of the county.
Next debates
Debates for the county chairman and Blue Ridge District seat will continue in October. The next debate is Oct. 3 at the Bush Tabernacle in Purcellville. The event will feature Blue Ridge candidates – incumbent Republican Tony Buffington and Democrat Tia Walbridge. The chair-at-large debate will be on Oct. 9 at Ida Lee Park and feature incumbent Democrat Phyllis Randall, Republican John Whitbeck and independent Bob Ohneiser.
The debates are being moderated by the Coalition of Loudoun Towns (COLT), the Loudoun Times-Mirror and Loudoun Now. You can view the debates through the Times-Mirror's Facebook page.