When Brett Fuller moved his Valley League Baseball team from Charles Town, West Virginia, to Purcellville in 2016, it was hardly his first experience at Fireman's Field ballpark.
"My grandfather, my dad, my son and I all played here," he said as he watched his team, the Purcellville Cannons, conduct batting practice in the lead-up to their June 14 game against Front Royal.
The Cannons are but the most recent part of Fireman's Field's nearly 130-year history. The site hosted its first baseball game in 1890 and was the home of Loudoun Valley High School's team until 2015. The storied grounds have hosted the Babe Ruth League World Series six times — most recently in 2013.
The field is named for the Purcellville Volunteer Fire Department, which owned and operated the facility for over half a century before selling it to the Town of Purcellville in 2008. It has since received millions of dollars in renovation and upgrades.
Fuller, the Cannons' head coach and a longtime resident of Berryville, purchased the Luray Wranglers in 2012 before relocating the team to Charles Town the following year and giving it its current name. Loudoun Valley High School vacated the field after its own ballpark opened in spring 2015. That September, the league gave Fuller permission to move his team once more, this time to his own childhood baseball diamond.
"The best move we ever made," Fuller says.
The team is made up of 31 college athletes, more than half of whom will begin their sophomore year in the fall. Fuller's son, General Manager Ridge Fuller, and Assistant General Manager Sean Walker are in charge of finding players, whom they discover through a network of recruiting coordinators they have worked with over the years. Many recruits have active Twitter accounts and were first contacted by Cannons staff via direct message.
Some Cannons are northern Virginia natives and attend school in the commonwealth: infielder Clayton Baine hails from Purcellville and attends Radford University, while catcher Kyle Hayes lives in Vienna and attends James Madison University. Others are from outside the U.S. or attend school on the other side of the country: right-fielder Manuel Reyes is originally from the Dominican Republic, and pitcher Blaze Pontes and left-fielder Max Crabbe attend the University of Hawaii.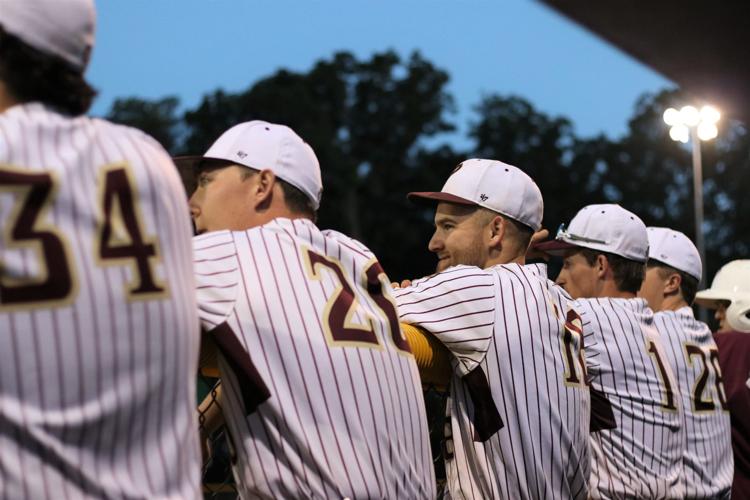 Though they are only together for about two months this summer, the players have built up quite a rapport; during an interview, Pontes and Crabbe playfully bickered about which of them is Baine's best friend.
"The camaraderie between us is pretty great," infielder Jose Gutierrez said. "Coming in to summer ball, I didn't know what to expect, but on the very first day everyone had open arms. We get along even too well, I think."
"Everyone's really cool," infielder Andrew Kasiski added. "No one really thinks they're better than everyone else, and that's pretty nice. No one thinks they're superstars."
Fuller says this is perhaps the most essential factor in the team's success.
"In the four years we've been in Purcellville, the chemistry has always been great. I'd much rather have chemistry than talent, because guys that play well together will find a way to win," he said.
Reyes, who had to return to the Dominican Republic last month due to a personal conflict, was one of the team's most charismatic players before his departure. He would amiably refer to each of his teammates as "Papi," which became his own nickname as a result.
"I love these guys," he said. "I feel like part of a family here. Everyone is like my brother."
There would, of course, be no team were it not for the dozens of volunteers in charge of operations at the ballpark. The Cannons are a registered, volunteer-based nonprofit, and unpaid volunteers range from food and housing coordinators to many of the coaching staff, including both Fullers.
"At one time, when the Cannons first came to Purcellville, our whole coaching staff was volunteer. That was the first time in Valley Baseball League history that any team had an all-volunteer staff," Brett Fuller said.
A few members of the team's administrative staff earn salaries, including Lovettsville native Virginia Potter, who interned with the team for several summers before becoming team secretary in October. For her, the joy of the job outweighs the motivation of a salary.
"I studied sport management at Liberty University, so I like doing sports stuff behind-the-scenes. I love game operations here — making sure that things go smoothly and that people can come out and enjoy a baseball game," Potter said.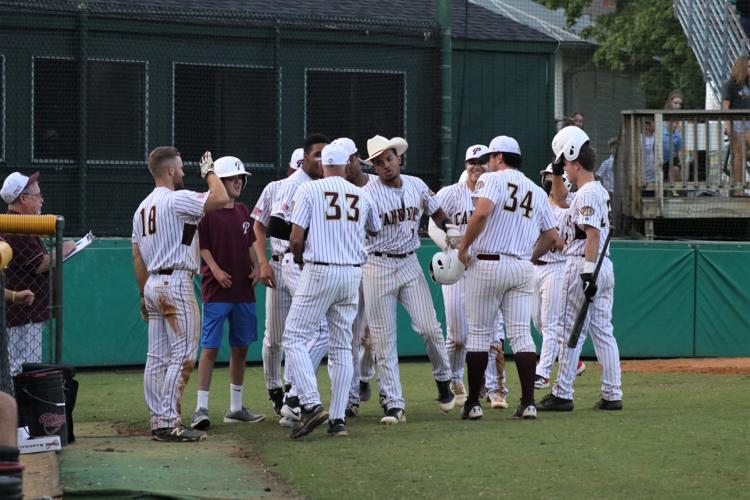 Another facet of the Cannons' volunteer operations are the host families who give players from outside Loudoun a home away from home and help them become integrated with the community.
"We can't produce a team if we don't have open arms from Loudoun County and the town of Purcellville. We're so fortunate, because these families — who open up their homes to these complete strangers for two months — make a huge sacrifice, both financially and in terms of lifestyle," Fuller said.
With the help of the local Serotkin family, Reyes quickly made himself at home in Purcellville.
"It's amazing. I love spending time with their kids. I'll practice baseball with their son Jack and bake brownies with their daughter Allison — best brownies in the United States," Reyes said.
"He just kind of became a part of our family," mother Caitlin Serotkin said. "When he was around we had dinner together, he came to some of my son's little league games, we went to the pool. He was just another member of the family."
Host families are given free season passes to Cannons games. They are some of the most vocal of the hundreds of spectators each game.
"We lead the league in attendance, we lead the league in revenues. We draw more than 500 fans a night. No other team in the Valley does that," Fuller said.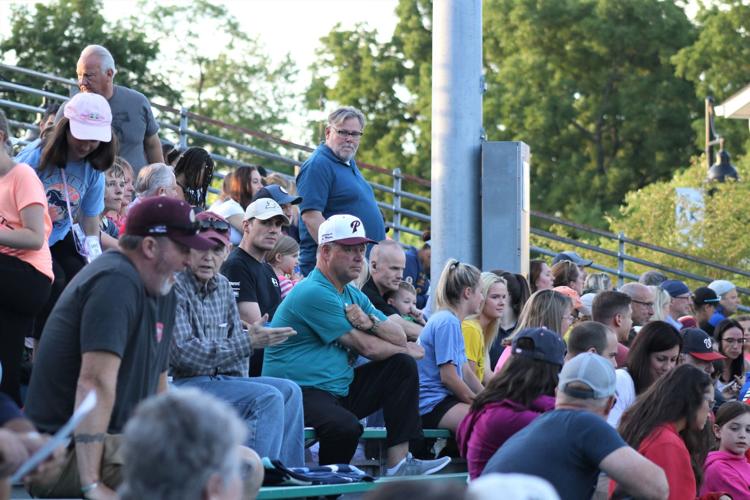 The home-side bleachers were packed for the July 14 game against the Front Royal Cardinals, a team the Cannons defeated 10 days earlier for their first win of the season – apparently the community was eager for a repeat.
There are plenty of attractions to keep fans busy between innings, including the stadium's built-in concession stand — also entirely volunteer-run — on-site vendors selling team merchandise and draft beer and a barbecue booth run by Big Mike's BBQ of Purcellville.
The fan base against Front Royal included scores of children, many of whom would dart after foul balls that sailed over the fence. The players took plenty of opportunities to show their appreciation for their young fans: they signed autographs for any kid who asked, and a smiling Reyes craftily tossed a ball over the fence to an excited boy during the eighth inning.
After a nail-biting ninth inning, Cannons fans got the victory they were hoping for. Baine batted in two runners to bring the score to 8-7, after which the rest of the team vaulted from the dugout in celebration.
During the post-game huddle, Fuller awarded game balls to Baine and Reyes and announced that it would be Reyes' last game before returning home. Despite his teammates' vocal disappointment, Reyes kept smiling. He asked his brothers to sign the game ball and join him for a picture beneath the scoreboard.
Before long the whole gang was back in high spirits, and with a spirited chant of "Papi," they brought the huddle to an end.