Eight Loudoun County High Schools – Broad Run, Dominion, John Champe, Loudoun Valley, Park View, Potomac Falls, Rock Ridge, and Woodgrove – are hosting 34 international delegates for the eighth annual Loudoun International Youth Leadership Summit.
Delegations including students and teachers from 26 countries were welcomed at the opening ceremony April 2 and will remain here through Wednesday. Students hail from Australia, Bosnia-Herzegovina, China, Costa Rica, the Czech Republic, Estonia, France, Germany, Greece, Hungary, Italy, Japan, Lebanon, the Netherlands, Norway, Pakistan, Panama, Poland, Romania, Scotland, Senegal, Singapore, South Africa, South Korea and Spain.
This year's opening ceremony took place at Woodgrove High School in Purcellville. Principal William S. Shipp introduced the annual summit at a gymnasium packed with high school students, delegates and global ambassadors. This year, Shipp said, they would be discussing issues of global importance such as migration and refugees, minority rights and environmental policy.
Advisor to the Global Ambassadors Club Mathew Talboo thanked Shipp as well as Jennifer Rodgers and the leader of global ambassadors, Courtney Shorts.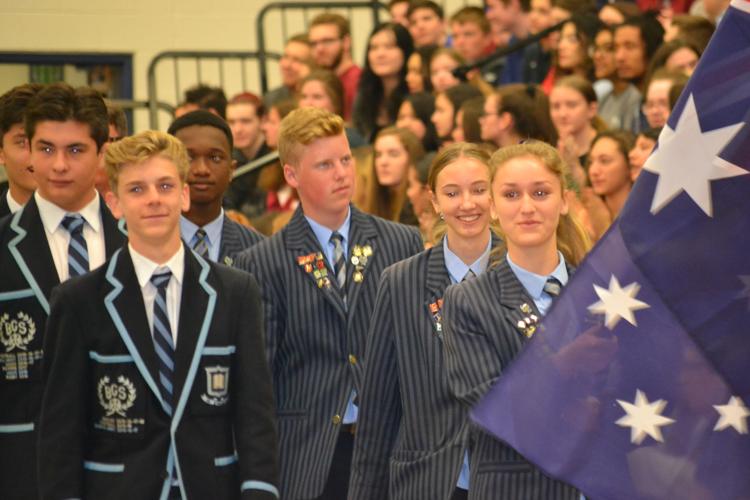 "She has demonstrated amazing leadership and organizational skills in preparation of this summer. All of the students participating today owe her a debt of gratitude for her work putting this all together," Talboo said.
For the parade of nations, Talboo called out each country's delegates to enter with their flag.
Loudoun Valley High School student Zack Franco, holding the American flag, led the parade of host schools.
"I'm hosting two delegates, one from Germany and one from Australia, who are staying at my house. Our advisor asked for help, and I saw this as an opportunity to learn about the world and about the perspectives and visions of people of other countries," Franco said.
The Woodgrove High School choir sang three songs in varying languages under the guidance of their teacher Jessica Morgan.
Mohammed Al Samawi, author of "The Fox Hunt: A Refugee's Memoir of Coming to America," served as the featured speaker. Al Samawi wrote the book after escaping al-Qaeda operatives in Yemen. He arrived in America through the help of Americans on Facebook.
The author spoke at length about how he grew up as a traditional Muslim, got into trouble back home, escaped through the help of the Indians and now advocates as an interfaith activist.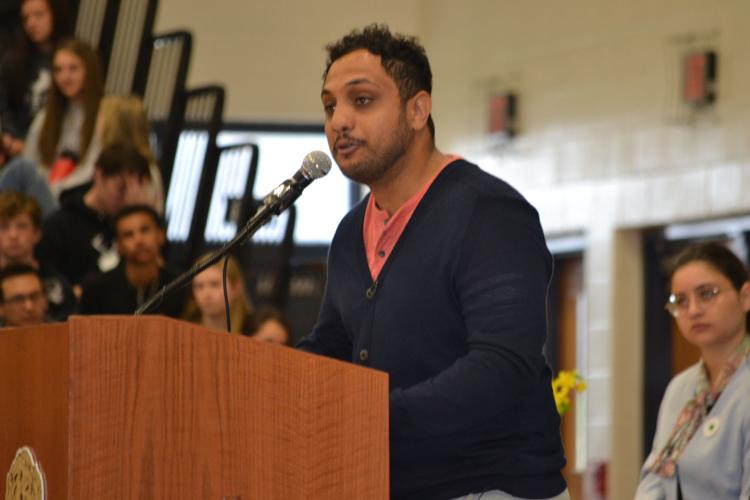 "I came to the United States as a refugee, with $20 in my pocket and my biggest dream was to work at Starbucks. I applied, but they never responded to me. But then I wrote the book. Harper Collins published this, and now its available in seven languages, and I run my own interfaith organizations called the Abrahamic House, where all different religions try to support each other," Al Samawi said.
Al Samawi's story is being produced for a film by Fox 2000, with Marc E. Platt, producer of "La La Land," and Josh Singer, writer of "Spotlight," signed on for the project.
The 10-day global summit will feature group discussions, with the issues discussed aligning with the global goals established by the United Nations. The aim of the program is to empower students to be part of a larger movement to address global inequality.
Students came prepared to speak on human rights, political rights, the environment and collective identity and historical preservation.
Maddie from Panama said she is focused on freedom of speech, political rights and human rights.
Pakistani students said they want to talk about human rights that encompass child labor, young marriages and the Kashmir issue.
German student Lina wants to focus on environmental issues, particularly the hazards of coal being used as an energy source, and Lebanese students said they want to talk about child labor because kids are ending up on the streets and working for extremely low wages.