As thousands of Afghans desperately attempt to flee the country after the collapse of the U.S.-backed government and subsequent takeover by the Taliban, some area residents with family trapped in Kabul have focused their efforts on aiding refugees lucky enough to make it out while they await news from loved ones.
Loudoun Soccer Club coach Masoud Nawabi, 33, whose family emigrated from Afghanistan in the 1970's, told the Times-Mirror that members of his family are working to escape the Taliban, who according to media reports, have cut off access to Kabul Airport ahead of the U.S. military's withdrawal deadline on August 31.
Their attempt to leave the country is an ever-evolving situation and the information is slowly trickling in, he said during a Sunday phone interview.
Like his family members, Nawabi said many residents in Kabul have been supportive of American forces over the course of the U.S.'s nearly-20-year war.
Many of those Afghans were paid government contractors, and he said the Taliban knows who has helped the U.S. and is actively searching for them
According to his sources in Afghanistan, the Taliban are now going door-to door to hunt down and kill those who collaborated with the U.S.
"The people know if they are captured, they are dead," he said.
"As long as we get a text with an update, we are happy, but we fear the day that the texts stop coming," Nawabi said.
He said the Taliban are hunting for women, especially those who have worked in the media.
"The women's movement has been big over the past 20 years and every progress made will go backward," he said.
Nawabi recounted stories he has heard of 13-year-old girls being taken from their families and forced to marry members of the Taliban.
"We are hearing stories that children have shown up at school and there is no teacher present and they return home. It is destroying us to see the children suffer over something they cannot control," he said.
"We don't have a lot of hope that our family will make it here," he said.
On Tuesday, Nawabi said the situation in Kabul has not changed for his family members and with the August 31 deadline looming, people are looking for other ways to get out of the country besides traveling to the Kabul airport.
According to an Associated Press report, Virginia Gov. Ralph Northam (D) said on Tuesday that more than 6,000 Afghan refugees have arrived in Virginia and more are expected.
Refugees have been arriving at Dulles International Airport, where they are processed, tested for COVID-19 and offered vaccinations, Northam said. From there, they go to Fort Lee near Petersburg and Fort Pickett in Blackstone before it's decided whether they will go to other states or stay in Virginia. About 10% will stay in Virginia, he said.
On Saturday morning approximately 250 refugees arrived at Dulles International Airport, before the group was taken to Northern Virginia Community College (NVCC) in Annandale. The following day the group was transported to the Dulles Expo Center in Chantilly, according to South Riding resident Tori Truesdale and her friend, Mariam Mustafa, who met with the displaced Afghans.
Mustafa, 30, who immigrated to the United States from Afghanistan in 1995, and Truesdale, 26, were among a group of volunteers on hand at NVCC early Saturday morning when the refugees arrived.
They said the refugees told them they had been traveling for days — first in Kabul waiting between five and seven days without food and water, then on a plane bound for Qatar before the long flight to Virginia. The weary refugees finally landed at Dulles International Airport at 2 p.m. on Friday, where they waited on the plane until 12 a.m. Saturday before being processed, tested for COVID-19 and then taken to NVCC at 5 a.m. on Saturday.
Mustafa said most of the refugees arrived without shoes and many were covered in dirt and bruises. They had no shower or food for many days.
"Volunteers did an amazing job," Mustafa said.
Each refugee, she said, had a story. There was a 12-year-old boy who escaped and was traveling on his own and a nine-months pregnant woman was transported from the makeshift shelter to the hospital.
Mustafa said she has a cousin living in Kabul who has worked as a contractor for the U.S. Government since 2013 and has continued that work until last month. She said her cousin feels she has been abandoned by the Americans.
As of Tuesday, Mustafa said her family is still waiting to leave Afghanistan. Her family told her the U.S. Military's priority is assisting U.S. citizens.
"They are being told that no one will be helped except for U.S. citizens. Nothing is working, there is no action to help them," said Mustafa, who fears that her family is in danger of being left behind, despite the fact that her cousin has had a visa pending for four years.
Mustafa and Truesdale have been collecting food, clothing, shoes, household goods and have also established a GoFundMe for their group, Afghans of DMV, which has raised more than $14,000 to date.
Truesdale and Mustafa said on Sunday they have not yet been permitted to disburse the collected supplies to the refugees.
"The entire community is on standby waiting to help," Truesdale said, adding that they are also teaming up with Loudoun-based nonprofits Mobile Hope and Women Giving Back.
Loudoun Soccer Club has organized a collection drive to help Afghan refugees.
Last week Nawabi contacted Colin Smith, executive director for Loudoun Soccer Club, and asked if the club could help organize a collection of supplies for local Afghan groups Nawabi is working with to support the refugees.
"Of course, we jumped on it immediately," Smith said. "We wanted to do what we can to support them."
Smith said the community's response has been overwhelming and they have received hundreds of bags of clothing donations.
"We are continuing to take donations at Loudoun Soccer Park in Leesburg," Smith said. "There were probably 25 new bags brought here overnight stuffed with clothes. It has been a great response and we are thrilled we are able to help out."
Smith said anyone wanting to contribute can drop off donations at Loudoun Soccer Park on Sycolin Road, across from Leesburg Executive Airport. They are currently looking for volunteers to help sort and categorize the donations.
Also involved in the effort locally is the All Dulles Area Muslim Society (ADAMS) Center. Rivwan Jaka, the organization's interfaith government and media relations chair, said the community services team have been collecting items since last week and have been working with religious leaders across multiple faiths to support the refugees.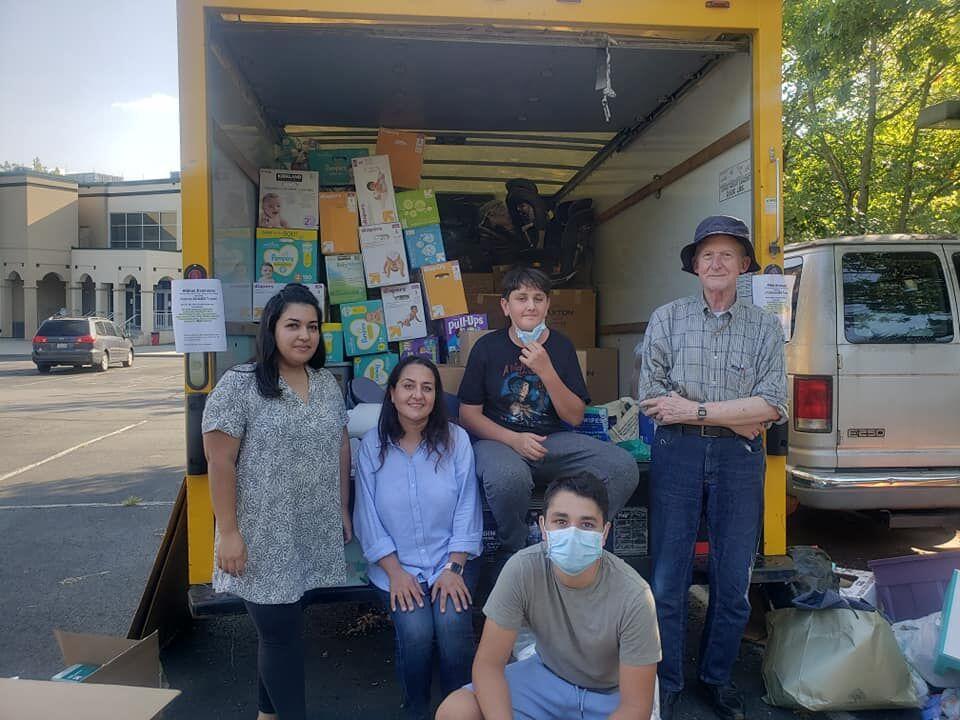 "There are multiple layers involved," Jaka said. "We went to help as refugees arrived in Annandale and I visited the second location where the refugees were moved on Saturday."
"The process is well managed," he said.
He said they have supplies that will be used immediately and others that will be held in reserve for the refugees during their resettlement process, when there will be a continued need of support.
Jaka was joined by Loudoun County Board of Supervisors Chair Phyllis Randall (D-At Large) at the ADAMS Center collection site on Monday.
The most important need is for financial donations, Jaka said, which can be made on the ADAMS Center website.
"This is a long-term process. Everyone is ready to help. We appreciate the leadership in Loudoun — there are many people working on helping coordinate this effort," Jaka said.
Jaka said generally at both refugee sites he observed people were in good spirits and there was a sense of calm and a sense of relief among the refugees.
Randall said "The amount of calls myself and my colleagues have received asking to help has been amazing."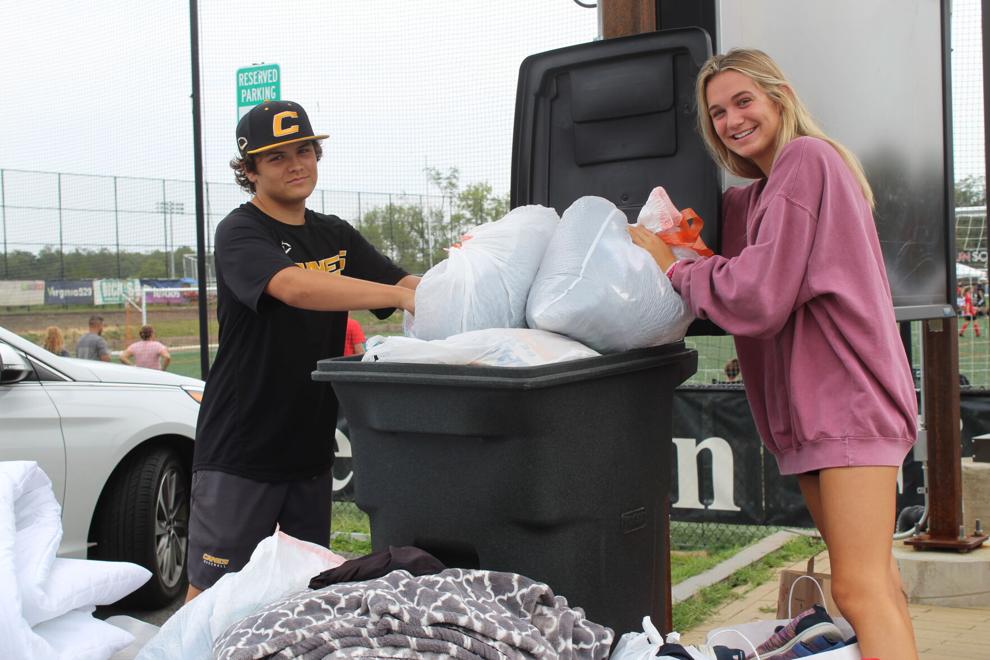 "We are people who, the moment there is a need, we come through huge — as I knew we would," she said.
Tommy Mattocks, press secretary for U.S. Rep. Jennifer Wexton (D-10), said the congresswoman has been closely following developments of refugees arriving in Virginia and is working on dozens of individual constituent cases.
"The U.S. must do everything in our power to help as many people as we can get out of Afghanistan," Wexton said to the Times-Mirror in an emailed statement.
"Over the past few weeks, my team and I have been working around the clock to aid constituents who have reached out to us seeking help in getting their family members, loved ones and colleagues out of the country and away from the danger the Taliban poses," she said.
"We currently are working on over 80 cases," she said.
Wexton said she is encouraged by steps taken over the weekend to increase the pace of evacuations and will continue to push the Biden administration to use every available tool to protect and evacuate American personnel and Afghan allies and their families, she said.