When only 18 students joined Park View High School's varsity football team last fall, the school and Loudoun County Public Schools officials had no choice but to cancel the Patriots' varsity season.
Determined to see the program reinstated, "One Tree Hill" star and 2000 Park View graduate Hilarie Burton co-founded the nonprofit Project Patriot to raise funds and support for the school's extracurricular programs.
Thursday morning, nearly one year to the day after she announced the organization, Burton returned to her alma mater to inform students, staff and other members of the Park View community of Project Patriot's progress.
"I see all the people in this room and I'm just so, so, so grateful," Burton said to an audience that included this year's varsity football team, which comprises 74 student athletes — more than four times the head count of last year's players. "I think this is going to be a great rebuilding year."
The nonprofit, which Burton co-founded with 1998 alumnus Tony Canonico, has promoted its cause over the last year through corporate partnerships, sponsorships, cooperation with public figures and fundraising initiatives.
"We did all the boring legal work, we incorporated, we got our nonprofit status — all the adulting we had to do — and in the meantime people have been reaching out to us, asking us how to help," Burton said.
Canonico was instrumental in helping fund football camp for this year's team, which proved especially essential for players new to the game.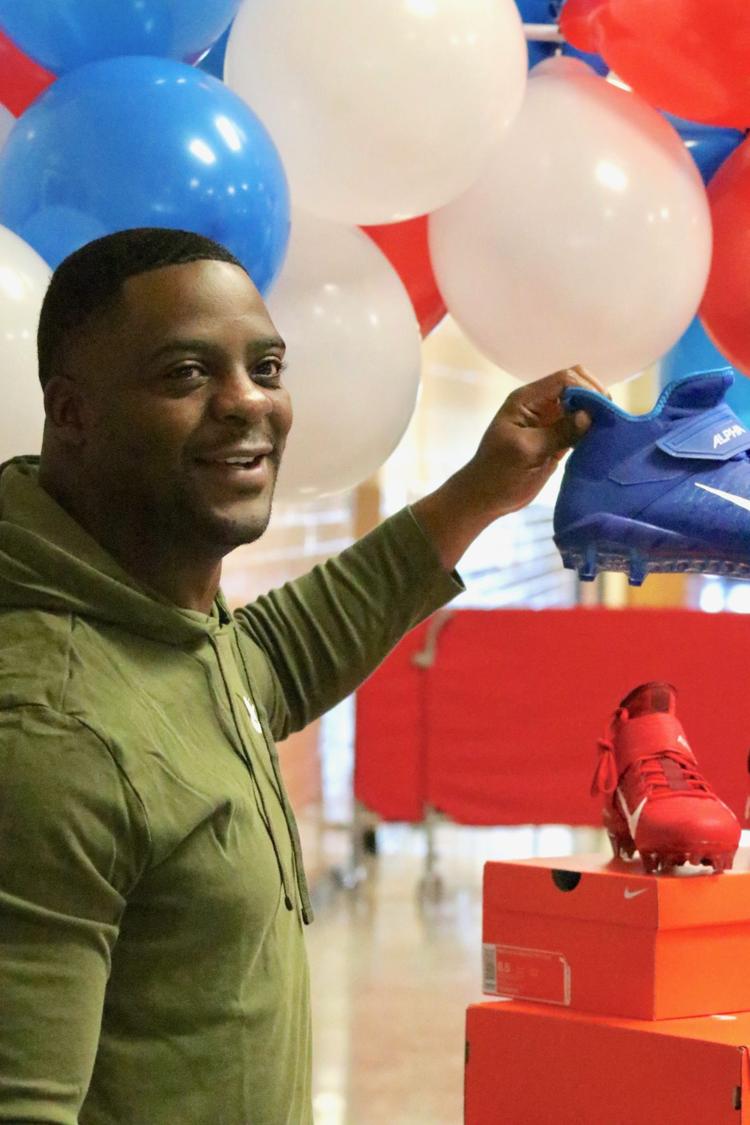 A major project sponsor is the National Football League Players Association, which was represented at the assembly by Business Development Manager Cary Grossart.
Grossart announced the NFLPA agreed to contribute $10,000 for new cleats and other amenities for the football team.
Also present was former Washington Redskins running back Clinton Portis, who gave Burton a hand in presenting the Patriots with their new Nike Alpha cleats, drawing raucous cheers from the football players present.
"This will be the time that you look back on later in life. These are wonder years. So enjoy this moment. Friday Nights are where all the memories come from," Portis said.
Other collaborators in attendance included Sterling corporate attorney Ibrahim Moiz, Leesburg public relations firm Bow Tie Strategies President Rusty Foster — with whom Burton served on Park View's student council — and Nikki Sicilian, general manager of Sterling restaurant Buffalo Wing Factory, where Burton worked as a high school senior.
Burton also announced that the organization's recent "High School Forever" clothing campaign raised $15,165, well beyond the $10,000 goal. She invited School Board Representative Brenda Sheridan (Sterling District) to the podium and presented her with a T-shirt from that campaign, autographed by Burton and her husband, actor Jeffrey Dean Morgan.
In addition to the football team, Project Patriot aims to assist all student activities at Park View. Students are able to submit proposals to the organization to request support for their individual initiatives.
"We want to hear what you guys need. We want to hear if you need something for science club or for drama or for any of the different groups at Park View," Burton said.
Before taking the time to chat with some of the students, the actress wrapped up the assembly with a hearty cry of, "Hey Patriots, go kick some butt this year!"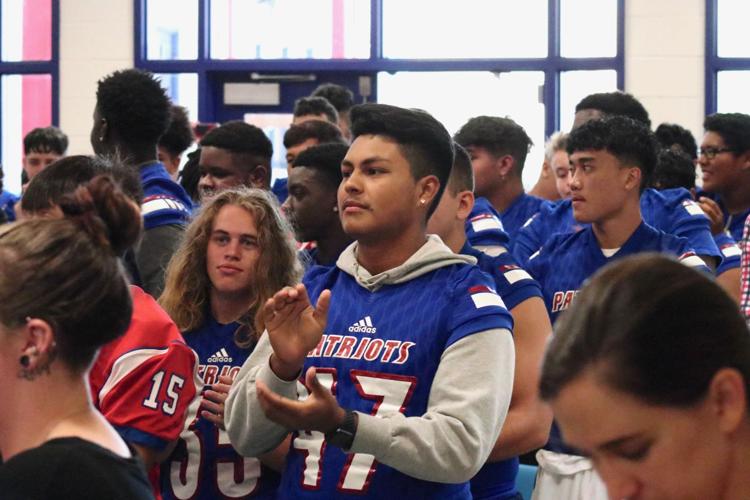 _____
More information on Project Patriot can be found at project-patriot.org.