Since Haymarket's Mike Loxtercamp and his wife, Denise, adopted black Labrador mix Lexi five years ago, she has seen more than her share of ailments, namely repeated sinus infections.
"She'd been roaming the streets of West Virginia when she got picked up," Mike Loxtercamp told the Times-Mirror. "We don't know if she had been abused, but probably, because she had some scarring on her."
However, though they figured Lexi had endured injuries in the past, they had no idea the cause of her frequent infections until, earlier this summer, a Gainesville veterinarian made a shocking discovery.
After Loxtercamp took Lexi to be treated for pneumonia, the vet ordered a preemptive X-ray, and Loxtercamp waited in the parking lot for the results — he was not allowed to remain in the building due to COVID-19 health mitigation strategies.
Fifteen minutes later, the vet knocked on his car window to show him the scan, which revealed a four-blade, stainless-steel arrowhead lodged in Lexi's skull, as well as a broken-off bit of a carbon-fiber arrow shaft.
"All these years, all these sinus infections, all these visits, we knew she had been injured, but we assumed maybe it was a dog bite or something like that, another animal or puncture wound," Loxtercamp said.
Lexi was taken to The LifeCentre in Leesburg, a full-service emergency, critical care and specialty veterinary facility, according to its website.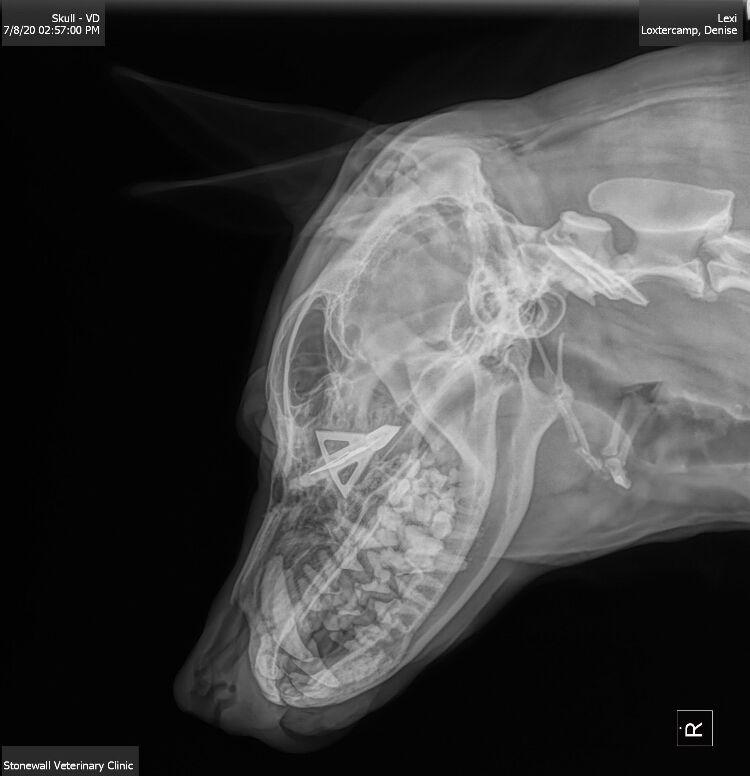 Leesburg veterinarian Dr. Matt Raleigh oversaw Lexi's treatment and surgery preparation, and said her case was so unique and perplexing that nearly every employee in the facility wanted to take part in caring for her.
"The dog had had this [arrowhead] in there for at least five years before [Loxtercamp] rescued the dog," Raleigh said. "No one knew that it was there, saw it happen or anything, but it definitely went in head-on and the shaft was broken off."
He added it is a "good possibility" a blow was dealt to Lexi abusively and on purpose before her adoption, given the arrowhead's head-on orientation.
A few weeks after the discovery, Lexi went into outpatient surgery, which resulted in the arrowhead being successfully removed, a scar along Lexi's snout the only evidence it was ever there.
Loxtercamp commended the efforts of all veterinary professionals involved, especially Raleigh, who he said "did a ton of research" before the surgery, including discussions with other surgeons and an area ophthalmologist.
Now, not only have Lexi's frequent illnesses subsided, but she has become, in Loxtercamp's words, "a different dog."
"She's always been sweet and very nice, but now she's much more affectionate," he said. "She used to never kiss before; she does that now like crazy."
Further, while Lexi used to have a hard time chewing and, per Raleigh, would "scream and jump and flick [her] head" whenever she yawned, she now makes regular, enthusiastic use of her maw — in other words, she gets to truly be a dog again.
"She could never chew before," Loxtercamp said. "She couldn't chew large dog food, and now she's going to town on rawhides and anything else she can chew. She's just so excited and so happy."