Virginia Gov. Ralph Northam, still seeking to politically recover after admitting he wore blackface decades ago, met with a group of black leaders and advocates from around northern Virginia in Loudoun County Thursday to discuss a wide range of race-related issues affecting the commonwealth.
During the work session, held at Seldens Landing Elementary School in Leesburg, Northam (D) said he hopes with his staff to address the needs of the community along local ministers, change leaders and lawmakers.
"We all understand we have a lot of challenges, and the only way we're going to address these challenges is by working together," Northam said. "I can't thank you enough for taking time out of your busy schedules to come and offer your wisdom, your experience, and work with us to move forward. As we talk about all the time, words are important, but actions are even more important—that's what we're focused on."
In a closed-door meeting, to which the Times-Mirror was granted exclusive access by the local leaders, the participants said they want to see systemic change in Virginia in the areas of education, criminal justice reform, voter suppression and cultural preservation.
More than 40 people were in attendance for the roundtable, including Virginia Sen. Jennifer Boysko (D-33rd) and Del. Kathleen Murphy (D-34th) and Loudoun County Public Schools Superintendent Eric Williams.
Inside the school's library, a few dozen people, mostly dressed in jackets and blazers, gathered at large rectangle tables to listen to the embattled governor. Others, sitting in chairs behind the table, frequently leaned in to hear the conversation and to get a view of the governor and the handful of staff who accompanied him. Though Northam's visits have been controversially secretive, every seat in the room was filled on Thursday.
Northam, who shook hands with a few attendees when he arrived, sat at one end of the long table next to a few of the liaisons who scheduled the hour-long meeting. At times, the governor smiled and nodded and asked questions. But, for most of the meeting, he said very little. Instead, his staff did most of the talking to address the priorities.
Thursday's work session followed several similar meetings Northam has had with black leaders across Virginia following his effort to move forward after the blackface scandal.
Earlier this year, Northam met with a selected group of ministers from the area, including Loudoun NAACP President and Freedom Center Founder Michelle Thomas, pastor at Holy and Whole Life Changing Ministries International.
"When the ministers went down to meet with him in April, we sufficiently spent time on that," Thomas said about the blackface incident. "We didn't get a sufficient answer, but we're not going to allow that to stop our progress."
Thomas presented Northam and his staff with 10 policy outreach priorities to consider addressing. They included education, preservation and climate justice, criminal justice, small business, health and wellness equity, affordable housing, faith-based initiatives, a hate crime bill, judicial selection and voter suppression.
Education was heavily touched on Thursday. Thomas said she hopes Northam and his staff can work to improve cultural competence, staff diversity in the classroom and racial literacy.
Loudoun County resident Tanja Thompson, who helped organize a discussion on the county's lynching history in March, said she hopes that Northam's staff will consider adding more minorities on the governor's boards and commissions. She also wants to see more programs to assist military veterans.
"I mention [it] every time there is a political event to talk about veterans, but it's like it goes by the wayside because it's not important," said Thompson, a retired U.S. Air Force senior master sergeant. "So, I would like to see the governor put something for reference to veterans or appoint me as one of the individuals part of his veterans commission."
After the work session, a small group and Northam visited the African American Burial Ground site at Belmont in Ashburn and the lynching memorial marker of Orion Anderson in Leesburg.
In February, Northam apologized after a picture surfaced from his 1984 medical school yearbook page. The picture, shown alongside three other photos of Northam, showed one person dressed up in a Ku Klux Klan uniform and another wearing blackface. The governor at first admitted being in the photo, but he then said he does not believe either of the people in the picture are him. Northam did, however, say he wore blackface to imitate Michael Jackson in a dance contest in the 1980s.
In May, investigators with a law firm hired by Eastern Virginia Medical School said they could not conclusively establish the identities of either person in the 35-year-old photo on Northam's page.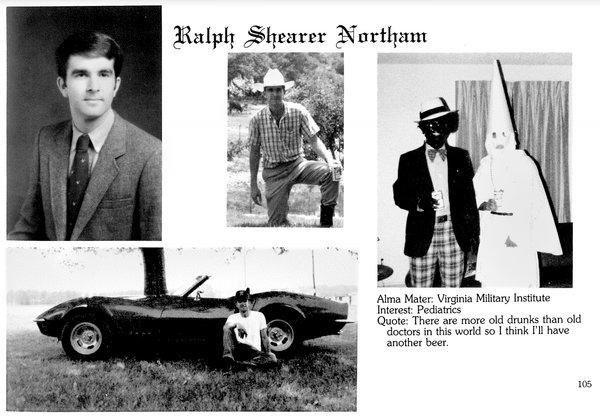 After digging in and staying in office despite widespread calls for his resignation, Northam's efforts to make amends continue to be scrutinized.
But his office notes Northam has restored civil rights to more than 10,000 Virginians, signed legislation to establish the African American Advisory Board and vetoed legislation to restrict voting right access.
The governor has also established a new commission to examine racial equity in Virginia laws and plans to hire a chief equity, diversity and inclusion officer.
In June, he announced a goal to eliminate racial disparities in Virginia's maternal mortality rate by 2025 by codifying the Maternal Morality Review Team and adding perinatal anxiety to the list of information providers must give patients.
A few weeks ago, Northam signed an executive order establishing programs aimed at expanding opportunities for Virginia's small-, women-, minority- (SWaM) and service disabled veteran-owned businesses. The action directed executive branch agencies and institutions with statutory authority over procurement to achieve a target of procuring 42 percent of discretionary spending from certified small businesses, according to the governor's office.
"These roundtables that we've been having—several across the state—are opportunities for the governor to hear from community members, and specifically on ways that he and his administration can work to advance equitable policies," Northam Press Secretary Alena Yarmosky told the Times-Mirror.
Still, some leaders in the black community don't like that Northam is meeting in private rather than holding open conversations.
Virginia NAACP Executive Committee member Phillip Thompson, who stands by his call for Northam to resign, said he and former state Del. Michael Futrell (D) had a chance to speak with Northam Thursday morning. Thompson said his explanations were plausible but that he needs to do more.
"He was pretty sincere in some of his statements, and our position is that we can't grant you absolution—the only people that can grant you absolution is yourself," Thompson said, offering to help arrange meetings in the communities.
Thompson added, "What he said to us nobody has ever heard before on YouTube or anything. It needs to go to a lot of other people—let them hear what he has to say and judge for themselves."