Living in a temporary accessory unit or trailer home isn't too common in affluent Loudoun County.
But to 74-year-old Thomas Reid, a trailer is an upgrade from his family home on the same lot. The trailer actually has heat and running water.
Two days before Thanksgiving, a proud Reid gave the Times-Mirror a tour of his new trailer that includes a ceiling high enough for him to stand. In his family home, he has to lower his head.
For Reid, it's the little things.
"Man, it's almost still unbelievable," Reid said. "When I first walked in, wow … just looking at things the way they should be. I really appreciate it."
Reid smiled and shared some stories as he sat on his couch. He said when he took his first hot shower in the trailer, he lost track of time – he was eventually forced out because the water temperature starting dropping. He laughed and danced in his chair as he mimicked how he tried rinsing off the soap under the cold water.
Reid said his sleep has improved significantly, too. He no longer has to wake up early to boil water, drop wood in the stove to keep the house warm or use the bathroom in an outhouse.
His portable toilet was picked up permanently Wednesday before Thanksgiving.
"Are you going to sit down one more time on the 'John?'" Reid was asked.
He chuckled and shook his head left to right. "I'm going to sit back and say bye," he said.
In the seven months since the Times-Mirror first reported on conditions in Howardsville – conditions that include a lack of running water and sewer, low-quality sanitation and houses in dire need of repair – county officials and local residents have stepped in to assist the few remaining residents in the small, historically black community in western Loudoun.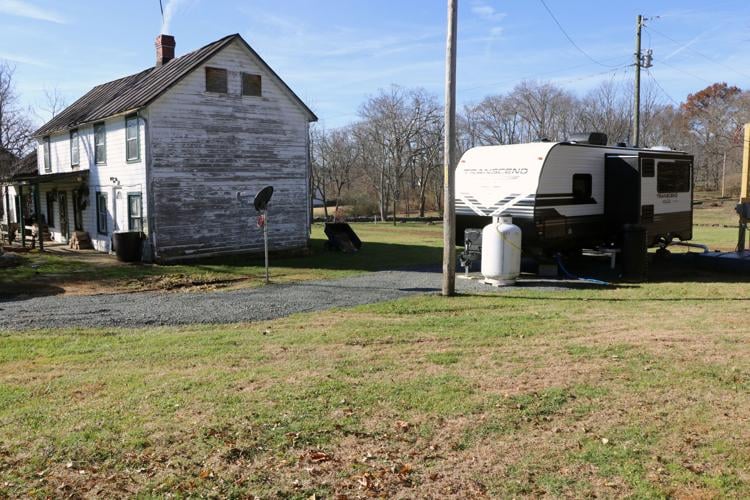 Howardsville sits northwest of Middleburg, south of Route 7. Eligible for the National Register of Historic Places, it was one of the first predominantly black communities in Loudoun County. Following the Civil War, white property owners William and Mary Stephenson sold land to a dozen black people. But some of the properties don't adequately perc—a soil evaluation that tests the rate at which water drains through the soil. The perc issue has dragged down property values and brought about water and sewer concerns that persist today.
Reid is one of two property owners in Howardsville without water and indoor plumbing. Loudoun County staff and other partners have been working for months to help Reid and the other 15 or so residents of Howardsville.
Beyond plans to install a community wastewater system, county staff has helped Howardsville residents qualify for Medicaid.
Government staff visited the community to bring potable water, which comes from surface and ground sources and is treated to levels that meet state and federal standards for consumption. In some cases the county has offered hotel accommodations during inclement weather and extreme heat.
The project has been a joint effort between departments of Family Services, General Services, Planning and Zoning, Building and Development and the county administrator's office, according to county staff.
"When I initially heard about Mr. Reid, I was just in disbelief," Assistant County Administrator Valmarie Turner said. "It's just difficult to put your mind around, but I am confident in knowing that Loudoun County did everything."
Department of Family Services Assistant Director Sarah Coyle Etro complimented her colleagues and partners on the project, saying, "We still have a long way to go within the community, but very excited we're able to get to this point."
Loudoun Habitat for Humanity is planning to construct a new home for one family and septic and water connections for another, Executive Director Therese Cashen said via email.
The Loudoun County Board of Supervisors approved plans for the new wastewater system in April. The $1.47 million project remains in the design phase, according to county records, with construction beginning as early as next year. The plans call for developing a community wastewater treatment system in Howardsville and expanding the service district for the Willisville community wastewater treatment system developed in 2007.
Since the board's approval, six homes have been evaluated for needed repairs to enable connection to the wastewater system and to ensure safe housing. Barbour said these improvements may utilize Federal Community Development Block Grant funds.
Board of Supervisors Chairwoman Phyllis Randall (D-At Large) brought the item forward and welcomed unanimous support from her colleagues.
"For him to be in that house for another winter is something I didn't want to happen," Randall said. "So now he has a house with running water and working facilities and a stove. It was the right thing to do."