Mayor Roger Vance outlined plans Tuesday for the Route 9 maintenance project that he hopes will get underway early next year.
Delivering remarks during a public information session in Hillsboro attended by about 75 local residents and people from neighboring counties, Vance began by stating why the town believes the road project is necessary. Town officials say the project's goal is to improve traffic safety, allow for safe pedestrian access and safe parking, and reduce current traffic congestion which sees an average of 17,000 daily vehicle trips through the town.
He said the project will address the fact that its 125 town residents have unsafe drinking water and have been on a boil notice for over 20 years. There is also a lack of a municipal wastewater system. While most private systems in town are aging, Vance claimed many private systems are over 50 years old.
"There is a looming health and environmental issue with the lack of any storm water management, and the runoff from the mountains is creating damage with flooding, so it's another problem," he said.
Working with VDOT officials, they chose a project plan with less disruption to the entire corridor, which they say will allow for a "high-quality end product."
"This will save the town millions of tax dollars, and I'm proud to say we are doing that," Vance said.
Still, Vance has been unable to give a firm price tag for the project, saying only that bids are expected to come in less than $20 million.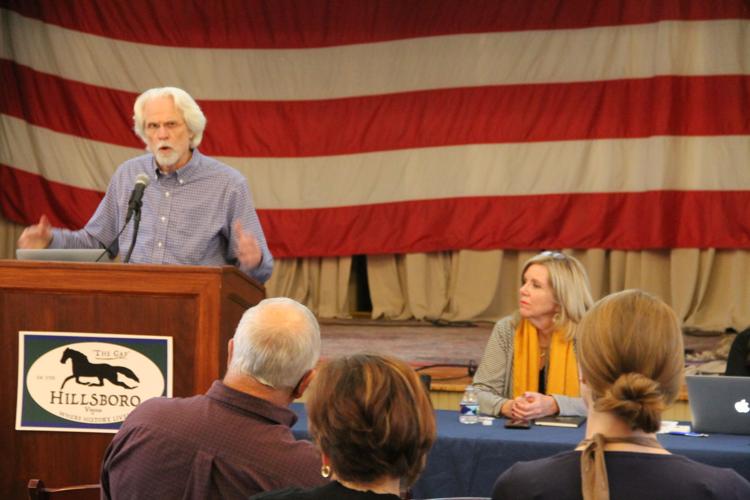 The town plans to request bids for the project beginning next week. 
Construction plans call for two single-lane roundabouts at the eastern and western entrances to the town to slow incoming traffic and mitigate traffic congestion -- including at-grade crosswalks, a connected sidewalk system, multi-modal paths and trails to facilitate safe bike/pedestrian access, and more than 50 on-street parking spaces, according to town officials. They also plan to bury utility lines, build a new drinking water system, wastewater management infrastructure and an underground stormwater management system.
The traffic-calming initiative is being constructed within Hillsboro's town limits along the Route 9 corridor, from nearly three-quarters of a mile west of Route 719/Stony Point Road to Route 690 North/Mountain Road, according to project officials.
The new roundabouts will be built in the first and second phases, which will take about three to four months, according to VDOT consultant Hari Thaker, an engineer with Volkert.
Phase Three will start the full road closure process, which is expected to last up to 60 days, Thaker said.
The next phases are expected to take approximately 11-14 months and will allow for a single-lane closure on weekdays and weekends. During the week, commuter traffic will be able to travel on the eastbound lane from 4 a.m. to 9:30 a.m. The westbound lane will be closed, except from 2 p.m. Friday to 4 p.m. Sunday. The eastbound lane will re-open at 5 p.m. Sunday to 9:30 a.m. Monday.
Regional detours will direct vehicles either via Route 7, Route 340, or to use local detour routes.
After Vance presented the plan, residents from Loudoun, Clarke and Jefferson counties spoke up with concerns as to how the traffic plan will be managed during construction.
In general, local residents are worried about the use of narrow, farm roads -- Cider Mill, Rt. 719/Woodgrove Road, Stony Point Road and Allder School Road -- for detours, which they say cannot accommodate an increase in traffic flow.
"Why has there been no public input on local bypasses? Stony Point is very dangerous. Can speed be reduced?" one resident suggested.
Hillsboro Vice Mayor Amy Marasco said public involvement in the project began in 2012, and it is a process expected to "see refinement."
"There are continued opportunities for input," Marasco said.
One resident from Round Hill spoke out about traffic being re-routed near the schools – including Woodgrove High School and Mountain View Elementary.
Marasco said the detour route will not take anyone in front of Woodgrove High School.
"We want to have communication with the principal, and we will be working with them. We have a high sensitivity near schools," she said.
Hillsboro officials have also met with Round Hill Mayor Scott Ramsey, who has expressed his support for the project, though he said he wants to make sure Round Hill residents' concerns are heard.
VDOT officials said before the project begins there will be road work on the local detour routes. However, there will be no road lines or widening added.
Neighboring residents from Frederick, Clarke and Jefferson counties are concerned about how the extra traffic flow from detours will affect their communities and safety.
"We have a lot of anxious drivers in Jefferson County and we have teachers who are worried about how they will get to and from work," one resident said.
Dot Shetterly, owner of Silverbrook Weddings and Events on Woodgrove Road, said she fought long and hard against a bypass around Hillsboro, which would have gone right through her farm. While she hopes Woodgrove Road will be safe during the construction period, she is supportive of the project for the benefit of the residents of Hillsboro. 
"I am grateful the bypass did not happen as it would have changed the character of our rural valley forever," Shetterly said.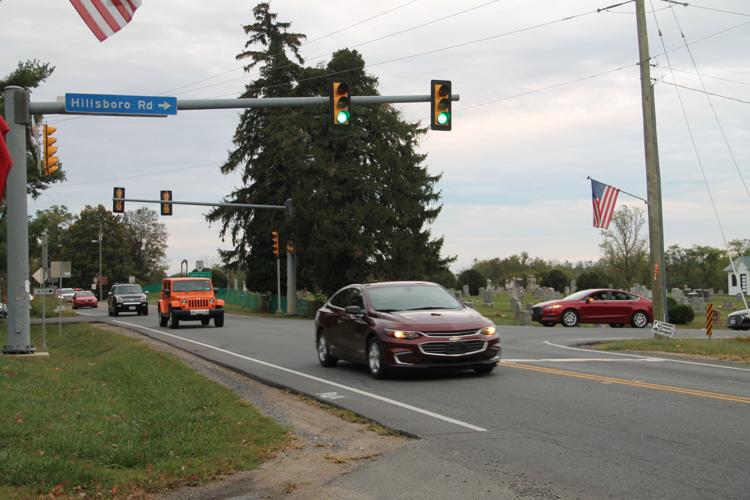 However, a group of business owners along the Route 9 corridor – including about 10 wineries, breweries, B&Bs, event venues and other agribusinesses -- have said they are fearful of how their businesses will be impacted during the construction.
Jennifer Breaux of Breaux Vineyards on Harpers Ferry Road, just west of Hillsboro, said she has concerns about the "collateral damage" of this project. She would have liked to see alternatives – such as adding a police presence or adding speed bumps to assist with traffic-calming measures – instead of spending "millions" to fix the problem.
"A temporary travel and safety disaster is about to unfold. In the process, the businesses impacted stand to lose millions. These businesses have contributed to anchoring the tourism industry and rural economy of western Loudoun for many years, and we are deeply concerned. I can only hope that the businesses affected can bounce back and that this new destination does indeed help us recoup our losses. When it is complete, Hillsboro may be a fantastic destination – but at whose expense?" Breaux told the Times-Mirror.
Tolga Baki, co-owner of Hillsborough Vineyards and Brewery located west of the town on Route 9, has sent a letter to town and county officials as well as VDOT on behalf of the Loudoun Heights Agritourism Council expressing their concerns about the project.
"We estimate a conservative annual loss of 30-40 percent to our business as a direct result of this proposed multi-year construction, current MOT and the stated 60 days of total road shut downs," Baki said.
He expects to have layoffs and has halted future expansion programs at Hillsborough Vineyards and Brewery.
"The cumulative losses will be in the millions of dollars, hundreds of jobs and multi-million dollars in lost investments," Baki said.