For John Gabriel, principal of Ashburn's Independence High School — which held its inaugural day of classes Thursday — the daunting task of helping open a school is nothing new. He was formerly the first principal of John Champe High School in Aldie, a start-up process he remembers as both rewarding and exhausting.
"It was a great learning experience and I enjoyed every part of it, but there's heavy lifting involved in getting a high school ready to go," Gabriel said. "I remember telling the staff at John Champe, 'I will never open up a new school again.' And here I am."
Indeed, the day before Independence opened was a busy one. A number of faculty, staff and even a few students darted continually through the halls near the main entrance, many wielding walkie-talkies, dwarfed by the impressively high ceilings that Gabriel calls "cathedral-like."
To be sure, the new 280,000-square-foot facility is notable in its grandeur, meant to eventually accommodate 1,800 students, according to the Loudoun County Public Schools website. The 2019-2020 student body numbers 1,087, split between grades nine through 11; IHS will not host a senior class in its debut year -- a common practice with new high schools.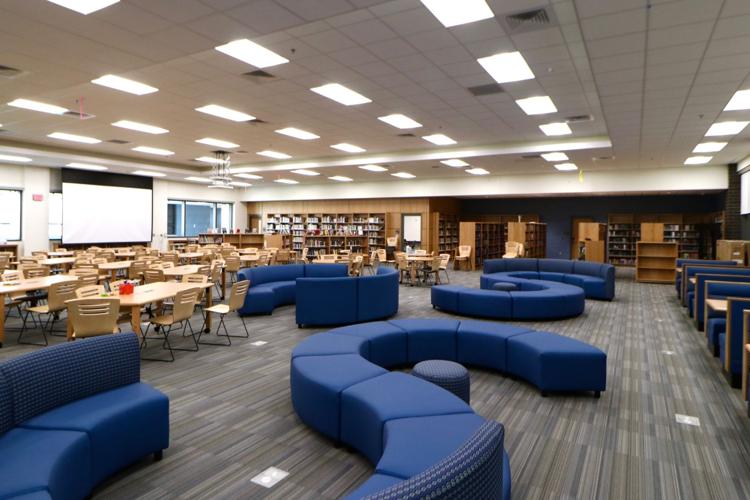 Many new students formerly attended nearby high schools like John Champe, Briar Woods and Rock Ridge, which have faced population booms in recent years due to eastern Loudoun's rapid growth.
While the prospect of attending a sizeable, brand-new high school might seem intimidating, faculty members have gone to great lengths to make IHS feel like home for incoming students long before the first bell.
"We spent time at Rock Ridge, Briar Woods, John Champe and Brambleton Middle School, meeting with kids to talk with them about simple things. You know, getting their input on the mascot and having them vote on the mascot name; what they want to call the 'hype squad' at games; which graduating class should get which color. We spent that time building connections and relationships with kids so that when they show up on the first day, we know a lot of them already," Gabriel said.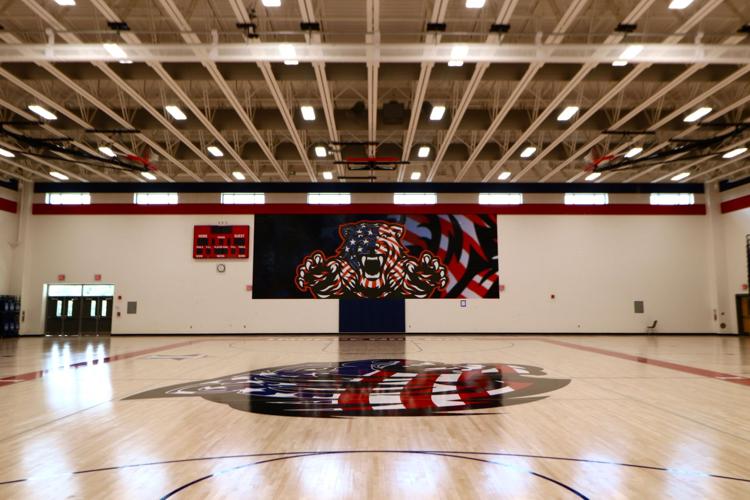 Discernible effort has also gone into designing the school to have a welcoming atmosphere in which students can enjoy learning and interacting with one another. High-traffic areas like the cafeteria and library feature bold wall art, colorful furnishings — many of which boast the school's signature red, white and blue palette — and comfortable seating. The entire facility is brightly lit with energy-saving LED lights, a first for a Loudoun high school.
"These are things that you want to make a school look like a school, not just a building, and I've been fortunate to have support from the community to make these things happen," Gabriel said.
For a school that has been active for so short a time, IHS already exudes a palpable sense of spirit. Imagery of the Tiger mascot pervades the campus, including a bronze statue in the entryway and a giant mural overlooking the gym. Five "spirit rocks" featuring messages and signatures by students line the drive leading to the drop-off circle, and a cluster of athletic facilities sits east of the school building — IHS will have varsity teams for all school sports this year.
One more way students, particularly incoming juniors, are able to mark Independence as their home is to paint their parking spaces with pre-approved designs. Dozens of spaces have been filled with bright colors and unique messages that help establish IHS as a place where students are welcome to express their individuality.
"Each student pays $20 for their spot, which actually ends up going toward their prom, and they get to express themselves," Gabriel said.
More information on Independence High School can be found at lcps.org/IND.
***
LCPS at a glance
-Nearly 84,000 students
-16 high schools
-94 schools altogether
-Approximately 12,000 employees
-Two new schools for 2019-2020: Independence High School and Waxpool Elementary