Loudoun County Circuit Court Judge Jeanette A. Irby on Monday morning scheduled a three-day jury trial for March 21-23 in a case concerning a petition to recall school board chair Brenda Sheridan (Sterling District).
Pre-trial hearings on various motions are scheduled for Jan. 5 and Feb. 23, both at 10 a.m.
As previously reported, Loudoun County Commonwealth's Attorney Buta Biberaj (D) said her office is seeking the certification of petition signatures against Sheridan amid calls for her removal.
Biberaj is representing The Citizens of the Sterling District, which filed the petition for Sheridan's removal.
The group, which collected 1,217 signatures, claims that Sheridan committed neglect of duty, misuse of office, and incompetence in the performance of her duties in their petition.
The group has submitted motions to disqualify Biberaj from the case, and have Fight for Schools, a political action committee, added as a plaintiff in the case due to their interest.
Biberaj's office asked the court to direct the Loudoun County Office of Elections and Voter Registration to certify — as required by Virginia Code — that the signatures affixed on the petitions are those of registered voters residing in the Sterling District and that they make up at least 10% of the votes tallied from the 2019 elections.
Petitions to remove an elected official from office require signatures from district residents equal to at least 10% of the votes cast for that official's post during the last election, according to Virginia Code.
Loudoun County Deputy Commonwealth's Attorney Barry Zweig, who was in court for Biberaj on Monday, quoted a spokesperson from the Office of Elections as saying officials could have the information in two days pending court's approval.
Irby directed the office to move forward with the certification.
The filing includes allegations that Sheridan "limited the First Amendment rights of speakers and listeners by shutting down public comment" at board meetings and implementing rules to curb speakers based on their viewpoint.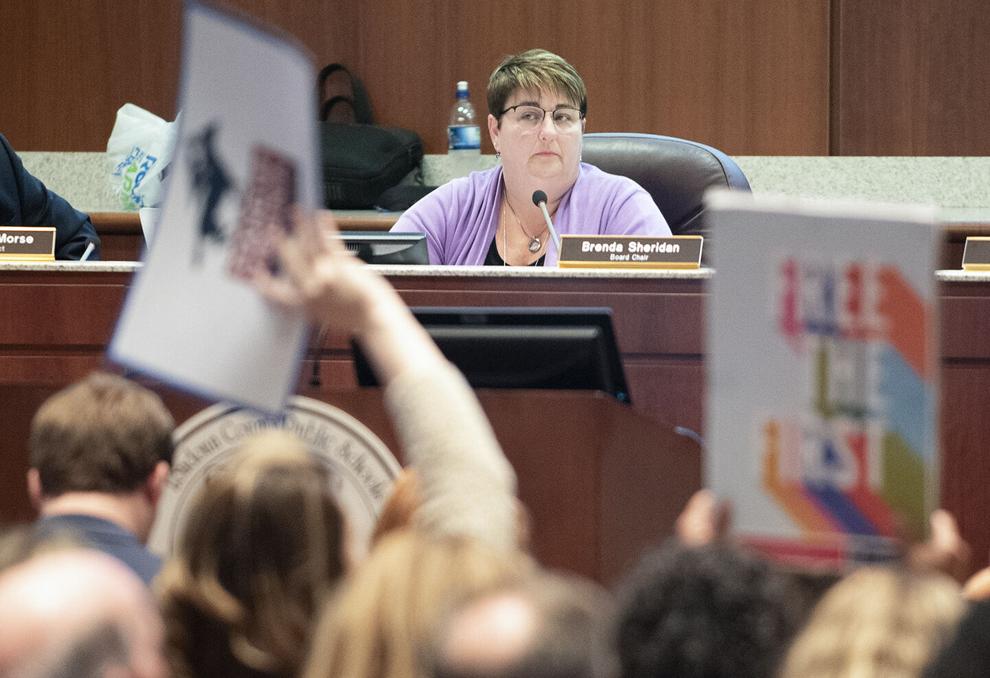 In a previous statement, Sheridan countered that she was elected three times by the citizens of the Sterling District and that those who signed the petition represent a fraction of those who voted for her.
Sheridan and her counsel, Julia Judkins and Dawn Boyce, of Bancroft, McGavin, Horvath & Judkins, PC, appeared in court. Additionally, David Warrington, attorney representing the petitioners, was also in court.
As previously reported, Fight for Schools, the political action committee behind the recall efforts, is also seeking the removal of Ian Serotkin of the Blue Ridge District and At-Large member Denise Corbo. Fight For Schools had not filed a petition seeking their removal as of Monday morning.
Vice Chair Attosa Reaser (Algonkian District) is scheduled to be in court on Dec. 14 at 9 a.m. The petition seeking her removal received at least 1,859 signatures, according to a Nov. 9 email to the Times-Mirror.
The late Broad Run District member Leslee King was removed from the group's recall list after her death at the end of August. King, who was 74, died due to complications from heart surgery.
Barts resigned on Nov. 2, amid Fight for Schools' effort to recall her from her post. She cited threats against her and her family as the reason for her resignation.
Her case is scheduled for dismissal on Dec. 17 at 10 a.m.
"I would hope anyone in this room, participating in the judicial process would not resort to threats," Irby said referring to reports of threats against members of the school board. "That's a terrible thing."
Fight for Schools and Loudoun4All, two of the most prominent groups vocal about issues in the schools, released a joint statement on Dec. 8 regarding the threats and harassment against the Loudoun County School Board.
Below is the full statement:
"For the past two years, there has been disagreement on the policies and the performance of the Loudoun County School Board. Much of it has been substantive and passionate; however, many times these debates have crossed the line.
"Loudoun4All and Fight for Schools disagree on many points, but we do strongly agree on maintaining open and respectful dialogue between those who have differing viewpoints. Discussions can be passionate, but they must remain peaceful.
"We are in full agreement that under no circumstances should those passionate discussions result in communications that threaten physical harm, personal attacks or harassment directed to their workplaces. There should be no efforts to put people in fear for exercising their First Amendment rights, whether the targets are our elected officials, members of the community, or their families.
"We must be willing to lead by example to engage in civil and productive discourse."