More than a century ago Marguerite Davis, then the first lady of Virginia, volunteered as a nurse during the influenza pandemic of 1918.
Despite her experience during that pandemic, which to many likely rings eerily familiar today, Davis' experience is profoundly different from that of women today, many of whom juggle work, children attending school from home, and for some, running a business—all while navigating the COVID-19 pandemic.
Last week U.S. Sen. Tim Kaine (D-Va.) sat in Davis' historic mansion at Morven Park in Leesburg with local women business owners as they discussed the challenges of the past year while also brainstorming solutions, such as how to get more women back into the workforce and aid local businesses.
"The burdens of childcare in our society still fall very heavily on women," Kaine said. "So, if schools are closed, or childcare is closed, many women have taken themselves out of the workforce, feeling like they have no choice but to be home with kids until schools reopen."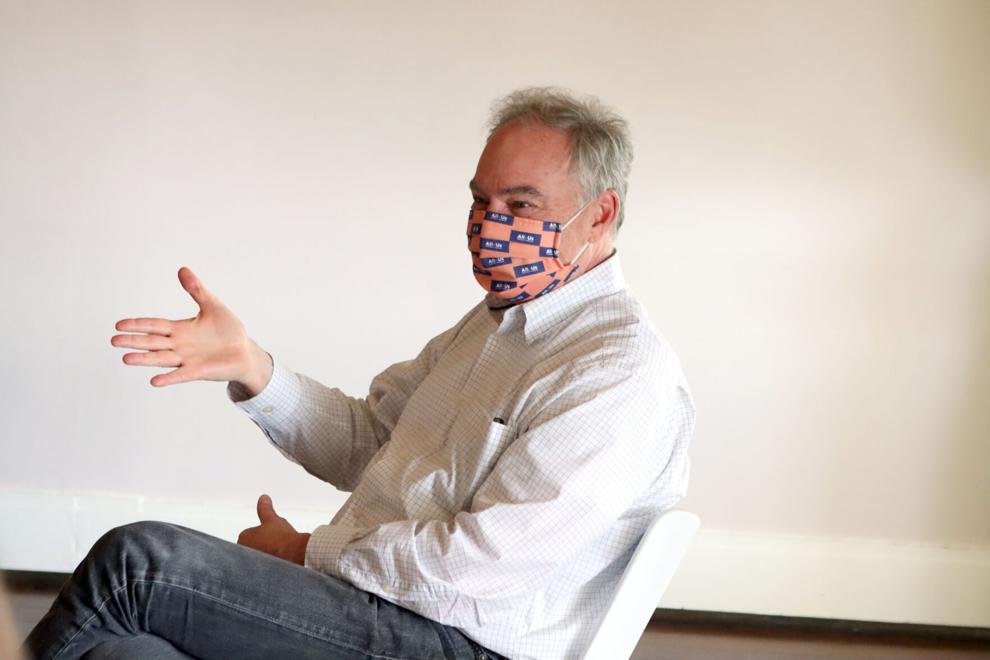 Kaine said job losses have disproportionately affected women, renewing his call for the Biden Administration to support efforts for them to return to the workforce.
More than two million women have left the U.S. workforce since the pandemic began due to family considerations or because they work in industries that have been among the hardest hit, according to a report from the National Women's Law Center.
A third of women in Loudoun County said they have had one or more unmet needs during the pandemic including connections to employment or workforce support, according to a recent survey by the Loudoun Commission on Women and Girls (LCWAG).
Child care support and access to health care, including physical and mental health rounded out the top three unmet needs in the survey, which was based on a canvas of nearly 400 respondents.
"I had an opportunity to bring one of my former employees back, but she couldn't because her husband was critical in his job and he had to go to work and she had two little ones at home," said Tina Johnson, president and CEO of JP Events & Consulting of Leesburg.
"What I needed her to do, she could not do from home," she said.
Kaine said as part of the process to reopen K-12 schools, the federal government provided $2 billion to Virginia. He said he believes some jurisdictions will consider expanding summer programs to help parents returning to work and support businesses.
As a member of the Senate health, education, labor and pensions committee, Kaine said he sees the need to address the deficits in healthcare as including mental health.
Andrea Johnson, owner of Temple Training, said raising awareness of health and wellness, and nutrition education is important moving forward.
Another business owner said such issues have affected the production of her workforce during the past several months.
An expansion of telehealth services was also a consideration that was discussed.
Angela Mitchell, president and CEO of ARM Consulting, said her company, which provides telehealth services, found that within urban and disenfranchised communities the expansion of such services has proved particularly helpful.
She also asked the Senator to consider creating educational programs that create incentives for black and brown communities to take advantage of mental health services.
"I can understand why the doctor wants to still see a patient in person, but there has to be a balance that incentivize compliance in ways to improve their health and expand it," Mitchell said. "Just explaining that benefit and making sure people understand that will often be very, very helpful."
Kaine said telehealth may also lead to opportunities for the nursing industry, which, according to a 2019 U.S. Census Bureau, is dominated by women, who make up 85% of that profession.
Sally Crosen, operations manager of Maid Brigade, recommended raising the awareness of financial literacy. Specifically, she said she encourages her employees — made up of mostly of Hispanic women — to open a bank account and consider setting up a retirement plan.
"What are you going to do when you can't clean houses anymore," Crosen asked rhetorically.
Kaine pointed out that having a bank account, stimulus checks are deposited faster than it would take for someone to receive a check in the mail. There's also a chance, he said, that a check may have gone to an incorrect address.
Other areas the group discussed included the minimum wage and tax credits.
Guests also agreed with Kaine that women entrepreneurs have also had the additional stress of being caretakers during the pandemic.
Alice Frazier, president and CEO of Bank of Charles Town — The Community's Bank, pointed out that for women in positions of authority, people view them as the ones to be strong and have the right answers.
An estimated 15 million single mothers in the U.S. would be the most severely affected by the pandemic, with "little potential for receiving other sources of childcare and a smaller likelihood of continuing to work during the crisis," according to a research paper published last year by the U.S. Bureau of Labor Statistics.
With more women helping kids learning from home and taking care of multiple generations of family members, author Sophia Nelson said she was motivated to re-release her book, The Woman Code: 20 Powerful Keys to Unlock Your Life.
The book is aimed at helping women better cope with the impact of the pandemic by using a code of self-care. Nelson also partnered with Jennifer Breaux, president of Breaux Vineyards, on a wine that goes with the book.
She said this is a time to lift up other women. One example is through supporting friends in business by giving money directly or by using those services once a week.
"I think that's the best of women when we lift as we climb," Nelson said. "So even though we were trying to make it ourselves, and to keep ourselves afloat, and keep our families afloat, whatever we had to do, we were also looking out for other women and their families."
Kaine wrapped up his tour in Loudoun visiting Temple Training in Leesburg, Catoctin Creek Distilling in Purcellville and Mom's Apple Pie in Round Hill — all operated by women.
Similar to the women business-owners, Davis, the former first lady, was an entrepreneur who sold boxwood cuttings in the 1930's from her home in Leesburg.
Stacey Metcalfe, executive director and CEO of Morven Park, said she would like to think that Davis would have been excited that Friday's discussion was being held in her ballroom.
"They needed health care workers," Metcalfe said. "We know the dangers of working with respiratory patients during a pandemic and here's the first lady, she did that, because she knew that was the way that she could serve."