Last week, a group listed as "Concerned Parents of Loudoun County" mailed a postcard to a number of Loudoun County Public Schools families decrying the school system's recent partnership with Teaching Tolerance, a project of the Southern Poverty Law Center.
The Teaching Tolerance website, tolerance.org, says the program "was founded in 1991 to prevent the growth of hate," adding it aims to "help teachers and schools educate children and youth to be active participants in a diverse democracy."
According to the postcard, LCPS "teamed up with an extremist organization to teach your children to hate you," further calling Teaching Tolerance "a Marxist wolf in sheep's clothing" and claiming the SPLC wishes to indoctrinate children "to despise America and … revolt against us."
It ends by encouraging recipients to speak to LCPS Superintendent Eric Williams and the Loudoun County School Board regarding the partnership, listing Williams' phone number, the board's general email address and the physical address of the LCPS administration building.
No trace of Concerned Parents of Loudoun County is evident on the Internet, nor did the postcard include an address of origin.
In a Sept. 4 email to families, LCPS officials said the school system has not adopted a mandatory curriculum from Teaching Tolerance, but that the resources the program provides "are among many optional references available to teachers to use in achieving educational objectives, and to assist them with celebrating the diversity that helps define us as a school division."
"LCPS is proud of its use of instructional resources that support achieving its commitment to providing a safe, empathetic, respectful and supportive learning environment," the email reads.
On Sept. 3, School Board Vice Chairwoman Atoosa Reaser (Algonkian District) shared photos of the mailer on Twitter, suggesting a possible connection to "folks who spread lies" during last year's election cycle.
"I'll repeat what I said then: you will only serve to fire us up more to do the right thing," Reaser tweeted.
At the start of Tuesday's School Board meeting — the first of the new academic year — Ian Serotkin (Blue Ridge District) said the misinformation to which Reaser referred included robocalls alleging certain School Board members supported child pornography, "allegations that were so beyond the pale that even their opponents disavowed themselves from them."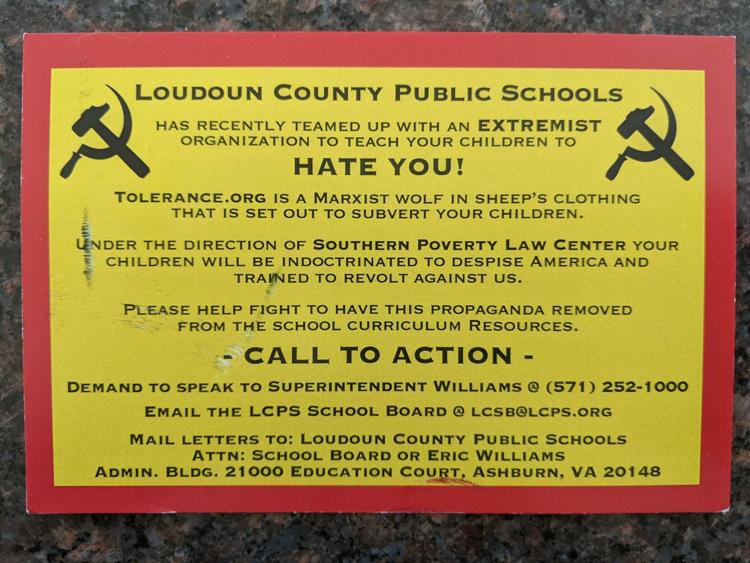 Serotkin said last week's postcard made "ridiculous claims," sarcastically giving the creator "bonus points" for using Communist imagery in the design.
"Such outrageous rhetoric is, sadly, nothing new here in Loudoun," he said. "For the last three years, for example, there have been documented, repeated incidents of Ku Klux Klan recruitment fliers left on driveways during Martin Luther King holiday weekends."
Later in the meeting, public commenter Richard Lindsey expressed his "shock" regarding the new partnership, calling the SPLC "a known hate group with numerous racist and sexual harassment scandals, defamation lawsuits and even ties to domestic terrorists."
Lindsey further cited the August 2012 arrest of Floyd Corkins, who attempted to carry out a mass shooting at the Family Research Council in Washington, D.C., after the SPLC listed it as an "anti-gay group," according to a 2013 CNN article.
However, while Serotkin said the School Board received "dozens and dozens" of emails from the LCPS community regarding last week's mailer, he estimated "around 90 percent" of them denounced the postcards.
"That is unprecedented and extraordinary, especially considering that the postcards ask people to do the exact opposite," he said. "I'm not even sure that 90 percent of Loudoun residents could agree that the sky is blue."
He added many emailers said they planned to make donations to the SPLC and implied his own support for the organization.
"To the anonymous group that mailed these out, I say this: Congratulations," Serotkin said in closing. "You have managed to unite Loudoun County against your message of hate and ignorance. You have wasted a decent chunk of your money in sending these out, and you have helped fund tolerance.org and the Southern Poverty Law Center in the process. Please continue."