Loudoun County Public Schools will require all students and staff to wear masks regardless of vaccination status starting Aug. 26, according to a letter sent to families and staff on Monday.
Students at all grade levels will be allowed to remove their masks when outside, eating or participating in physical education, the letter reads. The announcement comes after Loudoun County has experienced an uptick in new COVID-19 cases — linked to the Delta variant — for the past 31 days, according to the Virginia Department of Health as of Aug. 2.
"Please know this is not a decision I made lightly," LCPS Superintendent Scott Ziegler said in a letter to staff and families.
Loudoun County is averaging about 41 new cases per day, up from about four cases per day in June, according to VDH.
Dr. David Goodfriend, health director for Loudoun County, said he recommended that schools consider requiring staff and students wear face masks shortly before the county's case levels reached the Centers for Disease Control and Prevention's definition of being considered an area of substantial or high transmission, which would trigger the agency's recommendation for indoor mask use for everyone in public spaces.
The increase of coronavirus cases across the globe has been linked to the Delta variant which has an increased transmissibility over the original strain.
Health officials have also noted that among Loudoun residents who are vaccinated, the most likely risk factor for COVID-19 infection is another infected member of their household who is unvaccinated.
At the same time, Loudoun's positivity rate has increased from less than 1% to over 4% over the past the past month. The vast majority of newly infected people are unvaccinated and include individuals in all age groups, officials said.
Ziegler said school staff consulted Chapter 456 (formerly Senate Bill 1303) of the Virginia Code and local public health officials before making the decision.
Further, the superintendent said multiple data points, including community transmission rates, percent positivity rates, vaccination rates by age group and school-based data from the spring.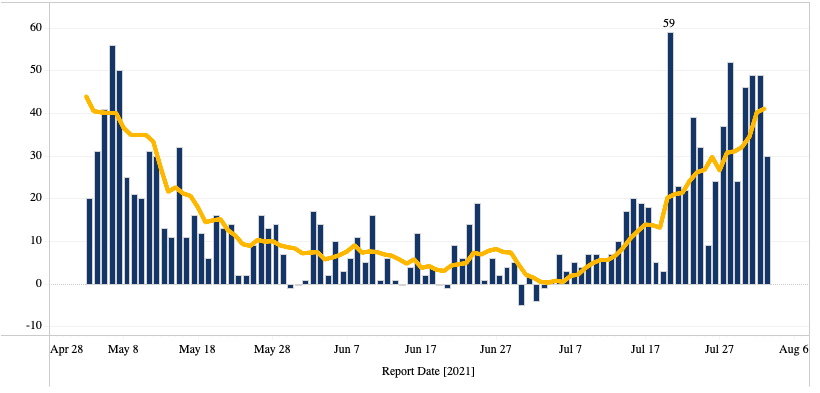 Guidance from the CDC, the American Academy of Pediatrics, the Virginia Department of Education and the Virginia Department of Health, he said, were also included in the decision.
Senate Bill 1303, which became enacted as Chapter 456 of the Code of Virginia requires schools to open for in-person instruction in the fall, Ziegler said.
The act also requires that school divisions comply with the CDC recommendations for elementary and secondary schools. Many in our community supported this bill last spring; however, the need for masking is driven by a primary concern for the health and safety of our students and staff.
"Our desire to maximize in-person instruction remains at the forefront of this decision," Ziegler said.
"Mask wearing will minimize the need for quarantining, thus keeping students in the classroom," he said. "We realize, however, that our desire for in-person learning is currently being challenged by rising community risk in Loudoun County and the potential impact of the Delta variant on students and our community."
Ziegler said that by addressing those factors under individuals' control — like wearing masks and receiving the vaccine — staff and families can return stronger together despite changing conditions in Loudoun County