In February, Leesburg 20-year-old Ryan Lowry, who has autism, joined the online networking site LinkedIn, sharing an open cover letter to potential employers as his inaugural post, but he and his family did not anticipate the phenomenon his letter would go on to become.
The handwritten letter has received upward of 183,000 reactions and 6,200 comments on LinkedIn and has been viewed more than 7 million times, according to Ryan's mother, Tracy Lowry.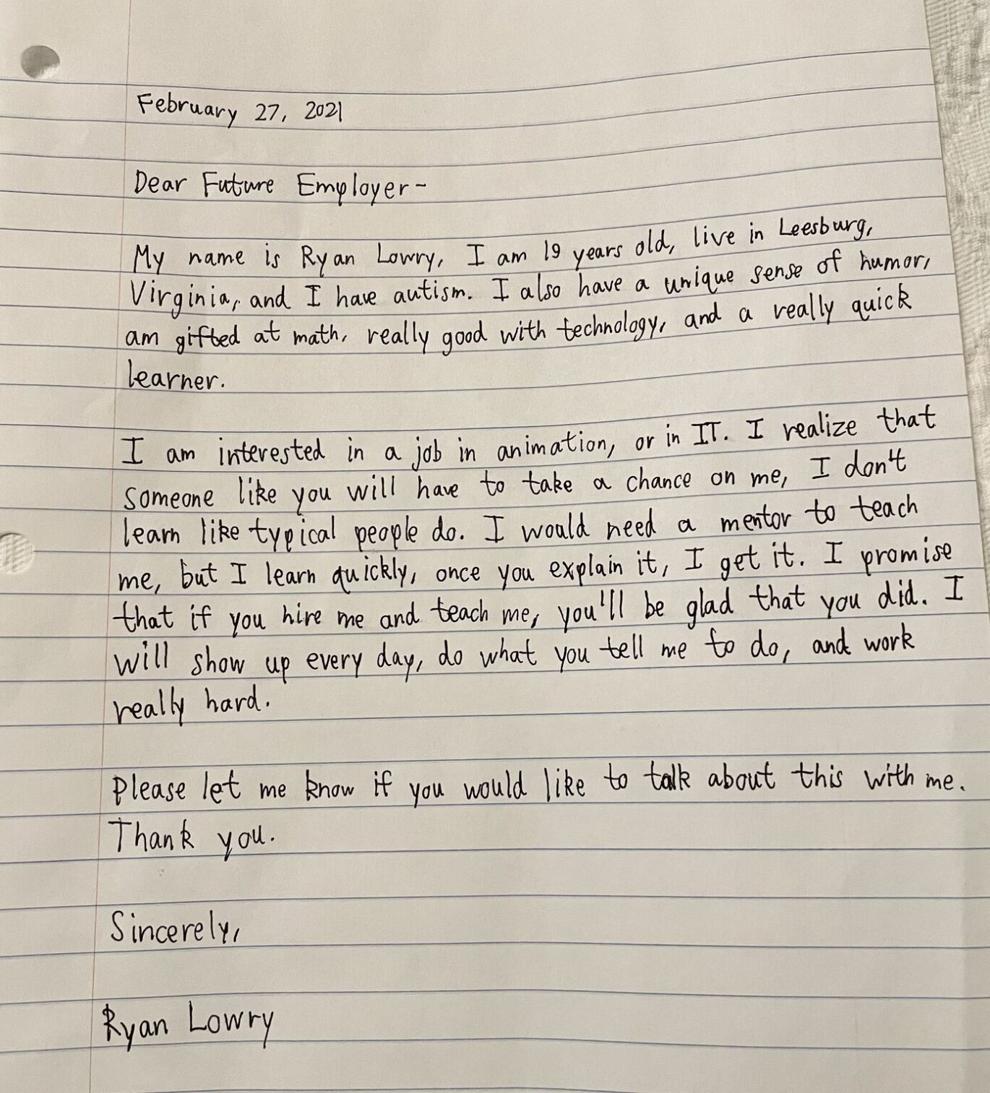 It also resulted in Ryan receiving a scholarship to attend an eight-week summer program with Exceptional Minds, a California nonprofit that serves as an animation academy and studio for people with autism.
"I was proud of myself," Ryan told the Times-Mirror.
Though he has loved watching animated films and cartoons for many years — his favorites include "Tom & Jerry" and "Looney Tunes" — Ryan didn't show an interest in being an animator himself until about six months ago, when he began creating two-dimensional animations on his iPad.
Soon thereafter Ryan began an animation mentorship at Middleburg nonprofit A Place To Be, helping to animate their recent holiday-themed film, "Hope for Christmas."
His venture into the business world via social media was done with the encouragement of his father, Rob Lowry.
"Dad suggested I should send a letter to LinkedIn because I want a job in animation," Ryan said.
Ryan's letter starts with an immediate mention of his autism, going on to describe him as "a really quick learner" who is skilled with technology, mathematics and has a "unique sense of humor."
"I realize that someone like you will have to take a chance on me, I don't learn like typical people do," the letter continues.
"I would need a mentor to teach me, but I learn quickly, once you explain it, I get it," Ryan wrote. "I promise that if you hire me and teach me, you'll be glad that you did."
His father, Rob knew his son's uncommon directness and honesty would stand out to whoever read the letter, as well as the fact that it is handwritten, which he said "doesn't happen very often in business anymore."
"We thought, 'If we make a few connections along the way, it'll be great,'" he said.
Clearly, the letter's effect has far exceeded the mere connections Ryan and his family were hoping for.
In addition to the thousands of comments on his post, Ryan has received personal notes in the mail from admirers around the globe— from Texas to Australia.
Many of those well-wishers thanked Ryan and his family for helping increase awareness in the business world of the ways neurodiverse people can contribute to the workplace.
"There are thousands and thousands of young adults coming online and looking for a job, like Ryan, very similar to Ryan's circumstances, and it's really cool to see the working world come around to it," Rob Lowry said.
"We've learned to believe that 'typical' is overrated," he said. "It doesn't matter how you go about things as long as you can do things."
"We're appreciative of the response [Ryan's letter] has gotten, that it can help him and it'll help others," said Tracy Lowry. "It's been a beautiful experience."